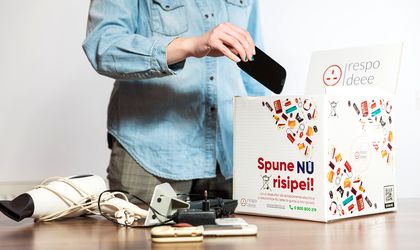 Around 50 million tonnes of electrical and electronic waste (e-waste) is generated worldwide each year, a figure expected to more than double by 2050 to 120 million tonnes, according to a 2019 report from the World Economic Forum (WEF). As reported by Reuters, half of all e-waste is made up of personal devices such as computers, monitors, smartphones, tablets, and TVs, with the remainder comprising larger household appliances as well as heating and cooling equipment.
By Romanita Oprea
Globally, around 20 percent of e-waste is recycled. Even in the EU, the top region by recycling rates, this rises to only 35 percent. Illegal or unregulated e-waste can end up being pulled apart manually by poor workers in developing countries, who are then exposed to health problems from toxic materials. Metals like gold, copper, and nickel in products such as mobile phones, laptops, and TVs are worth around USD 62.5 billion, three times more than the annual output of the world's silver mines. There is 100 times more gold in a tonne of mobile phones than in a tonne of gold ore, the WEF report notes.
Finding ways to reuse materials contained in unwanted electronic products would also remove the need to extract more, cutting carbon emissions, environmental damage, and human rights problems often associated with mining.
The WEF report demonstrates the importance of a more circular economy-based approach to e-waste, where products or the materials they contain are kept in use for longer. But what is the circular economy? It's an economic system that tackles global challenges like climate change, biodiversity loss, waste, and pollution. Most linear economy businesses take a natural resource and turn it into a product which is ultimately destined to become waste because of the way it has been designed and made. The circular economy is a model of production and consumption that involves sharing, leasing, reusing, repairing, refurbishing, and recycling existing materials and products and keep them in use for as long as possible. This way, the life cycle of products is extended. In practice, it implies reducing waste to a minimum. When a product reaches the end of its life, its materials are kept within the economy wherever possible. These can be productively used again and again, thereby creating further value.
This is a departure from the traditional, linear economic model, which is based on a take-make-consume-throw away pattern. This model relies on large quantities of cheap, easily accessible materials and energy. Still, according to the European Parliament, part of this model is also planned obsolescence, when a product is designed to have a limited lifespan in order to encourage consumers to buy it again. The European Parliament has called for measures to tackle this practice.
Measures such as waste prevention, eco-design and re-use could save EU companies money while also reducing total annual greenhouse gas emissions. Currently, the production of materials we use every day account for 45 percent of CO2 emissions. Moving towards a more circular economy could deliver benefits such as reducing pressure on the environment, improving the security of the supply of raw materials, increasing competitiveness, stimulating innovation, boosting economic growth (an additional 0.5 percent of gross domestic product), creating jobs (700,000 jobs in the EU alone by 2030). Consumers will also be provided with more durable and innovative products that will increase their quality of life and save them money in the long term.
Laws and organisations
On January 1, 2021, a new law in France asked companies that produced electronics to publish repairability indices and repair manuals. France is the only country in Europe with such a law in place, its purpose being to ensure a longer period of life for electronics and to reduce e-waste levels. The criteria behind repairability indices were chosen after intensive research and now consumers can easily find out whether a product they are thinking of buying can be easily repaired or not if the need arises.
"There was a time when people would keep their electronics or appliances for a long time, even more than ten years. Now, after two years on average, most people buy new products, either out of a desire to own the latest model, because they believe that older models won't be able to support new operating systems or because they won't bother trying to repair them when they malfunction. Most of the time, the products they already have would continue to work for a longer period of time, but instead they end up sitting unused in the house or get thrown in the garbage, polluting the environment, and not being properly recycled," said Cristian Pocol, president of the Respo DEEE Association.
In Romania, there is an organisation called The Coalition for Circular Economy, whose main purpose is stimulating the development of new business models and markets. The association wants to promote the EU's recommendations regarding green acquisitions (Buying Green Handbook), carry out studies and research regarding the handling of waste and tracking the results, sign partnerships with national and international organisations with the purpose of implementing programmes regarding the circular economy, organise and take part in industry events in order to gather know-how and present best practices; communicate with local and central authorities and with special commissions in the Romanian Parliament, take the lead in creating a legal environment in which the circular economy can develop and grow, etc.
According to Cristian Pocol, the notion of the circular economy is difficult to define and translate into legislation. It is a natural follow-up to the concept of Extended Producer Responsibility, a national policy that was transposed by Romania in 2011 and was recently revised entirely. "The mechanisms involved in implementing the concepts and the roles of each player in such systems are in the process of being adapted to market realities. The main benefit we should get from using these concepts – waste collected separately and directed to sorting plants to be converted into secondary raw materials, quantified by the volumes of these resulting materials – indicates the degree of implementation of these concepts in Romania," said Cristian Pocol. Moreover, he says that even though there are functioning intermediary bodies between the manufacturing industry and the recycling industry, the dialogue between the two seems very difficult. Talks regarding treatment capacities, treatment costs versus revenues from resulting materials and requirements for secondary raw materials for the manufacturing industry are not being held at a level that would allow both sides to grow. All stakeholders must work on this aspect in order to develop a circular economy in Romania.
When it comes to education, figures show a lack of knowledge regarding waste collection among the population. "Everyone is talking about it, but very few people actually understand the underlying issues and act responsibly. The environmental impact of waste that is not treated properly can be difficult to assess and show to the public. And the fact that this approach leads to a loss of raw materials that are no longer found in nature remains undiscussed. We are aware of the figures used in various EU countries, but we have to adapt them to the Romanian reality, to our population's education level, and to their access to the waste collection network," Pocol said.
The Respo DEEE Association is only active in the field of waste of electrical and electronic equipment (WEEE). Throughout the organisation's two years of operation, it has managed to make itself well-known through targeted messages delivered via audio-visual media at a national and local level. "Each year we organise waste collection campaigns in various places across the country, in partnership with local public authorities and local waste operators. In order to deliver the messages targeting each population group, we have built partnerships with opinion leaders who helped us reach our objectives. And to improve waste sorting at the point of waste generation, we have developed our own collection containers that we provide to the public for free," Pocol added.
Campaigns and initiatives
A number of local initiatives and campaigns have been started by companies that are ready to contribute to the transition to a healthier way of consuming and, in the future, living. For instance, the consortium formed by Impact Hub Bucharest, the Climate Vertical from Romania, and Innovation Starter from Bulgaria, with the support of EIT Climate KIC, develops the Black Sea ClimAccelerator, an acceleration programme for green startups and eco-innovative solutions to global problems. The first edition of the Black Sea ClimAccelerator will support 42 green startups from Romania and Bulgaria, at different stages of development, with mentoring, business consulting, and training to attract investments, as well as a total funding of EUR 300,000. Participation in the acceleration programme is free and includes tailored support activities, divided into 3 categories, depending on growth needs.
"We are in a time when the needs of the planet can no longer be ignored and when there is a need for such business – and not just civic – solutions that address the gap between resource availability and consumption. That's why we are happy to coordinate this initiative where startups with sustainable solutions can gain coherence and impact, first and foremost, but also mentorship and funding to grow their business. The Black Sea ClimAccelerator is a real launch pad and acceleration track for these startups, but also an opportunity to develop the entrepreneurial community with green solutions," said Adina Cretu, programmes & entrepreneurial growth director at Impact Hub Bucharest.
Having already attracted EUR 70,000 worth of investments and finalised a new investment round of EUR 150,000, circular economy platform R-CREATE is definitely one of the stars of this growing industry. According to co-founder Linda Vasilescu and co-founder and marketing director Adina Huma, the concept was created as a response to the effects of the exponential growth of e-commerce on a global level: there is a clear shift from classic retail to online sales, and therefore the issues around consumption and its effects on the environment are moving from offline to online. Furthermore, the two co-founders noticed growing concern from the public around these effects. The first topic they approached was packaging: R-CREATE offers the first solution that helps online stores move from linear to circular consumption flows, through their packaging-as-a-service offering: instead of classical package-to-garbage, stores can deliver products in reusable packaging which gets sent back through return courier flows and is ready for another delivery. This new way of packaging will bring numerous operational benefits, which will result in cheaper operations. The first solution developed in this regard is the R-CREATE bag, which can be used for up to 25 logistics cycles. Last year, R-CREATE also announced the launch of a strategic partnership for development and widespread application of circular economy solutions with FEPRA International, one of the leading organisations in manufacturer responsibility transfer in the packaging waste field. The partnership started in December and it will develop into a joint digital circular economy platform, which ensures the tracking and efficiency of resources in logistics flows, communication campaigns to promote the benefits of ecological and sustainable consumption, and the development of a reusage service by R-CREATE which will be customised for FEPRA customers. The digital platform will provide solutions to reduce the environmental impact of both companies and individuals who want to adopt responsible behaviours and reduce their carbon footprint. The objective of the platform is to stimulate the paradigm shift in the local and global economy by moving from a consumer society to a responsible society in terms of allocating and using resources, with the help of measures and solutions for the reuse and reduction of packaging. Considering the European legislative context, by defining rules and penalties aimed at reducing the production of disposable packaging and promoting reusable solutions, the FEPRA – R-CREATE partnership opens up new horizons for the Romanian market and significantly contributes to its transition to a circular economy.
Meanwhile, FEPRA will launch a pilot circular economy centre together with a retail partner in Pantelimon, where every person will be able to manage their entire package of products and waste in a way that will let them know for sure that it reaches reusage and recycling. "You will also receive an email when your quantity reaches the recycler, with information regarding the date. We have a fully digital traceability software, built on blockchain, and we can transmit this traceability information to the initial waste generator. To increase the degree of involvement, we must first of all increase the degree of transparency, at least among local and national authorities," said Ionut Georgescu, the CEO of FEPRA International.
The circular economy is still a new term, even in the EU. "We have always looked at what we do, and we don't just do the recycling part; we also get involved in reusing and reducing the amount of waste that gets generated, and we seek innovation, and because innovation especially in an organisation that has entered its ninth year of existence," Ionut Georgescu added.
FEPRA has two startups for innovation: one is R-CREATE and the other is EcoTree.
Through EcoTree, a B2B platform, waste generators, companies or citizens will be able to get in direct contact with collectors on separate flows, and a big advantage is the fact that they've solved all the administrative bureaucracy and managed to digitalize the administrative aspects. "We believe that this part of digitalization through which the generator, the collector, and even the recycler come into direct contact with each other will be able to change the way in which we manage the waste we generate," said Ionut Georgescu.
In turn, on July 9, 2019, Carrefour Romania launched "We Put a Price on Plastic," a circular economy programme that treats plastic as a resource and encourages the development of better practices among customers, keeping in mind the 3 Rs – reduce-reuse-recycle. We Put a Price on Plastic changes the current conversation and offers customers not only a new perspective but also concrete things they can do to change their habits. The campaign aims to educate customers on responsible resource consumption and to develop infrastructure that supports them in switching to better practices, both while shopping in stores and at when they're home with their families. In 2020, Carrefour added two new initiatives which gave customers the chance to adopt more responsible behaviour towards the environment: Carrefour was the first retailer to join the "Don't throw masks and gloves on the ground" initiative, run by the Geeks for Democracy Association, through which 760,000 used masks and gloves were collected in special containers installed in all Carrefour stores; the second initiative was CCR Rebat for batteries – by November 2020, 10,000 tonnes of used batteries were collected through this programme and 69 million new batteries were offered in exchange.
This year, Carrefour Romania continued its plastic programme and stood by its partners and customers through concrete actions aimed at selective recycling, introducing plastic and other resources into an economic circuit, fighting food waste, turning waste into compost, and encouraging the use of biodegradable materials that don't harm the environment. Also, in light of new European Directives, Carrefour will withdraw disposable plastic products from all its retail stores, and last but not least, it will protect natural resources by encouraging responsible consumption.
But even though some companies are adopting good initiatives, it is still not enough. As Cristian Pocol pointed out, manufacturers should be more aware of the waste implications and adapt their operations in order to facilitate the work of all stakeholders once the products have reached the end of their shelf life, by developing their products in a more sustainable manner, designing products in such a way as to allow repairs, manufacturing products in a way that facilitates the separation of materials (secondary raw materials) in the treatment/recycling plant, etc. "Producers need to track their own products after they are released and sold on the market, and make sure they end up in a collection site and later in a treatment/recycling facility. Given the fact that only 20 percent of the products in the WEEE sector are declared as waste and end up in the waste stream, I think there is still a lot of work to be done before this figure improves," the RESPO DEEE Association president concluded.