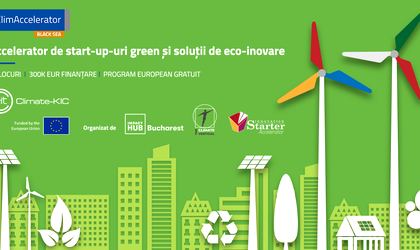 With the carbon footprint growing year on year and the natural resources available for a year being consumed twice as fast, the need for sustainable solutions is more urgent than ever. The consortium formed by Impact Hub Bucharest, The Climate Vertical from Romania and Innovation Starter from Bulgaria, with the support of EIT Climate KIC, develops the Black Sea ClimAccelerator, an acceleration program for green startups and eco-innovative solutions to help solve global problems.
The first edition of the Black Sea ClimAccelerator will support 42 green startups from Romania and Bulgaria, at different stages of development, with mentoring, business consulting and training to attract investments, as well as a total funding of €300,000. Participation in the acceleration program is free and includes tailored support activities, divided into 3 categories, depending on growth needs.
Startups that have an idea and are in the early stage fall into the first category – Early stage. 16 such startups from Romania will receive a grant of 5,000 euros offered by EIT Climate KIC and will benefit from business idea validation and product-solution fit workshops.
Startups that have a validated prototype with customers fall into the second category – MVP. For such startups there are 6 places available in the program, with benefits such as a €20,000 grant from EIT Climate KIC, access to workshops on marketing and sales, monetisation and pricing, team alignment, business scaling, as well as expert consultancy according to their specific needs.
Startups with scalable solutions fall into the third category – Growth. 6 such startups from Romania will benefit from expert consultancy sessions on their specific needs, including on understanding terms sheets for investment (the key commercial aspects of the other transaction – economic and on control over the startup), activities to identify grant opportunities both locally and internationally, and facilitation and support activities to prepare them for attracting investment and funding.
All registered startups will also participate in one-on-one mentoring sessions, national and international peer sharing sessions and connect with key players in the ecosystem through predominantly online activities. In addition, startups in the second and third categories will participate in national and international events and fairs and in Demo Day, a national event where they will pitch their solution to key market players and participate in networking sessions.
"We are at a time when the needs of the planet can no longer be ignored and there is a need for such entrepreneurial, business, not just civic solutions that prevent the gap between resource availability and consumption. That's why we are happy to coordinate this initiative where startups with sustainable solutions gain coherence and impact, first and foremost, but also mentorship and funding to grow their business. Black Sea ClimAccelerator is a real launch and acceleration track for these startups, but also an opportunity to develop the community of entrepreneurs with green solutions", says Adina Crețu, Director Programs & Entrepreneurial Growth at Impact Hub Bucharest.
Applications for startups in the first and second categories are open until 15 September. The selection process for participation in the program will be carried out by a jury made up of members with diverse expertise from the entrepreneurial, corporate and NGO sectors. Startups in the third category will enter the program following an invitation from the organisers and a customised selection process, carried out together with a jury of investors and business angels. More details about applying to the program can be found on the Impact Hub Bucharest and The Climate Vertical websites.
All startups participating in the program will be announced on 22 September. From October to November, support activities will take place for Early stage startups, and from October to December, activities will be prepared for MVP and Growth startups. On 9 December, Demo Day, the event where startups can present their solutions, will take place.
"In Romania there is a very high level of awareness of the need to solve environmental problems, and we know that there is great potential in the communities we are part of. That's why we need to aim high and start immediately to make the transition from idea to prototyping, validation and implementation of sustainable eco-innovation solutions with positive impact. When I say sustainable, I am thinking of a project that has an impact and has a business model that enables the creation of revenue from the commercialisation of the product or service. The present development needs of an eco-innovative solution must be carefully analysed in terms of resources used so as not to compromise the future development capacity of that solution", says Vlad Gliga, Co-founder The Climate Vertical & CEO Rubik Hub.
The jury team that will select the startups participating in the program includes Adina Crețu – Director Programs & Entrepreneurial Growth Impact Hub Bucharest, Vlad Gliga – CEO Rubik Hub & Co-founder The Climate Vertical, Mona Nicolici – Sustainability & CSR Consultant, Hanny Bratu – Marketing & Fundraising Manager WWF Romania, Cristina Țoncu – Program Director Techcelerator, Vlad Panait – Managing Partner & Founder Sparking Capital VC, Andrei Dudoiu – Managing Partner SeedBlink.
The team of mentors who will support startups throughout the accelerator program includes: Marian Chiracheș – Senior Category Manager CEE Intersnack, Mircea Ilie – Sustainability Leader IKEA Romania, Armina Sirbu – Entrepreneur, Trainer, Consultant Rent eBrains, Ice Breaker, Reb Translations, Paul Kallmes – VC Fund Advisor & IP Consultant San Francisco, Oscar Kneppers – Investor & entrepreneur Amsterdam, Radu Păltineanu – Explorer & speaker, Ela Asaftei – Startup program manager, Răzvan Căpățână – Angel investor, Valentin Țoc – Startup program manager, Ionuț Amariei – Startup program manager, Mihai Zânt – International Coach and Trainer Humanistic, Lucian Grămescu – Head of Operations RGT Cycling, Ana-Maria Andronic – Head of Intellectual Property & Technology DLA Piper Bucharest, Ana-Maria PARASCHIV – Circular Economy Expert & Founder Ubuntu World.
"Within the same startup we need a balance between the 3 pillars that ensure its long-term existence: people, environment and profit. We are looking for teams of eco-innovative startup founders who have found a problem worth solving and have identified the right solution, and we will develop the balance between the pillars within the program. We know that nobody can do these things alone. So we are happy to develop a consortium with Impact Hub Bucharest and Innovation Starter in Sofia that is already creating a favourable context for eco-innovative solutions", concludes Vlad Gliga, Co-founder The Climate Vertical & CEO Rubik Hub.
The Black Sea ClimAccelerator, developed in partnership with EIT Climate KIC, becomes part of an ecosystem of 7 consortia from over 30 countries in Europe, Africa, the Middle East and South America.