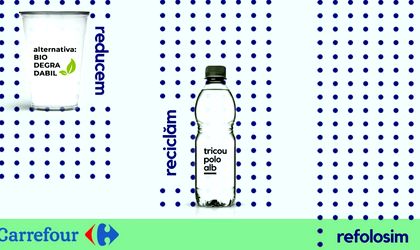 Carrefour Romania presents the results of the circular economy program We Put a Price on Plastic, which brings forward concrete actions in order to responsibly use resources, protect the environment and support local partnerships, as well as announcing its continuity in 2021.
Carrefour Romania presents the results obtained between July 2019 and November 2020of the program We Put a Price on Plastic, a circular economy program aimed at smart-resources consumption and reducing the quantity of plastic packaging, as well as at introducing plastic and other resources in a sustainable cycle by reducing, reusing and recycling.
Between July 2019 and November 2020, more than 370.000 PET bottles were collected during the campaign Pay with PET in 14 hypermarkets around the country, offering in exchange 92 tons of fruits and vegetables from local producers. The campaign benefited from the support of the City Hall of Buzău in 2019 and the City Hall of Iași in 2020, which joined this initiative through a wider, local strategic plan. Non-governmental partners that helped with the implementation of the campaign Pay with PET were: Greenpoint Management – main partner in 2020 and Green Resources Management S.A., S.C. RER SUD S.A, partners in 2019.
Between July 2019 and November 2020, over 160.000 liters of used cooking oil were collected from customers in Carrefour hypermarkets and through BRINGO, offering over 55.000 liters of fresh oil in exchange.
The program will continue in 2021 by expanding the actions that are available to customers and partners of Carrefour Romania, to protect the resources and the environment.
"Since 2018, through the global philosophy Act for Food, we have committed to ensure a smooth transition to healthier eating habits, locally sourced and accessible in terms of price. This commitment couldn't have been achieved if we didn't look for ways to solve the waste issue as well – more specifically, the amount of plastic in nature – affecting the quality of air, water, and soil which stands between farmers and a healthy and clean harvest. We launched We Put a Price on Plastic in 2019 since it was time to switch, together with our customers, to a smart and responsible resource consumption. A year later, we're happy that we reached, through the Carrefour network and its services, the members of the communities which put a price on plastic and resources every day and therefore protecting the environment and also supporting the local producers." Anca Damour, Executive Committee Member Carrefour Romania
About We a Put Price on Plastic campaign
On July 9, 2019, Carrefour Romania launched the program We Put a Price on Plastic, a circular economy program that treats plastic as a resource and encourages the development of better practices among customers, keeping in mind the 3 Rs – reduce-reuse-recycle. We Put a Price on Plastic changes the current conversation and offers the customers not only a new perspective but also concrete actions that they could take to change their habits. The campaign aims at educating customers on responsible resource consumption and developing infrastructure that supports them in switching to better practices, while shopping, in stores, but also from home, with their families.
The following initiatives are part of the program We Put a Price on Plastic:
Pay with PET. A premiere in Romania, it's an approach that converts PET bottles into a currency for local fruits and vegetables. The Pay with PET Caravan arrived in 8 cities in 2019 and 6 cities in 2020. In total, 14 hypermarkets collected over 370.000 PET bottles in exchange for 92 tons of local fruits and vegetables.
Food container – refill! Carrefour is the only retailer that allows and encourages customers to buy products from the Gastronomy area and therefore reducing the number of disposable containers used every day.
Roli Poli. A unique concept, a selective collection station for children where they receive information about responsible resource consumption and selective collection of waste. Currently, three stations are placed in hypermarkets in Corbeanca, Târgu Mureș, and Târgoviște. Moreover, Carrefour will set up a Roli Poli station in every hypermarket which will be open in the future.
Collecting used cooking oil. In every Carrefour hypermarket around the country, customers can bring used cooking oil to be collected responsibly. In order to encourage this good practice, Carrefour implemented a rewarding mechanism, for every 3 liters of used oil, customers get in exchange 1 liter of fresh oil, while for every 5 liters of used oil, customers get in exchange 2 liters of fresh oil. Starting with December 2nd, 2020, 11 hypermarkets will have the infrastructure needed for the collection of used oil and from December 14th the program will extend to other 10 Supeco supermarkets around the country.
Green Sunday. An online educational campaign running on Carrefour's official Facebook page since October 2019, where customers receive advice on how to switch to better practices while shopping and while at home, as well as what actions to adopt in order to protect the environment.
In 2020, Carrefour added two new initiatives which give customers the possibility to adapt to a more responsible behavior towards the environment:
Carrefour was the first retailer to join the initiative Don't throw masks and gloves on the ground, run by Geeks for Democracy Association, through which 760.000 used masks and gloves were collected in special containers installed in all Carrefour stores, dedicated to this type of waste.
CCR Rebat. Until now, 10.000 tons of used batteries were collected through this program and 69 million new batteries were offered in exchange.
In 2021, Carrefour Romania continues with the program We Put a Price on Plastic and stays close to its partners and customers, through the means of concrete actions aimed at selective recycling and introducing plastic, and other resources, in an economical circuit, fighting food waste, transforming waste in compost and encouraging the use of biodegradable materials that don't harm the environment. Also, according to European Directives, Carrefour will take action to withdraw disposable plastic from all retail stores, and none the least, protect the natural resources by encouraging responsible consumption.