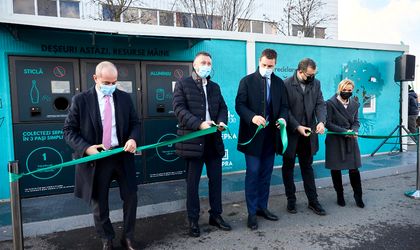 Cora Romania, in partnership with Fepra, Envipco and The Ministry of Environment,  has launched the first green station at the cora Pantelimon hypermarket in Bucharest, a pilot program that is part of the company's commitment to promote a circular economy model.
The green station is the result of Cora's partnership with two well-known companies in the field of environmental protection programs, Fepra and Envipco. The investment in this first project is EUR 100,000.
Emanuel Pârvulescu, Head of Environmental Issues at cora Romania: "cora encourages the population to be actively involved in recycling. The green station makes this process very accessible. You come to Cora's shopping and before you enter the store, stop by the green station in the parking lot, where you can put PETs, aluminum cans, glass containers in the device. It is also possible to recycle household appliances and batteries. At the end, a voucher is issued that can be used for shopping in all cora hypermarkets. The process is in its infancy, but people are starting to recycle, which is gratifying. In addition, we have launched a process of educating employees and, as part of it, they recycle their own waste. For the population, the reward is relevant, definitely this is an advantage, but we hope that in time recycling will become a habit. "

Ionuț Georgescu, General Director of FEPRA: "Since the establishment of FEPRA, in 2016, we have been actively involved in environmental projects, out of the desire to contribute both to the increase of national recycling targets and to offer citizens access to programs informational and operational information to help them behave responsibly towards the environment. The project "CERRC – Ecological Center for Recycling, Reuse and Collection", launched in partnership with CORA Romania and Envipco launches similar actions that we want to implement in as many such locations as possible, so that citizens of Bucharest and around country to have access to modern multimaterial collection points, thus encouraging the sustainable and responsible behavior of the population. This pilot project includes, in addition to the latest technologies, an educational space designed to encourage the interaction of citizens and to tell the story of recycling for everyone to understand. Separate collection should be part of your daily routine, just like shopping at the supermarket. "
The reward received for each recycled waste is 5 bani, and in the case of electrical equipment, 40 bani / kg.
The cora green station differs from other existing solutions on the market in that it makes it possible to recycle used electrical equipment (stove, hair dryer, iron, etc.), and in the future will include other flows such as textile waste or reusable packaging.
Tanczos Barna, the Environment Minister, said that this is the first of a network of recycling stations that will be made by the Minister at national level.
"We have EUR 400 million through PNRR, European funds, and one of the projects is to create a national network of recycling stations. This national infrastructure is a solution for reaching recycling targets and also for increasing the reuse of all the waste," said Tanczos Barna.
Objective: collection of 12 tons of waste / month
Between July and November 2021, 320,000 wastes were recycled, ie over 4,500 kg of PET, over 6,000 kg of glass waste, over 900 kg of aluminum waste and 300 kg of cardboard.
The monthly collection target set for Cora Green Station is 12 tons of waste or about 160,000 units.
The waste is handed over to an authorized collection center, from where it is sent to specialized factories, where it is subjected to the recycling process. PETs, for example, reach Cadelplast (FEPRA Recycling) in Hunedoara or Greentech in Buzau, where the bottles are transformed into pet flakes, then to another factory they are transformed into granules from which new PET containers will be produced.