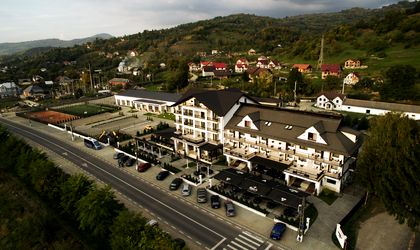 Business Review continues its #MakeItHappen campaign to promote Romanian entrepreneurship. So far, we have presented dozens of inspirational stories about Romanians who transformed their passions, hobbies, and knowledge into successful businesses. We've revealed the stories behind domestic businesses, regardless of their sizes and the sectors to which they belong, because we wanted to highlight the diversity and creativity of the Romanian business environment. Through this campaign, Business Review and CEC Bank are strengthening their commitment to be the primary source for information and financing for Romanian entrepreneurial initiatives. The #makeithappen campaign continues with the story of the Gabriela Hotel in Vișeul de Sus, which became a successful business after reinventing itself.
In 1994, Călina and Gabi Ciolpan, an ambitious couple from Vișeul de Sus, Maramureș county, entered the business world. Because imports were flooding the stores, and people were buying without limit after years of austerity and shortcomings during the communist regime, the young couple started a food wholesale business. But their ambitions were bigger, having entrepreneurship in their blood they knew this business will only serve as a stepping stone to their ultimate goal, building the first modern hotel in Vișeul de Sus.
"At that moment, we wanted to sell more, to spur the company's activity and to grow, in order to build the first modern hotel in Vișeul de Sus. We chose the tourism industry because when we started doing business, the opportunities in Vișeul de Sus were relatively limited. We knew it's worth investing our money into what we considered to be the main future income source for our town, in a context in which 90% of local businesses were in logging." The family starts their story.
The first year ended in bankruptcy for the transport company
But their efforts came to an abrupt end and some hard lessons to be learned. They gathered enough money to build a 30 room hotel that was named "Gabriela," after her youngest daughter.
"Our first year of activity was marked by a hard lesson: the bankruptcy of our transport company. A lesson from which we drew lots of experience and helped us become what we are today: a 3-star hotel with a restaurant, a spa, and 3 event halls that can host up to 2,500 persons." They continue.
"After the bankruptcy of 2003, with one unit of the hotel built with our own funds, we accessed funding from CEC Bank, which proved to be the most important credit we ever got." Adds the family.
With the CEC Bank funding, they managed to build a new hotel unit, with 51 rooms at a 3-star rating, a spa center with an indoor pool at the highest standards, 3 event halls, a restaurant, and a multimedia conference room. When she started out she had only 5 employees. Today, the team of the Gabriela Hotel is formed by 50 professionals.
What makes Gabriela Hotel different from its competition? The services evaluated at 4 stars by her guests.
In 2020 she plans to continue expanding the complex. "Tourism in Vișeul de Sus grew at an accelerated pace and the demand for accommodation exceeds our capabilities. In this context, we wish to build another unit with all the required additions, conference room, restaurant, spa, and event hall." The entrepreneurs conclude.