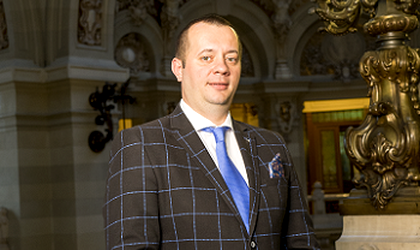 CEC Bank, in partnership with the Rural Credit Guarantee Fund, is launching financing based on APIA subsidies for 5 years, which can now be accessed by farmers in the livestock sector as well. This allows farmers to obtain up to 4.5 times the annual APIA subsidy for cultivating land and raising animals, based on the APIA certificate for the first year and with the guarantee of the Rural Credit Guarantee Fund (FGCR).
"Access to financing for Romanian farmers has been and continues to be a continuous concern for CEC Bank. After successfully launching Three Times the Subsidy last year, this year we are expanding the program to Five Times the Subsidy and, additionally, we are adding farmers in the livestock sector as beneficiaries. Supporting the development of the local entrepreneurial environment in agriculture is a priority for our bank," said Bogdan Neacșu, CEO of CEC Bank.
The beneficiaries of the new CEC Bank credit are agricultural producers in large-scale farming, poultry farming, pig farming, livestock breeding (sheep), or animal husbandry (dairy and meat cattle, etc.).
Through the 5-year APIA subsidy-based loans for cultivating land or raising animals, amounts of up to 4.5 times the annual APIA subsidy (90% of the subsidy for each year) can be obtained. The financing comes with an advantageous interest rate: ROBOR 6M + 2%, plus an arrangement fee of 0.75% of the funded amount, charged only once, and the FGCR guarantee fee. The bank does not charge an administration fee. FGCR guarantees can cover up to 80% of the financing value.
For farmers who have already accessed financing based on APIA certificates in 2023, loans can be obtained for the next four years.
In addition to the previous product, the new financing product also addresses farmers active in the livestock sector. Within the livestock sector, the maximum granting period will be 5 years, but no later than December 31, 2028. For this sector, eligibility criteria require the customer's receipts through APIA in the livestock sector to be for a minimum of 3 years, and concerning the financing value, the minimum amount due from the subsidy value for the reference year according to the APIA certificate will be 100,000 lei.
CEC Bank provides loans based on 5-year APIA subsidies to farmers who cultivate large agricultural areas (at least 50 hectares) and have a history of at least 3 years (receiving APIA subsidies/financing).