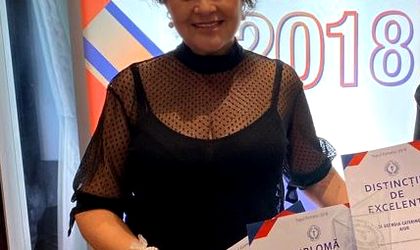 Business Review continues its #MakeItHappen campaign to promote Romanian entrepreneurship. So far, we have presented dozens of inspirational stories about Romanians who transformed their passions, hobbies, and knowledge into successful businesses. We've revealed the stories behind domestic businesses, regardless of their sizes and the sectors to which they belong, because we wanted to highlight the diversity and creativity of the Romanian business environment. Through this campaign, Business Review and CEC Bank are strengthening their commitment to be the primary source for information and financing for Romanian entrepreneurial initiatives. The campaign continues with the story of the Georgia Catering company, which proved that a start-up can thrive even in a recession.
In 2009-2010, with the recession in full swing, while most entrepreneurs were shutting down their businesses, Adriana Duna, a chemical engineer with a passion for the culinary arts, developed a prosperous food business in a catering system she describes as different from what the market had to offer. Her previous enterprises, PVC carpentry products and professional flooring stores, which she ran for several years, were becoming difficult to sustain because of the real estate market crash. The way she managed to find an opportunity when others were failing is the reason we want to promote such stories.
Far from Bucharest, or any other urban area with a strong economy, the entrepreneur developed her investment plans, opening "Georgia Catering" in Aiud, a city located in Alba county. The attempt was shy at first, with only six employees, but it proved to be profitable.
"I invested EUR 200,000 in a big enough building, which used to be the canteen of the metallurgical enterprise in Aiud. We turned it into an event hall with a capacity of 400 people, but the activity was pretty much seasonal, which prompted us to start our catering activity, to hold onto the staff all year-round. We started by delivering wrapped food for the employees of nearby factories." The businesswoman starts her story.
Ambitious, with an innate entrepreneurial spirit, she saw the opportunity to expand her business and started to deliver food for different events such as weddings, christenings, or corporate parties. The experience gained in this activity brought her new opportunities.
"We figured that entering the events market, we need to integrate our services in order to control the quality of the produce. At first, we opened a cake shop, then a bakery to make our own bread. We make our own preserved jams and pickles, everything we deliver, to control the quality of our products. Everything we sell to our customers, absolutely everything, is made by us." The business woman explains.
Because for Adriana it's extremely important to support local producers, she buys her vegetable, fruit, cereal, and dairy only from producers in the area. "We work with dairies and meat processors from our area. In general, we work with all local producers." She adds.
Today, over 150 employees work for Georgia Catering, many of them right out of school, having a contract for vocational dual schools. "It's hard enough to find good specialized employees, this is why we choose to be a training center for an important local high school and we also have a contract for vocational dual schools. We finance the dual schools for internships, in collaboration with the Aiud 'Bethlen Gabor' highschool. Now we are in the first year of the dual school first generation, and those who are interns today will finish their studies in 2 years." Adriana Duna explains.
Stages of development
With sustained investments, that's how the business grew, the woman states. "I invested a lot in the beginning. We expanded from year to year, and a unique project we launched last year is the "La Conac" restaurant in Alba Iulia, located in a beautiful interwar villa. It's a new project which turned 1 year on August 31. We have three large saloons, one dedicated to china porcelain, another to the Interwar period, with photos of the Romanian nobility of that era. The third saloon is dedicated to Queen Maria and it showcases a rich collection of stories and images of women who shaped the Romanian history. The terrace is also decorated in Interwar fashion, while the mansion's shed that can hold 150 people has an impressive collection of traditional items from Romanian rural homesteads, some of them 200 years old." Adriana continues her story.
"As we expanded and diversified our activity, we invested in equipment. We were helped a lot by the financing programs we accessed, EU funding, co-financed with the support of CEC Bank. We received three grants, with which we bought kitchen, catering, and cakeshop equipment. Without these investments, we wouldn't have been able to expand and we couldn't maintain such a large production. The financing helped us a lot, especially after expanding our geographic range, working with the biggest hypermarket chains in 3 different counties." The entrepreneur explains.
The company has contracts with the majority of schools, universities, and factories in the region, supplying lunch to students and employees. "We took over the cafeterias and opened work points in Deva, Orăștie, Târnăveni and Alba Iulia. For the past 4 years, we received the 1st place award in our category in the Top of Companies, an event organized by the Alba Iulia Chamber of Commerce and Industry." Also, the company has been handed the "Best of Business" award, by the Alba County Council, being acknowledged as one of the most important employers and Romanian capital investors in the region.
A project very close to her heart
The "La Conac" restaurant, one of the businesses ran by Adriana, was born from her desire of bringing together the Transylvanian cuisine, history, and traditions. "People are impressed by the beautiful stories we unearthed. Such is the story of 'Lady Florence Baker' the famous explorer, wife of Sir Samuel Baker, who discovered Lake Albert and the headwaters of the Nile, together with her husband. This wonderful woman is actually Florica Maria Sas, born in Aiud, orphaned at 9 years old and sold to an Ottoman harem. On the day she was supposed to be sold in the slave market of Vidin, she was saved by Sir Samuel Baker, who fell in love with her." The businesswoman tells us passionately. "This strong-hearted woman represents a model of courage, and thanks to her education she won the sympathy of the African natives, during her trips there, unlike other British explorers. Together with her husband she advocated for the abolition of slavery and were extremely well known and respected worldwide." She adds.
Fascinated by this story, the businesswoman decided to register the brand "Lady Florence Baker" and translated the book dedicated to explorer by Pat Shippman (former president of the American Anthropological Association), a book which will be launched on March 8th, 2020 (International Women's Day). "Under this brand, I hope to bring together all Romanian producers who want to promote their goods." She concludes.
About Georgia Catering, briefly:
A leader in the catering and events market of the Alba-Cluj-Sibiu-Hunedoara area.
Own events hall with a capacity of 400 people.
Contracted for industrial catering by Philips Orăștie, Sews Deva, Sews Alba Iulia, Sews Târnăveni, Solina Group, and other factories, schools, preschools, construction companies, etc.
Part of the catering and cakeshop activities are distributed through the Carrefour network: Simeria, Hațeg, Călan, Deva, Alba Iulia, Turda, Cluj-Napoca.
Two years ago, the "De la Georgia" brand was launched, which operates several products such as homemade chocolate bars, jelly made with pectin from fruit. The brand is planned to launch on international markets.