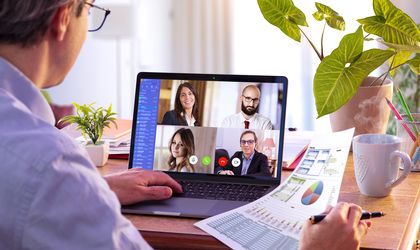 Due to the pandemic, remote work has become the new normal for many people. Flexjobs surveyed global workers and found that 63% of them prefer to have a remote work job.
There are various reasons for this like they have a better work-life balance, the convenience of not having to commute, and increased productivity from having no distractions. Recently Microsoft conducted a survey and found that 90% of workers reported being more productive in a hybrid or remote work arrangement.
Remote work isn't a new phenomenon. Before the industrial revolution, many people worked from home and practiced the trade their families specialized in. And the remote work as we know it has been around since the 1980s, which NASA engineer Jack Nilles coined "telecommuting."
However, many are wondering where remote work business trends will go from here now that many areas are loosening covid restrictions. If you want to learn more about these business trends and the insights from different professionals across sectors like translation services, marketing, and product designing, then keep on reading!
The Latest Business Trends for 2023
So much has changed over the years that it's essential to be up-to-date with remote work business trends for 2023 and onwards. We have listed some notable trends in business that we think you should know about.
Flexibility in the workforce — Remote and hybrid work management setups appeal to many employees due to their flexibility. However, this benefit has disrupted conventional work management and organizational structure, both public and private. Many governments worldwide are trying to catch up to this new workforce by creating policies and regulations about it. For example, how to implement tax policies on remote workers and freelancers as some work part-time or project-based.
Implementation of automation and AI — Technology has significantly advanced and improved at quite a fast pace. With the rise of AI platforms like ChatGPT and DeepAI, work is expected to become more automated. According to Kissflow, automation increases by about 14% yearly.
Increase need for specialization — Due to how competitive the market has become and the integration of automation in the workforce, many remote employees attend courses, programs, and seminars that would give them the skills and training to become more specialized in their field.
Multicultural and multilingual workforce — The rise of remote work has given companies access to a broad talent pool leading to a more diverse workplace. Also, globalization has made it easier for many companies to also expand into new markets, especially with how convenient it is to get translation services.
Increase in demand for cybersecurity — The advancements in technology have also caused a rise in cybercrime. According to TechTarget, it is predicted that by 2025 cybercrime would cost private and public sectors $10.5 trillion.
Benefits and Challenges of Remote Work
The reorganization of the workforce has brought advantages and disadvantages that employees and companies must face in the coming years. In the coming years, we must find effective ways to work around these remote work trends in the business sector.
5 Benefits of the Remote Work Business Trends
Lower costs — Companies and employees can save more money by going remote. Businesses can cut costs on utilities, rent, and equipment. Meanwhile, employees don't have to commute to work and pay additional costs for going out, like buying food and drinks from stores.
Broadening job opportunities — As mentioned, remote work has widened the global talent pool and made jobs more widely accessible to people worldwide. It has allowed companies to get highly skilled individuals across borders.
More autonomy — Remote workers have more autonomy and flexibility over the different types of content out there. This new setup encourages employees to take the initiative and discourages micromanaging from managers. According to Accountemps' survey, 68% of participants said that micromanaging decreased their morale, while 55% said it hurt their productivity.
Reduce carbon footprint — Because there is no need for offices and commuting, it will drastically reduce carbon emissions and energy consumption. Through remote work, businesses across different industries can fight against climate change in the long run.
Improve employee retention — Some people think that remote work leads to high attrition within the company because employees will act lazy and unmotivated. However, Global Workplace Analytics reported it's the opposite, as 95% of employers said remote work has positively impacted their company, while 46% of organizations that allowed remote work stated that they saw reduced attrition.
5 Challenges of Remote Work Business Trends
Miscommunication — Nothing will replace face-to-face communication because you're less likely to misunderstand each other. Because of this, it's challenging for those living remotely who mostly rely on chats and emails. However, with the different tools available in the market
Measuring productivity and mismanagement — Many businesses are hesitant to transition from an office-based model to a remote work one because they wouldn't know how to measure an employee's productivity, which leads to mismanagement.
Vulnerable against cyberattacks — As mentioned, cybercrime is on the rise. A business without proper data protection and anti-malware protocols and systems exposes itself to hackers and ransomware.
Loneliness and loss of motivation — According to Fortune, full-time remote workers were 67% more likely to experience loneliness than in-office workers. This can be problematic as strong camaraderie within an organization can lead to better communication, decrease attrition, and increase an employee's morale.
Investment in training and technology — Global business trends are constantly changing. If you're not updated, your competitors can easily leave you behind. So to stay ahead of everybody else, you must know the latest technology and training programs. Obtaining these training and tools alone can be expensive for many remote workers, but it's the only way to remain competitive in the global talent pool.
Translation Industry Pioneering Remote Work
Besides helping ensure that the global supply chain and market are operational amidst Covid-19, translation services can be considered one of the pioneering industries to implement the remote work model. It's because professional translations broaden their multilingual solutions and increase the number of languages they offer. The Internet made it easier for these companies to work with native freelance translators.
With the rise of globalization and the digital age, translation services have become essential for any company looking to succeed in foreign markets like the EU and Asian countries.
3 Tips from Companies that Have Successfully Managed Their Remote Teams
Now that we have discussed the newest business trends on remote work, let's discuss how these companies have successfully integrated and used the remote work model to their advantage.
Embrace cultural and linguistic diversity by finding like-minded individuals
According to Ofer Tirosh, the CEO and founder of Tomedes, working in translation services, it's a given that you will have a culturally diverse workplace. For him, establishing a robust work culture and looking for remote workers who have principles that align with your company values are absolutely essential to successfully managing a remote-first company.
"As a leader, I first set an example to my employees by establishing trust and following through with my word. In turn, I expect the same from them. Despite our cultural and linguistic differences, I strongly believe everyone has the same values. So I look for those whose goals are the same as my company and draw our strengths from it," Tirosh explained.
Automation is a necessity that needs to be integrated efficiently
Naheed Mir, the owner and chief designer of Rugknots, a company dedicated to producing and designing homemade rugs, stated that one of the emerging business trends in remote work that he is implementing in his company is the implementation of automation and other forms of technology.
"I envision increasing focus on multichannel integration so customers can access us on multiple platforms. Additionally, big data analytics will be utilized to gain valuable information about customer behavior and preferences, enabling us to respond effectively to their needs. Finally, sustainable practices will be adopted into our operations to minimize our environmental impact while improving our bottom line," Mir said.
Be tech-driven but remember it won't replace human creativity
The B2B marketing research specialist of UpCity, Camille Fortuno, explained that investing in AI and automation increased their efficiency in creating high-quality and relevant content.
"Our business supports remote work by offering technology that is user-friendly, establishing clear policies, and promoting collaboration and communication. Project management tools, virtual communication tools, and continuous training and support are all included. This encourages a successful and effective remote workforce," Fortuno explained.
The Future of Remote Work
In the coming years, remote work will become more prevalent as businesses recognize its benefits and embrace digital transformation. To remain relevant in the competitive market, companies will continue to invest in technology and infrastructure to support remote work, including cloud-based collaboration tools, virtual private networks, and secure remote access solutions.
As always, the government will try to catch up to the new technology by passing new regulations and policies to make the workforce more flexible and uphold employees' rights. This is because the pandemic demonstrated flaws in the labor infrastructure, so ever another pandemic occurs, the workforce wouldn't be much affected by it.
Language and translation services will continuously increase in demand leading to a more multilingual and multilingual workplace, especially for companies seeking to expand internationally. The challenge for many organizations and companies is creating a work culture that fosters cultural diversity and creativity and increases morale.
There will also be an increased demand for remote workers with specialized skills beyond their college degrees. Companies must send their employees to annual training programs to ensure their skills are up-to-date. However, remote project-based or freelancing workers must invest more in themselves to remain competitive.
There are some concerns about mental health and how work culture could become toxic if employers and employees don't have a work-life balance. Only time will tell how loneliness and isolation will affect the new generation of remote workers in the next decade or so.
Photo: Dreamstime.com