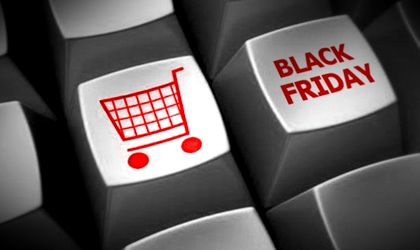 According to a study by GPeC along with Eureka Insights, 7 out of 10 urban and internet-savvy Romanians are particularly expecting Black Friday and Christmas discount campaigns to buy products in the coming period. Only 3 out of 10 respondents were uninterested in discount campaigns, usually shopping in the previous Black Friday (September – November 2018).
According to the study, Romanians intend to spend the most on IT & C products as follows:
Laptops, phones and tablets: RON 1,472 
TV / Audio-Video / Photo: RON 1.393
Appliances: RON 986
PC, peripherals and software: RON 628
The second category are vacations and travels
Vacations and travels represent the second important category for which Romanians are willing to spend about RON 1,460 in the next period. There are products from the Auto & Moto category including RCA (RON 606), Home & Deco products (RON 548), clothing items (RON 541), gift cards (RON 454), electronic games and Gaming products (RON 373) and cosmetics (RON 294).
Romanians will spend on average RON 273 for toys and products for children or babies, and for products in the category Books, Birotics and Gifts – the average budget is RON 251. On the last place in the ranking are the products for adults, the Romanians being willing to spend only RON 125 for them.
Between November and December, the categories of Fashion, Cosmetics and Books / Gifts are the ones to buy most products, even if the budget allocated to these categories is lower than IT & C or Travel.
The total budget allocated by the Romanians for the purchase of products during Black Friday and Christmas is RON 2,718, of which almost half is for gifts: RON 1,240. 7 out of 10 respondents plan to buy gifts between November and December 2018, accounting for an average of 48 percent of all non-food purchases they intend to make by the end of the year, with an average of 6 products expected.
Women prefer to shop offline
Women prefer more than men to buy offline (40 percent women vs. 15 percent males), while men mostly choose online shopping (37 percent men vs. 17 percent women). Gender distribution is balanced when it comes to offline and online shopping, with 5 out of 10 respondents choosing both shopping for seasonal shopping.
People who want to make exclusive online purchases are planning to spend more on a product than those who choose only offline purchases, and budgets are rising for those who make purchases using both sales channels.
Also, respondents who said they are only interested in Black Friday sales are planning to spend more on a product than those who are waiting for Christmas discounts exclusively. Men prefer to a greater extent Black Friday sales, and women on Christmas.
On average, every respondent who stated that he intends to buy online, considers 8 different online stores he is looking for to make purchases. About 3 out of 10 respondents have participated in the past 3 years for both Black Friday and Christmas discounts. According to them, satisfaction with the purchasing experience is on an upward trend (from 76 percent positive experience in 2016 to 80 percent in 2017).
However, for those who have been unsatisfied with Black Friday 2017, the main three reasons for dissatisfaction with the purchasing experience are in order: prices that are too high for their expectations (31 percent), cuts were perceived as artificial (27 percent ), and the delivery time was too high (20 percent).
Only 17 percent of the respondents who participated in the Black Friday 2017 campaign no longer intend to participate this year, with the vast majority of 83 percent still interested in the Black Friday 2018 promotions.
The data were collected in September 2018 and the study was conducted on a sample of 407 urban men and women over 18 years of age with internet access.
Black Friday 2018 estimates
From then on and until Christmas, all online stores will welcome consumers with promotions, the November-December period being the most prolific for merchants, providing them with approx. 25 percent of sales generated throughout the year.
Last year, only Black Friday weekend saw sales of over EUR 200 million. In 2017, Romanian online commerce recorded the highest growth in the European Union (approximately 40 percent from year to year), reaching the threshold of EUR 2.8 billion at the end of the year.
According to GPeC estimates, e-commerce continues to grow sharply targeting the EUR 4 billion threshold at the end of this year.
"Even though we may not reach this threshold in 2018, we are fast moving to 4 billion euros and talking only about e-Tail, that is physical, palpable, purchased online products. If we add the services (bill payments, air tickets, show tickets, etc.) that are mostly paid online by card, then the total market is already much higher, "concludes Andrei Radu, GPeC Founder & CEO.