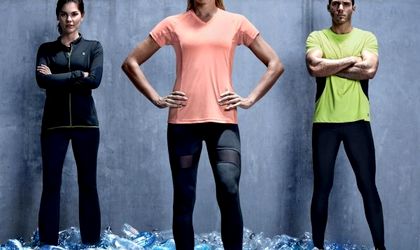 The first 100% sustainable sports equipment collection in Romania has been launched by Kaufland this week. The announcement comes as another step forward in the implementation of the company's ReSet Plastic strategy.
The line, part of Kaufland's Newcential brand, is made entirely out of recycled PET plastic bottles, plastic waste, fishing nets, and GOTS certified organic cotton. It includes both men's and women's articles, available exclusively in the Kaufland network.
It takes about 10 recycled plastic bottles to make a t-shirt, and 15-20 for a pair of running pants, which are collected from oceans, cleaned, shredded, and melted before becoming the fibers which make the clothing. The packaging of the products is also made from recycled paper, using a minimal amount of ink.
"The new collection is not just coming to help the body breathe after intensive workouts, but also brings innovation in the sustainability sector, an area in which we constantly invest. In future years, our goal is to produce 10% of our clothing and footwear items from recycled synthetic fibers." Stated Valer Hancas, Corporate Affairs and Communications Director at Kaufland.
Through the sustainable clothing line, Kaufland joins the Detox 2020 campaign, started by Greenpeace with the goal of reducing plastic packaging and accelerating the transition to GOTS certified organic cotton.