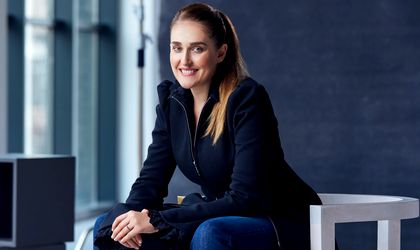 The focus on creating an environment that prioritises employee wellbeing is key to motivating Kaufland's teams. Estera Anghelescu, Recruiting & Employer Branding Director at Kaufland Romania and Moldova, talked to Business Review about the company's journey to consolidating their position as a Top Employer in Romania.
By Anda Sebesi
How would you describe your HR policy?
At Kaufland, we are defined by three core values—performance, dynamism, and fairness—which guide our entire activity and drive us on the journey to reach our goals as a company. As an employer that embraces equality, our Employer Branding strategy, which integrates dedicated programmes for a variety of audiences, promotes diversity and inclusion at all levels, in terms of both recruitment and integration processes. Furthermore, we also value transparency, so we aim to communicate as clearly and openly as possible to all of our colleagues and candidates. We truly believe in open communication and fair treatment between same-level employees, as well as between employee and managers, and this is one of our core approaches for a positive working environment.
We direct our efforts towards creating an environment that prioritising wellbeing, and that is why at Kaufland, a good work-life balance coupled with flexibility are key to our team's motivation.
On top of that, we offer a series of benefits that employees can enjoy.
What were the main initiatives the company dedicated to its employees last year?
As Diversity and Inclusion represents a main pillar of our Employer Branding strategy, we continued the  A.C.C.E.S programme (Employment of Candidates with Special Requirements and Developments). Thanks to this initiative, we are proud to announce that we welcomed more than 450 colleagues with disabilities to our team and we have another 500 positions dedicated to people with special needs who want to join us. As a promoter of equality, we also celebrated Diversity Month and we highlighted the successful stories of new colleagues who have joined the team through this programme.
We also provide positive professional opportunities for the young generation through dedicated programmes, such as Kaufland Internship Experience, Kaufland Trainee Program, Kaufland Talent Program or the special project, Grand Job Experience. Another well-received initiative in 2022 was "In the CEO's shoes," where Marco Hößl, the CEO of Kaufland Romania & Moldova, switched roles for a day with a trainee colleague.
What is your strategy in terms of attracting and retaining talent?
We are constantly in touch with industry trends, as well as with candidates' requirements, and we are motivated to adapt our messages to a wide pool of audiences to reach suitable profiles. As we value transparency, we believe it is important to communicate openly in our talent attraction campaigns, so starting with September 2021, we have included the gross starting salary and contract type in job descriptions, providing candidates with all necessary information from the beginning of the application process. Our Employer Branding campaigns are key to attracting new candidates. Communicating our initiatives and organisational culture are relevant approaches that speak to people who are in search of a job and help in their decision-making process. Our internal programmes and external communications actions, such as the "It's time for something new" campaign, contribute to us being closer to people and helping them get to know our company better.
3 HR challenges for the retail sector in 2023
Humanising the experience for employees, understanding their needs, and introducing measures to help them feel good at work;
Filling vacancies can be challenging these days;
Recruiting for technical or high-expertise profiles which are not retail specific.