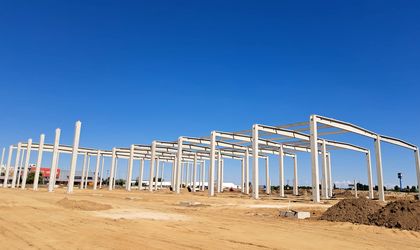 CTP, Europe's largest listed developer, owner and manager of industrial and logistics properties by gross lettable area (GLA), has completed the structure of its latest production and logistics space in Western Romania: CTPark Arad West. This latest scheme is located in Arad, an important industrial centre and transportation hub, close to both the Hungarian and Serbian borders. The first phase of CTPark Arad West comprises approximately 44,000 sqm and is already over 40% pre-leased, being scheduled for completion in the first quarter of 2024.
CTPark Arad West is in the city's main industrial area and is ideally located for access to multiple transport connections being 1km from the ring road, 3km from Arad city centre and 7km from Arad International Airport. The park has high visibility and direct access to the A1 motorway and to the future motorway Bucuresti-Timisoara-Arad-Nadlac, which makes up the Pan European transport corridor, linking western Europe with south-east Europe.
The 12-metre-high building, once completed, will provide a high quality, efficient storage facility for products and/or raw materials, being equipped with environmentally friendly features to provide energy and cost efficiencies for tenants. It has the signature CTP standard of excellent insulation for energy efficient operation, is provided with LED lighting control systems as well as landscaped green spaces and relaxation areas, and includes its own photovoltaic system, with panels to be installed on the roof.
The project is planned to accommodate approximately 100,000 sqm in multiple buildings of different types, both for medium and large companies. CTPark Arad West has Industrial Park Title, which puts it on the official map of strategic industrial parks in Romania and which provides a range of different benefits for its residents.
CTPark Arad West is being developed to meet a BREEAM Excellent sustainability certification. Like all CTParks, CTPark Arad West aims to enhance the quality of life in the workplace and improve wellbeing by providing beautiful landscaping and outdoor spaces – for customers, their employees and families and the wider community.
"CTPark Arad West is the ideal city centre solution for both manufacturing and storage requirements, enabling businesses to grow within a single location, and with easy access to multiple transport connections., CTPark Arad West incorporates the latest light industrial and warehousing standards and the quality of the space and its excellent location is reflected in the considerable interest we've had in the site, with over 40% already committed by multinational companies. This latest CTP offering in Arad will provide an exceptional quality park, park, a dynamic business environment and amenities which will act as a magnet for the workforce," said Ana Dumitrache, Managing Director CTP Romania.
In Romania, CTP owns a portfolio of approximately 2.5 million sqm of class A warehouses in multiple cities, including: Arad, Brasov, Bucharest, Oradea, Sibiu and Timisoara.