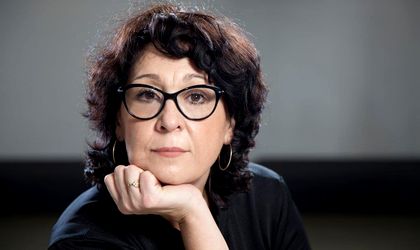 Romanian PR's top accolade, the Romanian PR Award, celebrated its 20th anniversary this year as a daring and stubborn project that has managed to bring together under the same rooftop communicators, valuable competitors, enthusiasts, and hundreds of PR professionals. Business Review started a series of interviews with top PR personalities that have been working in the industry for more than 20 years and that made a big impact on it. How it was and what is expected from the next chapters, you are about to find out.
With over 28 years of experience in the field of communication, most of which were spent at DC Communication, the agency she created together with Teodor Frolu, Crenguta Rosu is a consultant in the field of integrated communication strategies for clients from various industries (Telecom, Banking, Insurance, IT&C, FMCG, Professional Services, Financial Services, Auto) and institutions. She is also a member of IPRA, founding member of CCRP and ARRP.
She continues the series of interviews started last year with Raluca Zamfir, Alex Paius, Sorana Savu, Oana Bulexa, etc.
By Romanita Oprea
How would you characterize the evolution of the Romanian PR industry?
The industry was and is in a continuous transformation on many levels. One is about the size and the increasing number of companies and professionals. Another is about the forms of organization – from companies to freelancers to communication hubs with hybrid models. Another is about the tools used with the purpose of creating a better understanding between an organization and its stakeholders- the diversification of instruments and practices, technology-driven, digital in form, and social in purpose. These transformations are also not only local, they are happening in the region and worldwide and they are not only PRs characteristics but of many professions to which PR is connected.
We get to see a new way of doing things triggered by unprecedented boosts in technology which is exciting and scary at the same time. We are all adapting to the transformation in dialogue, information consumption, preference for channels, and to people's expectations, all at high speed and in an overflow of voices.
How was it when you started?
It was a different pace but also a changing environment. I started practicing the profession when locally the PR job was at its inception, often confused with practices from before 1989. The news cycle was up to 3-4 days, and the newspaper editions were closing at 4 PM. Phones were fixed lines, and releases were printed on paper and sent through the fax machine. Newsrooms were having maybe one or two of these fax machines, some strategically guarded in the chief editors' office. It was a time when there were print newspapers with 1,2 million readers daily and the main evening TV journal was sacred. My approach to the profession had a focus on media relations at that time and one of my constant interests ever since. I remember having internet in our first office, on dial-up. Mobiles became a thing some three-four years later when we also began working locally for Nokia. The environment was deeply changing and I remember thinking that the explosion of publications – there were more than 15.000 publications at the time- was quite noisy. Little did I know then…dramatic three points (see me smirking thinking through comparison with today's media landscape).
Once new investors came on the market, companies with solid corporate cultures our job shifted to organizational building, internal communication, and corporate communication. I think the communication environment development was influenced by these standards and professional requirements, contributing to the acceleration of many fields, communication included.
What determined you to choose PR as a career?
It was quite personal I suppose, a passion for information, the media, and journalism and an interest in reaching that point of better understanding between an organization and its public through dialogue, as opposed to the one-way communication of the previous times.
What were its most interesting years, in your opinion and why?
You never get bored in this industry so every day had and has its spice. And while I get to appreciate all this becoming, I think this year and the next are the most interesting. We had the privilege of being early on the market so that we could see and be part of this constant change now enjoying the speed, the changes, and the yet constant need for better understanding. We tend to focus a lot on the impact of the new tools on communication but it is to be underlined that this need for clarification and understanding is the same. This is the core of what we have to achieve and now we have more means to do it.
What were the main changes in the last few years?
The last few years were dominated by pandemic-induced changes, which we can say just accelerated the existing trends of the past decade.
One of the effects is the larger use of digital at more stakeholders' levels. Now, remote contact, a video call instead of a meeting, and working from anywhere became quite usual not a characteristic of the digital nomads only. This implies, the timing for communication may change, the availability of public changes, more languages are to be adopted by the communicators at a larger scale, and the development of new /more skill sets at the intersection of the professions is accelerating- writing, visual /audio creation, coding. It means expanding the pool of resources used and reaching out to more different audiences, more influencers, and people interested in the matters addressed by the clients. All these are taking more time in coordinating and implementing but also speed is required and budgets do not increase. Quite a classical definition of pressure. This messy description requires a strategic approach and a clarification of targets and goals.
The polarization became overwhelming which means the dialogue can be abrasive and has an increased potential for crisis.
The public is also changing, Z Gen is taking over the working life soon to become the majority what needs to be said has to address their specific approach – pragmatic, to the point, no hoo-ha, but with some ha-ha if possible.
How would you characterize the industry right now (creativity, budgets, strategy, etc)?
It became extended and diverse. It is appreciated for the buzz and the peaks and it is still considered in folklore as a means of manipulation, not persuasion. This means it is appreciated for its nice spins and creativity, for its capacity to generate awareness but it is not believed in its essence as a conversation facilitator, as the one displaying the best possible argument, based on a strategic construction that serves the clients' plans. Admired when the stunts go well, despised when everything else.
What would you change in the industry and why?
I would like to see more of the strategic mid-long-term build-up. My impression is that sometimes PR is used below its potential and for something it is not. Short-term projects are meant to generate a one-shot impression and buzz, and then the build-up is abandoned and gone. It is an indication that PR is used for temporary awareness, an abdication from dialogue, persuasion, and rapport-community building.
What were and still are your main goals for your agency?
To support our clients in reaching their business vision. To find the best solutions communication can offer for our clients to be understood, appreciated, and seen in their best light. To contribute to the community growth through communication, and by facilitating the dialogue. This implies a constant, long-term commitment to transform and improve as a team and as professionals.
What changed through the years for you and your perspective on PR? Why?
My perspective is closely connected to our team's history. We experienced different ways of organization, learned new skills, developed new areas of practice, and approached different industries. Over 3000 communication projects, more than 250 clients, and 20 different industries. Sometimes we forget to look at these changes as every day, in implementation, we have to focus on the here and now. We are more critical of our own ideas.
We are convinced about the strategic role of PR and see it as more than a wrapping process, nice wording, funny videos, glam events, and pretty pictures. I do not want to say that those are not a part of the process but they work only if these are connected with a strategic core serving the business in more ways than just awareness.
What are the main challenges right now in your opinion, in the industry?
Delayed planning and decisions combined with quick and sometimes overnight requirements for execution. These might happen sometimes and it is natural for an industry dealing with crises and urgencies, but it is quite pressing when it becomes the norm.
How are you surpassing them at DC Communication?
We try to substitute these with good planning and always have a plan B so that we can pivot quickly.
What still inspires you and gives you drive and joy in PR and why?
We like balance and equilibrium. Seeing our clients meet their goals with support from our side is what keeps us going.
Best year in PR so far and why
In figures, 2005 was the best, in projects and team evolution, every year is the best. I know we do the best with what the year throws at us.
Best year for the Romanian PR industry and why
For an industry with such rapid development, every next year is a good one and every next year is the best. The more we integrate the PR as a strategic tool for responding better to the stakeholders' expectations the more the years are better.