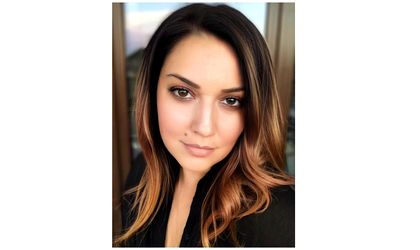 Romanian PR's top accolade, the Romanian PR Award, celebrates its 20th anniversary this year as a daring and stubborn project that has managed to bring together under the same rooftop communicators, valuable competitors, enthusiasts, and hundreds of PR professionals. Business Review started a series of interviews with top PR personalities that have been working in the industry for more than 20 years and that made a big impact on it. How it was and what is expected from the next chapters, you are about to find out.
By Romanita Oprea
Oana Bulexa has been managing partner MSL The Practice since 2013, the only agency that received four times the title of Agency of the Year at the Romanian PR Award. Moreover, the agency has more than 100 awarded campaigns, locally and internationally, with over 300 titles and nominations.
Make sure to read our previous interviews of the "20 Years of Romanian PR" series:
How would you characterize the evolution of the Romanian PR industry?
I think it mimics the global evolution, even if we can argue that it happens at a slower pace. The room gets larger and larger for PR and probably the best part is that it doesn't get larger for traditional approach, with focus on media relations and press events, but it gets larger for reputation holistic approach, with focus on solution-based services. And that's great, not only for clients and brands, but also for us, as consultants.
And to support my point, all anyone has to do is take a look at the Romanian PR Award, an annual, essential barometer of the local PR work, and a competition that happily marks its 20-year anniversary in 2022. I think the quality of the awarded campaigns, the more and more clients and agencies doing outstanding work, the consistency that this competition demonstrates from one year to the next are just as many confirmations that our industry has evolved and has grown a lot in a right and exciting direction.
How was it when you started?
I was probably extremely lucky, because my first year in PR brought me in [MSL] The Practice, a newly launched agency in November 2006, with a very clear ambition: to put "Creativity in PR" on the local table. Which it did, very fast and extremely successfully. The very first campaign I worked on was atypical for traditional PR, it was full of rich strategic thinking and creativity, which eventually brought its first Golden Award of Excellence at Romanian PR Award 2007 and then the EMEA Platinum Sabre Award for Excellence.
What determined you to choose PR as a career?
Paradoxically, what made me switch from a journalist career to a PR one was my ridiculously limited knowledge about public relations at that time. I was so confident that this is a very easy job, that anyone can do it and, arrogantly enough, that I could do a much better job than many of the PR people I knew. Suffice it to say that it was not like that. I had to work extremely hard to catch-up, to develop the right know-how and skills, to mold my instincts in the right direction.
What were its most interesting years, in your opinion and why?
I think that every milestone that rocked the boat was an extremely exciting moment in the evolution of PR industry. The disappearance of the hard copy clippings dossier is probably still a nostalgic memory for everyone who used to cut pieces of newspaper every morning, the economic crisis of 2008-2009 put the industry to a hard test, the ascension of digital and blogosphere changed our job dramatically, the debate whether a print article is worth more than an online one was funny but also nerve wracking at its time, the mere possibility to get outside the Earned box was scary and risky when it first appeared, social platforms, influencers, areas of specialization, rise of technology, the challenges of the pandemic… oh, there were so many and I'm sure I missed a lot of examples. So, you see, it's absolutely impossible to get bored in PR.
What were the main changes in the last few years?
Working with Gen-Z talent, who come with a redefined attitude regarding work and their own priorities and goals, changed the market significantly. They are people with a whole new level of ambition and career dreams, who want things to happen faster for them, who are willing to put effort to make things happen, but who also sanction you way more drastically if you are not a fair partner, colleague or employer.
The hybrid work model brought by the pandemic required a huge amount of openness and adaptation and muster. And we see that the implications of the past two years are yet to be completely known.
And a third change worth mentioning is clients reshuffling their PR priorities and paying way more attention than before to Corporate Reputation, Employer Branding and Sustainability. There are less and less briefs asking us to act as a commercial message amplifier and more and more briefs requiring solutions for building and protecting reputation, for strengthening the relationship with employees and prospect talent, or for embedding ESG priorities in what the company does and communicates.
How would you characterize the industry right now (creativity, budgets, strategy, etc)?
Judging by the briefs we work on in MSL The Practice, I'd say clients become more and more pragmatic and are in search for agencies who can act as true advisors and solution providers. Creativity remains important, but Strategy has finally earned its rightful place in the past few years.
We have fewer and fewer conversations around tactical activities and more around strategic thinking and counselling, around building conversation platforms and communities, around building or shifting perceptions or, in a nutshell, around finding the best approach fit for the problem. "This is the problem we need you to solve" as opposed to the old "This is the activity we need you to do".
There is a new level of trust we managed to build with many of our clients in recent years, which translates into them coming with a new set of challenges that are still PR (or Reputation, to be more precise) driven, but far exceed the traditional PR activities box. This is refreshing and demonstrates the real potential that we have, as PR professionals, to have a significant contribution for our clients.
What would you change in the industry and why?
I consider it beneficial for the industry to see more transparency in the pitching process, especially regarding rules, phasing, selection criteria and feedback post-pitch. Every pitch is a mind- and labor-intensive process for the participants, and sometimes access to relevant information is very difficult to get. There is no need to invent anything, there are already several Pitch Guides initiatives publicly available for all clients, and I remain confident that if these guides act as inspiration for companies when launching a pitch, all parties involved would have a better and more valuable experience.
What were and still are your main goals for your agency?
One goal is linked to our clients: to be the trusted advisor for as many of our clients as possible. Or, in the words of the CEO of one of our clients: "I come to MSL The Practice with all the issues on the table because you've proven me each and every time that you understand us extremely well and you always find the right solution."
Every collaboration we have built on this principle elevated both the client and our agency, and some of the most outstanding examples in recent years are Samsung, Janssen, PENNY, Netflix, Storia.ro, Durex, ALPRO and so many more.
We've always operated with a continuous transformational mindset and this is how we managed to grow constantly as skillful specialists, to expand our diverse pool of talents, to invest in new data tools and frameworks, all while preserving our Results through Creativity mantra which goes way back to the foundation of this agency.
And the other goal is related to our people: here is where you thrive and learn and get to experience good career happiness not once, not twice but as many times as possible. We are proud of numerous amazing stories about colleagues who started their careers as trainees and became exceptional professionals and leaders who are now part of the top management team. And we are also very proud of many stories of people who wanted to try new work experiences, expanded their capabilities and talent and then decided to come back and put them to good use in the agency, for its particular positive vibe, or its Muchness, how we like to call it (an inspiration from Alice in Wonderland).
What changed through the years for you and your perspective on PR? Why?
I had to face my own demons, probably just like everybody else. I wouldn't be honest to say that I completely and positively embraced each and every change that challenged our profession, especially in my first years. But I am now more excited than I was at the beginning or ever before. Because what really changed for me through the years is precisely my relationship with… change. I don't fear it anymore, I don't hate it anymore, I don't complain about it anymore, I love it, I want to be part of it, I want to generate it! The opportunities that PR throws in our way constantly make our job a privileged one, in my opinion.
What are the main challenges right now in your opinion, in the industry?
No matter how positive is the individual experience of one agency or another, no matter how much one or two or three of us agencies consider we cracked the nut, the PR industry as a whole is still the communication discipline the most vulnerable to budget cuts and reassessing priorities. Whether we agree with it or not, clients face more and more situations when they need to decide between something that gains them an immediate effect and something that builds for long-term. So definitely our biggest challenge as an industry is to prove our relevance constantly, not only when there's room a.k.a. budget for PR, but also in pressure moments, when clients face a difficult choice or when they don't necessarily see a point in doing PR. And the key in proving relevance is measurement.
How are you surpassing them at MSL The Practice?
It's still not an industry norm to measure Reputation thoroughly. What still is an industry norm is to measure Visibility. And it's understandable why these metrics are more attractive for clients, because they are cheaper, easy to understand and still largely used even at global scale. However, Visibility metrics are not necessarily relevant.
It's the old story of Saying versus Doing all over again. By only measuring what's being said about your brand (e.g. positive or negative media coverage), you have no clarity around what's being done about your brand (consumer emotions, perceptions and decisions).
Our focus at MSL The Practice is to have more and more significant conversations with clients regarding how we properly measure the Doing part, because that's what impacts Reputation directly and business, ultimately. We develop specific, custom-made solutions and tools that bring clients more clarity around how our work leads to a specific, desired consumer decision.
What still inspires you and gives you drive and joy in PR and why?
A big part of my inspiration comes from the people around me – colleagues, clients, partners, many of the people I constantly interact with. From outstanding work that I research, may it be local or international. From various events or debates that I participate in. And also, from a variety of non-related domains, like architecture, design, travel, movies, which seem to pour inspiration down my brain effortlessly. For instance, I recently watched season 5 from The Crown on Netflix and I found myself pausing the episodes many times just to take some notes and put down new ideas for our agency, simply inspired by various things happening in the series.