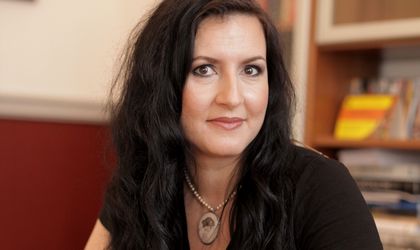 Business Review started a series of interviews with top PR personalities that have been working in the industry for more than 20 years and that made a big impact on it. How it was and what is expected from the next chapters, you are about to find out. One of the most acclaimed PR personalities in Romania, Sorana Savu, has been running her own agency alongside her husband – Andrei Savu – since 2001. She opened up to BR about her beginning in the communication industry, the most interesting and most challenging years so far, goals, inspiration and many more.
By Romanita Oprea
How would you characterize the evolution of the Romanian PR industry?
Disappointing. But this is not a word I would choose only for the evolution of the Romanian PR industry. We worked so hard, we learned so much, we have been through so many experiences and at the end of the day, we are back where we started. I wish I could say it is not our fault but it is.
One of my favourite TV shows – The Good Fight – has six seasons and starts in a grim moment for the American society. It goes through all these hoops for six long years only to get back to its starting point and wonder how was this possible.
How was it when you started?
Exciting. Anxiety and excitement lived together with me, professionally, for a long time.
What determined you to choose PR as a career?
Curiosity. I always felt that knowledge was power – like really felt that to be true. So my idea was that journalists would know most and be the first to know (I was a kid then, so I guess I should be excused). Once I started to learn about PR, I realised that PR people knew a lot more and a lot before journalists would – so my "allegiances" changed so to speak and I went on to study public relations and practice for over a quarter of a century now. The profession held up its end of the bargain. No two days have ever been the same. I never stopped learning.
What were its most interesting years, in your opinion and why?
The recession years, of course. Those were the years when the profession was, systematically, reinstated as a management function, as an essential corporate function, instead of the fourth – or the fifth – wheel of the marketing cart.
What were the main changes in the last few years?
The pandemic has normalized the work from anywhere concept and that has been great for the professionals in public relations. Once you have graduated from your apprenticeship – which in our agency takes three years – you have the competence and the work ethics to do the job from wherever. You find your own motivation, you understand your clients and their business, you have a clear view of what is important and urgent and what can wait. We can pick up the phone from anywhere, we can write from anywhere and that has improved our lives – at Premium Communication, at least – significantly.
The second main change driver is the AI. I would say automation and AI. Change happens constantly around us, and if a couple years ago we thought only coders or truck drivers would be replaced by robots, we were very, very wrong. There are AI platforms that competently turn words into visual works, there are already AI platforms that try to replicate the magic of words. And since we have insisted lately that all we need to sell is a photo and a price tag or a discount tag, what is there to keep entrepreneurs or managers from thinking that that is what marketing communication is all about.
What will keep us in the job in the next 5-10 years will be what we can do and the machine still cannot. Which is highly specialized, rather rare, highly complex and has a strong emotional component. Consultancy will die last, probably. That is because it is the sharing of experiences between two people. Everything that can be done by a machine, will. Do I like this? Let's just say one of my hobbies of the past decades was to meet artisans and artists from all areas and support them or at least show my admiration to their craft. Do I find this inevitable? Alas, yes. The most hideous visions of the future seem to be closest to where we are heading now.
How would you characterize the industry right now (creativity, budgets, strategy, etc)?
I would have expected more progress in all areas. I grew up starving for books, reading ferociously whatever I could borrow. I brought back chocolate and books from my first trip to London, I filled half a bookcase with the PR and communication books I collected in the US while studying, my Kindle is loaded, to this day I spend more time reading than doing anything else. I am, therefore, shocked to hear my young colleagues telling me they read their first book at 12. I am therefore shocked to see digital natives incapable of searching the net for information or fact checking or being blissfully unaware of the basics of business they are active in.
Some 20 years ago, we had Business Review as a precious tool for industry research and you know I am not just saying that. The famous "lists" in the two English language publications of the mid-nineties were the must read for any professional in advertising and PR. Now we have the world – literally – at our fingertips. And what do we do with it?
Going back to the industry, it is clear that Romania is an online country – news, networking, marketing, everything is online here and the online is also the only growing medium. This is what sets us apart from other countries where print, TV and radio still have well segmented and strong and paying audiences.
This is also what defines our profession because we use media and social media to communicate. This translates into shorter deadlines, 24/7 work time, less and less time and appetite for strategy, less critical thinking, very fragmented budgets, most of which spent on experiments, receding objectivity, replacement of institutions with personalities, lots of room for fake and misinformation, lots of clutter, lots of noise. It is a very challenging environment to put it euphemistically.
What would you change in the industry and why?
A little less hypocrisy and self-praise would help a lot. Focus on the work.
Also, we have grown up with this idea that we need to go where the audiences are, that we need to respond to the needs of the audiences and we conveniently forgot that we could and we should also elevate the conversation. That the platforms we use can also educate and help people understand value, develop taste, adopt principles. In order to do this, of course, we would have had to work – or, on occasion, even fight – with our clients. And that would have been bad for business. So now a lot of people – particularly from my generation – look around in consternation or are already too jaded to notice anything anymore. And that is really, really, sad, especially because this is not something that happens only in Romania.
Which, of course, brings me back to hypocrisy, which I believe to be the root of all evil in this industry.
What were and still are your main goals for your agency?
To live long and prosper while respecting our profession, our clients and our principles. This is – as I have repeatedly heard it from peers – a form of luxury.
What changed through the years for you and your perspective on PR? Why?
In the past I guessed things, now I know things. I have spent over a quarter of a century in the profession and on the market and that has given me an opportunity to see a lot of things, and go through a lot of complex communication situations, in a variety of industries. So now I can easily spot patterns and anticipate trends or outcomes. What has not changed is that more often than not I am still Cassandra. I tend to tell the truth, pleasant or unpleasant, and some people still expect PR professionals to dress things up, to use mollifiers, to sweeten pills. Truth telling saves a lot of time and effort and time is not a commodity we have in large amounts.
What still inspires you and gives you drive and joy in PR and why?
There are still exceptions. There are still champions worth promoting. There are still brands worth working and fighting for. I keep looking for them and finding them, I keep feeding off their energy and their performances. They are not many, but few as they may be, they help me remain idealistic and optimistic.
For the box
Your best year in PR so far and why
2021. After the big scare we all had in 2020, it was a year of massive, yet successful change and adjustment. We all had to catch up with technology, to trust each other without meeting each other, to find ways to continue to communicate with the same richness of emotions in the new setup that prevented human contact. We learned a lot in 2021, about technology, the world, and ourselves and I guess I love most the years that teach me the most.
Best year for the Romanian PR industry (in your opinion) and why
The year when we stopped talking about our industry as being in its infancy. Whichever that year may have been. I do hope it is in the past now, at least for some of us.