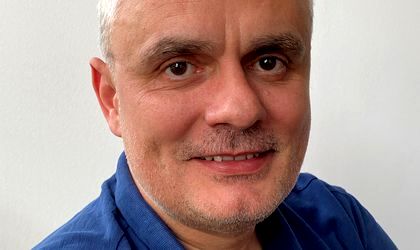 Romanian PR's top accolade, the Romanian PR Award, celebrates its 20th anniversary this year as a daring and stubborn project that has managed to bring together under the same rooftop communicators, valuable competitors, enthusiasts, and hundreds of PR professionals. Business Review started a series of interviews with top PR personalities that have been working in the industry for more than 20 years and that made a big impact on it. How it was and what is expected from the next chapters, you are about to find out.
Alexandru Păiuș, senior partner IMAGE PR, presented us his version on how the Romanian PR industry evolved during all those years, what determined him to enter it and launch his own agency and many more interesting facts. He is following Raluca Zamfir from RAN Communication, interview published here.
By Romanita Oprea
How would you characterize the evolution of the Romanian PR industry?
The market has developed a lot, especially in terms of volume. One the one hand, there are many more public relations making their way into the market, on the other hand, there are more and more clients who understand and decide to resort to the services we offer. It is clear and only natural that the PR industry has grown alongside the overall Romanian economy, and this can be observed by the generations of graduates within the specialized faculties. Being a relatively new profession in Romania, it is worth noting that there are not many differences in terms of quality regarding the services provided by us locally, compared to countries with a tradition in communication and public relations.
How was it when you started?
It's been a long time since I started, in 1995. PR was a completely new field in Romania, which was difficult for people to understand. There were very few companies in the market, most of us we knew each other quite well. The potential clients were also few, which meant there was strong competition between the agencies to win new clients. Compared to the resources available now, those times don't even make sense. It is increasingly difficult to understand how we managed to do our job, and not only that, but we did it very well despite having no email or mobile phones and with very limited internet access.
What determined you choose PR as a career?
You can say I kind of landed into the job. It was almost a fluke. I was a journalist, and I was recruited by a large telecom company for a public relations position, when not much was known about this profession in Romania.
Then, as time went by, I seized the opportunity and started the beautiful IMAGE PR story.  And here I am today still writing the story, just as curious and passionate.
What were its most interesting years, in your opinion and why?
Some would say that the most interesting years are always during and after a crisis or a difficult period, such as the financial crisis of 2008, the pandemic, or the war in Ukraine now, with all its consequences. And, in terms of professional challenges, that is true. However, almost every year brought something new, whether it was the addition of a new client to the portfolio, the adoption of new technologies or communication channels or changes in the consulting team. This is a job that is never monotonous, you are always doing new things or facing new situations.
What were the main changes in the last few years?
The most important change in recent years that comes to my mind is that this job can be done remotely most of the time. Of course, that has both pluses and minuses, but it is doable. If someone had told me before the pandemic that something like this was possible, I would have countered them with lots of solid arguments.
How would you characterize the industry right now (creativity, budgets, strategy, etc)?
If I had to find a single word that would integrate almost everything that is happening now, it would be efficiency. Clients have learned or have been determined to pursue concrete results, often correlated with business figures, and budgets allocated to PR are much more fiercely contested. Creativity is still sought after, but pragmatic results are often key, and strategy is often overlooked too fast or too easy.
What would you change in the industry and why?
I would like to be able to somehow separate more clearly the consultancy and strategy from the execution. Just like that, I would like to be able to make a clearer distinction between consulting fees and income from additions to the media and social media budgets. I think that these things should also be considered by those ranking "top" PR agencies. This way, we would have a more accurate picture of the industry from the point of view of PR businesses' performance.
What were and still are your main goals for your agency?
We always want a portfolio of clients that challenge us professionally, that appreciate the value of our work, so that, "at the end of the day", we have the satisfaction of a job well done and both ourselves and our clients start the next day with a smile on our faces. This probably comes with professional maturity, because we also went through a phase when all we wanted was to "grow up" and have as many clients and colleagues as possible. Unfortunately, such accelerated development often comes with renouncing quality, which can especially damage the strategic function of PR.
What changed through the years for you and your perspective on PR? Why?
It's been a few years now since we decided to reorient our business strategy almost exclusively towards consulting and strategic thinking. We have almost completely given up execution services – the organization and implementation of events. We try to outsource many of the activities that are not part of our core business to specialized partners, so that we can focus on what we know best and always deliver value added services.
What are the main challenges right now in your opinion, in the industry?
I think the industry is currently facing many challenges, perhaps more than before, given the extremely difficult context. Perhaps one of the biggest challenges, right now, is the diminishing poll of senior professionals with the required know-how, relevant work experience and solid work ethics. Although this has been an industry trend for the past few years, I believe it is quite stringent now.
Another challenge that we must overcome as an industry is rebuilding face-to-face relationships after almost two pandemic years and extended isolation, not to mention starting to make new relations. Think of it as having to learn how to walk again after an extended bedrest period. Also, we must become more agile in aggregating PR data across various channels and platforms: podcasts, print, social media, news outlets, etc.
How are you surpassing them at Image PR?
Being in the market for so long can be both a threat and a blessing. You must always be alert, always be open to new trends, always be prepared to change the way you do things, all while keeping the quality of your work unaltered by external or internal factors. But experience does not only expose you to the risk of getting bored or becoming blasé, but it also provides you with the advantage of maturity, knowing when to change gears and when to step on the acceleration. I can proudly say that we have reached this phase and we have a balanced approach to driving our client portfolio forward and shaping a team of consultants with a solid communication foundation and varied specialized skills. We choose our clients wisely and we provide high quality services that lead to successful long-term partnerships.
What still inspires you and gives you drive and joy in PR and why?
Passion for this job. Even now, after so many years, I find satisfaction and challenges every day.
Moreover, I can shape new generations of professionals – I like to help the younger members of our team discover the secrets of the job, learn the best tricks, and become the best version of themselves professionally. I have the opportunity to train them and teach them the satisfaction of quality work.
I am also curious and open to understanding and exploring new technologies and applying best practices. I like to stay informed and read news of all kinds, not only specific to the field. I like to make connections between different types of information, to document myself, to explain phenomena and situations.
Every day feels just like the first day. And I'm not bored at all.
For the Box:
Your best year in PR so far and why
I fondly remember a wonderful period for IMAGE PR, sometime after 2010. We had a special portfolio of clients, with many challenging projects, and a well-structured and valuable team. The atmosphere/mood in the agency was exceptional, we were organizing a lot of team bonding events, as well as parties with clients and partners. I think our location at that time helped a lot in all that. It was our first building with a swimming pool (later we "relapsed", with the second HQ with a pool included), around which work, and networking areas were arranged. The courtyard was always full of colleagues and various guests; it was a pleasure to spend the day at the office.
If I had to choose the best year, I would stop at 2015. That was the year we celebrated 20 years of activity. It was also the year when we signed the partnership with FJSC and inaugurated the first fully equipped laboratory within the University of Bucharest set up by a public relations & communication company.
Best year for the Romanian PR industry (in your opinion) and why
It is difficult to choose the best year for the industry in general. In fact, I think there is no such year, it would probably be more appropriate to classify them in less than absolute terms – the most and least challenging, if you like. The market has been growing in volume and developing, and I have been learning something new with each passing year. We have always been faced with both challenges and opportunities, whether we were to refer to the financial crisis of 2008 or, more recently, the pandemic years. The most senior people in the industry, myself included, can definitely remember, riding the nostalgia wave, the years when there were more than 100 journalists at press conferences, including the launch of some commercial brands, when you woke up the next day at the break of dawn to buy the newspapers and analyze the impact of the event you had organized. It is hard to imagine now generating dozens of media titles in print, or driving discussions and meetings with numerous journalists, having fax correspondence with clients, in the absence of the email, going through event photos on film or video tapes with television appearances. Others, rightly so, would probably say that the best years are the most recent, marked by the adoption of new technologies, and social media making its way into communication plans, influencers relationships, ad campaigns or the so-called special projects with various publications, bloggers, or other opinion leaders.
I think they were all good times for the public relations industry, each with its own professional challenges and satisfactions.
But, regardless of the communication channels and tools we use, our job will always keep its fundamental attribute, content creation.