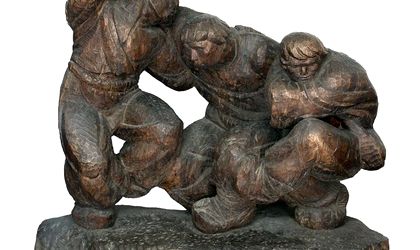 In the field of sculpture,Romania is known worldwide for Constantin Brancusi's masterpieces. But another 22 local artists from the 20th century who have contributed to the country's canon are now being marked in Bucharest. Some 75 of their wood sculptures from a period of almost 80 years are on display in a temporary exhibition, Sculptural Archetypes: Wood Sculpture, at the National Museum of Art of Romania. BR took a tour of this highly recommended exhibition of so many great artists' pieces.
By Oana Vasiliu
The selected works illustrate how Romanian artists related to the modernist notion of "truth to the material", embraced by Brancusi and others of his generation. Local sculptors are known for their preference for direct carving, which is considered a defining characteristic of Romanian art. Wood sculptures by Hans Mattis-Teutsch, Milita Petrascu, Borgo Prund, Romul Ladea, Szervatiusz Eugen, Ion Vlasiu, Vida Geza, Constantin Aramescu, Kos Andras, Balogh Peter, Naum Corcescu, Ovidiu Maitec, Gabriela Manole Adoc, Ion Alin Gheorghiu, Mircea Stefanescu, Alexandru Gheorghita, Gheorghe Iliescu-Calinesti, Rodica Popescu-Racota, George Apostu, Laurentiu Mihail, Constantin Popovici and Adrian Popovici make up the exhibition.
At the gallery, the public can see a chronological presentation of significant landmarks in the evolution of this artistic technique, created by Romanian sculptors during the 20th century. Pieces by artists and sculptors of the 1960s and 1970s feature in the exhibition, which balances classicizing modernism and radical forms of modernity.
Works from the National Gallery Collection from 1918 to 1999 are on show until October 28.
Location: Ground floor of the National Gallery
Address: 49-53, Calea Victoriei
Photo courtesy of MNAR