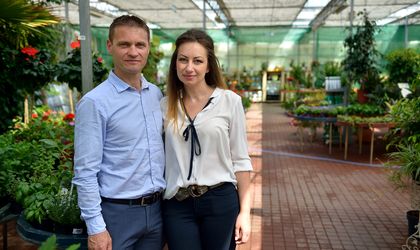 Business Review has launched a new campaign called #makeithappen. Every day, for a month, we will present 30 inspirational entrepreneurial stories of Romanians who turned passion, hobbies and knowledge into successful businesses. We will present the stories of entrepreneurial initiatives of all sizes in all economical fields, underlining the diversity and creativity of the local business environment. By starting this campaign, Business Review is strengthening its commitment to be the go-to source for inspiring stories of Romanian entrepreneurship.
Today's #Makeithappen story is about the Molnar spouses, who started their flower business more than 20 years ago in Bistrita-Nasaud. Gabriel (45) and Ioana (37) Molnar founded Magnolia in 1997 in Bistrita Nasaud, later deciding to move the operations in Cluj-Napoca, where the market was bigger. Their online shop was launched in 2001, on a local e-commerce market that was still in its nascent phase.
Fast forward to 2018, they have developed a network of flower shops across Romania and their company is ready to deliver flowers in 24 hours across the globe. Their capacity to take risks and build a business focused on top quality standards made us include the story of the Magnolia in our campaign.
Read another #Makeithappen story here: Painting your success path in business. The artist that turned pure talent into an entrepreneurship initiative
Gabriel, who is a graduate of the Faculty of Electrical and Power Engineering, got into the flowers business without any prior experience. He borrowed some money, some flower vases and quickly opened shop. His wife, Ioana, has been working with him in the company since she was 19. As a graduate of the Faculty of Psychology, she has been handling the area of HR and training of employees at Magnolia, while Gabriel remained focused on the operational side.
"Flowers were bought from the market or from the corner of the street. Gradually, customers were convinced that the flowers they found at us were of superior quality and the services some of the best," said Gabriel in an interview.
Getting to a network of 14 stores, two warehouses and a garden center was no easy challenge. Ioana says there were years in which she and her husband worked for more than 16 hours per day in order to build the business. However, she has a clear policy when it comes to the priorities of Magnolia's employees.
"We are trying to have a good employer PR," says Ioana, adding that she urges employees to forget about Magnolia when they leave the job at the end of the day and focus on their private lives in order to be more productive the next day.
"This is what many entrepreneurs in the country do. They tire themselves down," said Gabriel, who has a very analytical perspective on running the business. He is a fan of the American management style, suggesting this is the best one across the world.
"We measure everything," said Gabriel.
The company is able to plan ahead expansions in new cities depending on the number of orders they get from locations where it doesn't have a physical presence. Magnolia also has a system to measure quality control and to solve quickly cases in which customers signaled an issue with the delivery of flowers.
Magnolia gets its flowers from the Netherlands, Ecuador, Columbia, Hungary and Malaysia and is able to deliver them in 2-4 hours in any location in Romania. It takes up to 24 hours for an international delivery. Working with such sensitive products brings additional challenges so the company has its own delivery team to make sure that the flowers get to the customers in perfect shape. There are over 100 flower deliveries in a regular day.
Read another #Makeithappen story here: The Romanian entrepreneur making millions from high-tech massage chairs
Abroad, most of the orders come from the UK, Italy, Germany, US, Spain and France, countries with big communities of Romanians. These countries generate account for roughly 5 percent of all sales. In this case, customers from abroad sent flowers to their dear ones in Romania.
One of the secrets of the company's growth lays in the floral design. Each florist that is hired by Magnolia goes through an intensive training of three weeks to learn the specific style that consolidated Magnolia's brand.
Going forward, the flower chain will continue to focus on development and revamping of stores and to a lesser extent of profit, explained Gabriel.
In 2017, Magnolia recorded a profit of EUR 108,722 and a turnover of EUR 5.19 million, with sales being roughly evenly split between offline (54 percent) and online (46 percent). At group level, the amount of sales stood at EUR 8.3 million.
The best-selling flower shop is the one in Cluj-Napoca, followed by the ones in Brasov and Constanta (both located in shopping malls).
In Cluj-Napoca, Magnolia invested EUR 150,000 in a concept store for flowers and there are plans to open a new unit in Timisoara later this year.
Looking at the core customers of Magnolia, they are both men and women aged 25-35 that buy flowers for birthdays (50 percent), out of love and for other occasions. Roses are the most popular flowers as well as spring flowers that Magnolia sells all year round.
Read other stories in our #Makeithappen series:
Good things do happen to those who wait! Gevalco, the company that paid its dues and now manufactures components for Airbus
From a two-man team to 200, via Silicon Valley, San Francisco and Sydney, to discovering 'the recipe for innovation'
The programmer that built an online business for kids' products from the heart of Transylvania
The Romanian entrepreneur who created the first airsoft arena in the world replicating a map from Counter-Strike
From scratch to market leader in six years. The story of the EUR 2 million online organic food store Vegis.ro
Success has a lavender scent! Bicicleta cu Lavanda, the business that puts the natural in cosmetics
She spent 14 years as a employee before she found the courage to open her own furniture business! The story of Disofa, the Brasov brand that wants to take over Europe
Meet the young Romanians using blockchain to disrupt the USD 25 bln global scientific market
From a simple idea to a successful business: CareToPets, the Romanian pet sitting platform about to go global
Exploring nature for a living. The business created out of love for traveling
Romania-based Gateway VR Studio, among the first 10 Virtual Reality companies in the world
Creating a community you want to be a part of – aSpace, the new co-working hub in Bucharest
Meet the third-generation barrel-maker supplying the best Scottish whisky brands
The story of Kixomania, the professional footwear cleaning service started by a 23-year-old Romanian woman as her third business