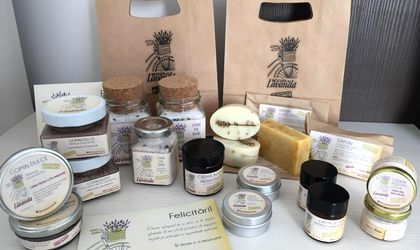 Business Review has launched a new campaign called #makeithappen. Every day, for a month, we will present 30 inspirational entrepreneurial stories of Romanians who turned passion, hobbies and knowledge into successful businesses. We will present the stories of entrepreneurial initiatives of all sizes in all economical fields, underlining the diversity and creativity of the local business environment. By starting this campaign, Business Review is strengthening its commitment to be the go-to source for inspiring stories of Romanian entrepreneurship.
Our next story is about Bicicleta cu Lavanda, a business owned by Cristian and Alexandra Crisan, a couple in their early thirties from Cluj-Napoca who decided to start growing lavender as a business, after learning about its many uses in the health and beauty industry. In late 2017, they went from simply growing the lavender to manufacturing natural cosmetic products under the name "Bicicleta cu Lavanda" (the Lavender Bicycle), motivated by the birth of their daughters and the desire to keep them away from any toxic chemicals used in most of the products on the market. Their ambition and commitment to keeping their products truly natural and sustainable is what inspired us to tell their story.
The two entrepreneurs both had relevant experience that allowed them to make the right moves in their business: Alexandra had worked at GSK in merchandising and sales to large stores, while Cristian had studied management and worked as a distributor of professional products to beauty salons for almost 10 years.
Cristian tells us that although it's quite difficult to maintain the lavender crops and also find the time for marketing their products, their decision to start the business was "a pleasant change" that faced them with a lot of fresh challenges, and that their cosmetics range is growing faster than they had expected.
Bicicleta cu Lavanda sells through various channels, as Cristian explains: "We reach about 40 percent of our customers through online marketing, while the rest of the products get locally distributed through several partner beauty salons in Cluj, Salaj, Bihor, and Mures." Products can also reach customers in the rest of the country, by courier, so it's already a national business, and soon they plan to start selling on the European market as well.
Since they decided to go into cosmetics, they have also hired two other people, moving away from the "family business" model: "Florina is a chemist with experience in making natural products, who has helped us develop our recipes, and Adam is a designer who does wonders in branding, labeling and marketing".
Read another #Makeithappen story here: Exploring nature for a living. The business created out of love for traveling
Cristian says that lavender as a crop is quite resilient, but that "if you want to avoid chemicals, digging is your only option – depending on the amount of rain, you may have to dig as much as 7-8 times in the first year, and gradually less in the following years as the plant grows and prevents the excess growth of weeds."
The products are based on lavender flowers, essential oil and lavender water. "The procedure involves filling a container with lavender flowers, insert steam, which then condenses into a mix of water and oil. That mix then goes through a separation process, and you get the two very useful products".
"We know a product will be very successful when during the testing phases we get feedback such as 'it's the best I've ever used' or 'I've finally found what I was looking for'"
"We discovered that there are very few products out there that don't contain toxic ingredients and don't damage the environment," Cristian says, adding that Bicicleta cu Lavanda is one of the very few brands to offer 100 percent natural products, and that most of the ingredients they use are eco-certified. "Each product is conceived to be as efficient as possible in what it does, as well as ensure maximum nutrition to the skin and an aromatherapeutic effect."
Packaging is also conceived to be as useful and as environmentally-friendly as possible: "We use at least 80 percent glass containers, which can maintain the oils' properties and can be easily recycled and reused. Each product is "Made in Cluj" and we try to support national producers and distributors through our acquisitions," Cristian notes.
Alexandra and Cristian are working on plans for the future of the business. "We're still in our first year with cosmetic products, so there's plenty of room for expansion. We have several products in development, we're working on our website and an online store as well as a blog with advice on how to use the products," Cristian explains.
"The most important thing is to find your place on the market, and what you do should represent you as much as possible."
"We started our lavender crops with an investment of about RON 2,000. For the cosmetics side, considering that products are made in limited series, we started with RON 8,000 and have reinvested all turnover up to this point," he says. "Our current focus is to make the best products and reach as many people as possible."
The most popular products vary depending on season, the entrepreneur explains, but natural soap bars, eye and face creams and the recently launched lip balm have been the most popular lately. "We know a product will be very successful when during the testing phases we get feedback such as 'it's the best I've ever used' or 'I've finally found what I was looking for'", he adds.
There are some difficult parts in the business as well, as Cristian tells us: "The biggest hassle is the intricate legislation for cosmetic products, especially the fact that costs are equal for big and small manufacturers. For example, notifying the Health Ministry about a new product costs about RON 1,200 each time, whether you make 200 units or 200,000." Another issue, he says, are the overnight changes to the fiscal code: "It's hard to make plans when you know they may be obsolete in the next year."
As for what they've learned from the business, Cristian says: "The most important thing is to find your place on the market, and what you do should represent you as much as possible. That's the only way you can  be 100 percent involved."
Read our other stories in the series: 
#Makeithappen: She spent 14 years as a employee before she found the courage to open her own furniture business! The story of Disofa, the Brasov brand that wants to take over Europe
Meet the young Romanians using blockchain to disrupt the USD 25 bln global scientific market
From a simple idea to a successful business: CareToPets, the Romanian pet sitting platform about to go global
Romania-based Gateway VR Studio, among the first 10 Virtual Reality companies in the world
#Makeithappen | From a simple idea to a successful business: CareToPets, the Romanian pet sitting platform about to go global
Creating a community you want to be a part of – aSpace, the new co-working hub in Bucharest
Meet the third generation barrel-maker supplying the best Scottish whisky brands