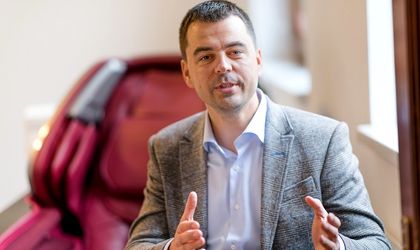 Business Review has launched a new campaign called #makeithappen. Every day, for a month, we will present 30 inspirational entrepreneurial stories of Romanians who turned passion, hobbies and knowledge into successful businesses. We will present the stories of entrepreneurial initiatives of all sizes in all economical fields, underlining the diversity and creativity of the local business environment. By starting this campaign, Business Review is strengthening its commitment to be the go-to source for inspiring stories of Romanian entrepreneurship.
Today's #Makeithappen story is about an entrepreneur from Cluj who created a new market in Romania for professional massage chairs. Adrian Rus (32) started Komoder in 2011 turned his company into a market leader for massage chairs. But this wasn't his first entrepreneurial endeavor. He had been managing his own creation agency called Braintuitive for five years and one day he decided that a massage chairs market has potential. Although he is a graduate of the Informatics Faculty, the entrepreneur is still very interested in the design aspect of the business.
"When we started, in one month we had the products on display and the first customers," said Adrian.
The initial investment in the company was worth EUR 150,000 and the entrepreneur has been working with a bank for the past five years to support the growth of the business.
Read another #Makeithappen story here: From a two-man team to 200, via Silicon Valley, San Francisco and Sydney, to discovering 'the recipe for innovation'
Looking back, the entrepreneur says that he would have risked more at the start and get more capital, the turnover could have been higher now. However, the acknowledges the fact that in 2011, consumers were just recovering from the financial crisis, so this would have been another challenge.
Fast forward to 2017, the company grew its turnover to EUR 2 million and was able to sell over 2,500 massage chairs. This year, Adrian expects to increase the turnover by another EUR 1 million.
"I though the product was very comfortable and it was extremely relaxing to sit on it. So we thought the brand has to be related to the concept of comfortable," explains Adrian on choosing the name of the company.
Komoder operates its own network of stores in several Romanian cities (Cluj-Napoca, Bucharest, Iasi, Timisoara), but also abroad in Bulgaria, Spain and Italy. For instance, the company opened a showroom of 70 square meters in Barcelona, following an investment of EUR 30,000. Adrian says that his focus is to make his company more present on international markets.
He has a team of 13 employees in Romania and the offices have an international feeling due to the various languages spoken here. Adrian says his management style aims to increase the confidence for each of his employees.
"I want to give confidence to my employees. I tell someone to do a delivery, a design, a banner. I leave them the freedom of creativity (…) and this makes them more confident," he explains.
In this industry, creating a special customer experience is critical considering that the massage chairs for the fully body have prices ranging from EUR 1,000 to over EUR 5,000. Komoder has its own fleet of delivery vehicles and is able to bring a massage chair that weighs more than 150 kg even to the North Pole. The employees have to install the chair and provide a short training to the owner, as the chairs have numerous massage options and programs.
In terms of consumption behavior, customers usually check the offers online and then go into showrooms to test them before making the purchase decision.
The chairs sold by Komoder are manufactured in Japan, China and Taiwan based on the recommendations of Adrian. The industry for massage chairs was born in Japan in the '60s and has progressed at an impressive pace since then.
For instance, the massage chairs currently have USB and Bluetooth connection, alongside WiFi remote controls and smartphone apps. Some consumers might be enticed by the tech side, but other customers simply want a chair that can provide a quality back massage.
Adrian's company is also selling some of the massage chairs in clinics as they have been certified as medical devices. He is also seeing an increasing demand from the corporate sector, especially from IT companies. The entrepreneur says that employees could use a massage chair for a 15-minute break to relax, instead of playing videogames at the office.
Read our other stories in the #Makeithappen series here: 
The Romanian entrepreneur who created the first airsoft arena in the world replicating a map from Counter-Strike
From scratch to market leader in six years. The story of the EUR 2 million online organic food store Vegis.ro
Success has a lavender scent! Bicicleta cu Lavanda, the business that puts the natural in cosmetics
She spent 14 years as a employee before she found the courage to open her own furniture business! The story of Disofa, the Brasov brand that wants to take over Europe
Meet the young Romanians using blockchain to disrupt the USD 25 bln global scientific market
From a simple idea to a successful business: CareToPets, the Romanian pet sitting platform about to go global
Exploring nature for a living. The business created out of love for traveling
Romania-based Gateway VR Studio, among the first 10 Virtual Reality companies in the world
Creating a community you want to be a part of – aSpace, the new co-working hub in Bucharest
Meet the third-generation barrel-maker supplying the best Scottish whisky brands
The story of Kixomania, the professional footwear cleaning service started by a 23-year-old Romanian woman as her third business