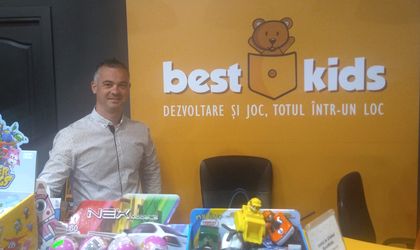 Business Review has launched a new campaign called #makeithappen. Every day, for a month, we will present 30 inspirational entrepreneurial stories of Romanians who turned passion, hobbies and knowledge into successful businesses. We will present the stories of entrepreneurial initiatives of all sizes in all economical fields, underlining the diversity and creativity of the local business environment. By starting this campaign, Business Review is strengthening its commitment to be the go-to source for inspiring stories of Romanian entrepreneurship.
Today's #Makeithappen story is about an entrepreneur who started an e-commerce business right from the early days of the internet, when Romanian consumers were just starting to discover the potential of online shopping. His courage to take risks and confidence in the power of online to change the retail industry convinced us to include his story in our campaign.
George Serban (37), the general manager of online store BestKids, launched the business on June 1 2007 with his associate Gabriel Rusu. However, this was not his first entrepreneurial endeavor. We have to go back to 1999, when George first realized that the internet could bring real business.
"In 1999, I looked on a website and there was a different presentation of a professor. It was a free domain. It was the early days of the internet; we were connecting through dial-up. I started to look at the website, to get the source code, and to see how it works. This is how I made my first site and fell in love with the internet," says the entrepreneur, who graduated from the Faculty of Mathematics and Informatics and the Faculty of Economic Sciences, marketing section in Cluj-Napoca.
Two years later, he launched from Cluj-Napoca bestauto.ro, a classifieds portal for cars. He sold the business in 2006 and started working as a programmer for American customers. George and his future business partner Gabriel Rusu worked for a customer that offered e-commerce platform in the US.
Read another #Makeithappen story here: The Romanian entrepreneur making millions from high-tech massage chairs
This is how they decided to do something similar in Romania, in Cluj-Napoca. With an initial investment of roughly EUR 5,000 and half a year of programming work, the two were able to launch the website 11 years ago, on Children's Day.
"We started slowly, by growing the capital and reinvesting it. In 2012, one third of the business was sold to Peak Toys, which is a big player in the distribution and import of toys. It was a big push for us the fact that it invested in us and offered financial support," says George. The toys are being imported from several markets in Western Europe and Asia.
The business has been growing constantly with three shareholders on board, but this year, one of the founders will exit BestKids. Gabriel Rusu, one of the co-founder of co-working space Silicon Forest in Cluj-Napoca, will leave the business and his stake will be redistributed between George and Jakab Janos.
Rusu leaves the business as he doesn't have time to work on BestKids and his new project in the same time, explained George.
Meanwhile, BestKids is facing challenges in the consumption patterns of the young ones. Kids nowadays tend to be attracted more by mobile apps than by physical toys.
"The market has changed a lot and is harder to put children in front of conventional toys," says the entrepreneur.
One of the most popular toys this year is squishy, after kendamas and fidget spinners that were last year's blockbusters.
BestKids is selling a wide array of products, including tricycles, slides and interactive games for kids. The entrepreneur has also signed a strategic deal to distribute Lego products in Romania and has included in the firm's portfolio's other international brands such as Cybex and InterBaby.
Read another #Makeithappen story here: The story of Kixomania, the professional footwear cleaning service started by a 23-year-old Romanian woman as her third business
For this year, the entrepreneur forecasts a turnover of EUR 3 million, similar to last year's level. The company employs more than 20 people at present. In a bid to increase the brand's presence in offline, BestKids launched its first physical store in Cluj-Napoca following an EUR 50,000 investment.
"The physical store is just for branding and from our perspective there are certain advantages. Certain brands don't let you sell their products if you don't have a presence in offline," said the business owner. Two more stores will be launched in Bistrita and Baia Mare this year. However, 90 percent of the sales are generated by the online store and close to half of the demand comes from Bucharest. The average basket value stands at RON 260.
The company has a warehouse in Floresti locality, near Cluj-Napoca, which handles some 300 parcel distributions daily.
Asked if he has any plans to exit the business, George is clear: "I'm not looking for an exit, and I'm doing this out of pleasure."
Read our other stories in the #Makeithappen series here:
The Romanian entrepreneur who created the first airsoft arena in the world replicating a map from Counter-Strike
From scratch to market leader in six years. The story of the EUR 2 million online organic food store Vegis.ro
Success has a lavender scent! Bicicleta cu Lavanda, the business that puts the natural in cosmetics
She spent 14 years as a employee before she found the courage to open her own furniture business! The story of Disofa, the Brasov brand that wants to take over Europe
Meet the young Romanians using blockchain to disrupt the USD 25 bln global scientific market
From a simple idea to a successful business: CareToPets, the Romanian pet sitting platform about to go global
Exploring nature for a living. The business created out of love for traveling
Romania-based Gateway VR Studio, among the first 10 Virtual Reality companies in the world
Creating a community you want to be a part of – aSpace, the new co-working hub in Bucharest
Meet the third-generation barrel-maker supplying the best Scottish whisky brands