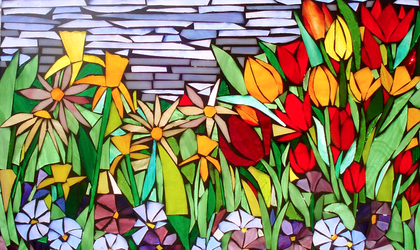 Business Review has launched a new campaign called #makeithappen. Every day, for a month, we will present 30 inspirational entrepreneurial stories of Romanians who turned passion, hobbies and knowledge into successful businesses. We will present the stories of entrepreneurial initiatives of all sizes in all economical fields, underlining the diversity and creativity of the local business environment. By starting this campaign, Business Review is strengthening its commitment to be the go-to source for inspiring stories of Romanian entrepreneurship.
Valentina Cristea (42), an art school graduate, is the living proof that artists and business go hand in hand. Of course, it took her 15 years to get the courage and experience to handle being her own boss. In 2013, after having worked for different companies in the art-related fields, Valentina Cristea (42) and her husband Ion (45), an engineer, started Sun Team Deco Art in her hometown of Hunedoara. Their initial investment was only RON 1,000, and today she makes highly customised stained glass, beautifully hand decorated lamps and other glass objects for individuals and businesses, mixing with ease small projects for private homes with large scale ones designed for public spaces. Business management and the marketing side of the business are down to Ion. The biggest challenge? According to Valentina, that is definitely the need to "educate the market." The best thing about working in this field? "Making someone's life more beautiful, she says.
For the courage to turn her talent into business, as well as the determination to make it in a small town within a niche business, we chose Sun Team Deco Art as our latest story in the series.
Before bracing the unknown, the artist-turned-entrepreneur worked for three years in Bucharest for the first franchise opened in Romania by SGO, an international franchise company based in Orange, California. "I worked with overlay stained glass, which is a more commercial, light version of classic stained glass," Valentina says.
Then, she had the chance to learn about how to set up a business while helping an acquaintance do just that in Pitesti. "I helped him start a business from scratch and that taught me a valuable experience," she explains. However, the business took a nosedive during the crisis and the business owner gave up, packed his bags and returned to Bucharest. Willing to build on her experience, Valentina took a chance and returned to her hometown. "As I am from Hunedoara, where jobs are scarce, I told myself: 'Why can't I, now that I know how things work, from the design part to using the software and sourcing materials to the execution part, open my own business?" But the hardest part is educating your market, Valentina says.
Starting with RON 1,000
The start was small. "We started off with less than RON 1,000," Valentina says of her business. "We were supported by the SRL-D program. We made a customised working table, we rented a small space where we started production and could receive the first clients. Then, we kept on reinvesting the profits," she explains.
At the same time, she continued to hone her skills and learned the Tiffany technique. "I also diversified the range of products and services offered, and started selling lighting objects, customised glass objects, such as presents and souvenirs. I also started offering monthly workshops," the entrepreneurs says.
For the moment Valentina makes everything herself using materials she sources from the UK and from on-line shops, especially from Timisoara and Bucharest. Every piece, from the design to the execution, is made by her. But she is planning to expand the team. 'I want to hire two more people. Someone to work with glass and someone to work in sales and promotion," she says. What's more, "I want to buy an oven for fusion glass," the artist says.
Growing together with the market
"What I like best about working in this field is seeing our clients happy. Also, I feel that I am making someone's life more beautiful," she says.
According to the entrepreneur, the Romanian market for unique products, taylor made, objects is growing. "However, the market growth is led by the large cities, where purchasing power is bigger and the public is more educated. That is why, I believe, the higher the standard of living and the level of education of the public, bigger the demand is," she notes, adding that most of the promotion work is done via Facebook and via online classifieds.
Opening towards international markets
Currently, Sun Team Deco Art has two companies among its clients and selling their products abroad is just a matter of time. "Most of our clients are individuals who appreciate our products and services," she says. "But we  are currently negotiating with a prospective client based in the Netherlands," is in the cards.
Navigating challenges
"The biggest challenges we had to face were the lack of capital to develop our business," Valentina explains. "Red tape, taxes and the whole set of requirements set for companies, such as risk assessment, labour protection measures, labour medicine, data protection, bookkeeping" are all other factors which, the entrepreneur argues, "all together, deter small companies from taking risks in a small city."
When starting off a business, mistakes are inevitable. When it comes to their business strategy, "perhaps the biggest mistake I made was to focus too much on the local market," the entrepreneur says. Next come things connected to the daily running of the business. "We underestimated the complexity of certain works and we wrongly estimated the quantity of materials we ordered," the entrepreneur recalls.
Read other stories in our #Makeithappen series:
Good things do happen to those who wait! Gevalco, the company that paid its dues and now manufactures components for Airbus
From a two-man team to 200, via Silicon Valley, San Francisco and Sydney, to discovering 'the recipe for innovation'
The Romanian entrepreneur making millions from high-tech massage chairs
The programmer that built an online business for kids' products from the heart of Transylvania
The Romanian entrepreneur who created the first airsoft arena in the world replicating a map from Counter-Strike
From scratch to market leader in six years. The story of the EUR 2 million online organic food store Vegis.ro
Success has a lavender scent! Bicicleta cu Lavanda, the business that puts the natural in cosmetics
She spent 14 years as a employee before she found the courage to open her own furniture business! The story of Disofa, the Brasov brand that wants to take over Europe
Meet the young Romanians using blockchain to disrupt the USD 25 bln global scientific market
From a simple idea to a successful business: CareToPets, the Romanian pet sitting platform about to go global
Exploring nature for a living. The business created out of love for traveling
Romania-based Gateway VR Studio, among the first 10 Virtual Reality companies in the world
Creating a community you want to be a part of – aSpace, the new co-working hub in Bucharest
Meet the third-generation barrel-maker supplying the best Scottish whisky brands
The story of Kixomania, the professional footwear cleaning service started by a 23-year-old Romanian woman as her third business