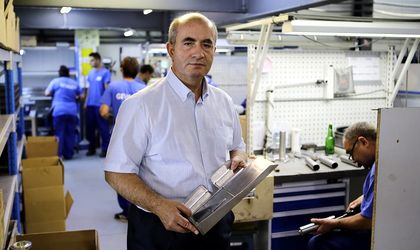 Business Review has launched a new campaign called #makeithappen. Every day, for a month, we will present 30 inspirational entrepreneurial stories of Romanians who turned passion, hobbies and knowledge into successful businesses. We will present the stories of entrepreneurial initiatives of all sizes in all economical fields, underlining the diversity and creativity of the local business environment. By starting this campaign, Business Review is strengthening its commitment to be the go-to source for inspiring stories of Romanian entrepreneurship.
Today's story is about Gevalco, a manufacturer of parts and components for the aviation industry. Founded by Costel Chira and two other partners in 1994 in Bucharest, the company barely survived in its first seven years, until it signed a partnership with a French company and started to become taste real success and development. Now, Gevalco supplies parts for aviation giants, including Airbus, and expects a EUR 9 million turnover in 2018.
The long path to success
Costel Chira, young an engineer in the early years of Romanian capitalism, finds himself out of job, after the state-owned company he had worked for since finishing college went bankrupt. Without any knowledge or example of how a private company would work, after years of communism that didn't allow any kind of private ownership, Costel Chira and two other colleagues had to survive, so they started their own company. They used their families' savings to buy some basic equipment. Upon examining the market, they noticed a need for consumables for a certain type of plasma cutting machines, as well as carbide tools, so they customized their machinery for these products and began production. Their main clients at the time were shipyards from Constanta, but Chira says they really had no chance of making a profit – "it was just about survival," he recounts.
After the first few years, the company hired nine other people. "We used to deliver our orders by train; a shipyard employee would take them, test them and give us feedback over the phone the next day. They paid half the price for the parts than they had initially paid to a foreign company," Chira says.
"At that time, private meant you sold donuts or ice creams, no one was actually involved in production"
In 1998, the company applied for the first set of grants the Romanian state awarded to private companies. Their project was approved and they got enough money to be able to buy a new, modern piece of equipment – a CNC (computer numeric command) lathe – from Switzerland. "It took us two months just to learn how to turn it on. Nobody knew how to work with something like that," the businessman recounts.
Read another #Makeithappen story: Meet the young Romanians using blockchain to disrupt the USD 25 bln global scientific market
When the state shipyards were privatized in 2001-2002, Gevalco found itself without clients as the domestic industry had collapsed. Other state companies they tried to recruit as clients wouldn't trust them because of the fact that they were a private company: "At that time, private meant you sold donuts or ice creams, no one was actually involved in production," Chira says.
In 2003, the company's luck changed when they signed a partnership with a French company, which had come across Gevalco through the Romanian-French Chamber of Commerce in Bucharest. They were looking for a company to make parts for the aviation industry and they presented a three-year plan to Gevalco, which at the time had a turnover of USD 40,000, which Chira says was just enough to survive. They accepted the deal and Nexteam group became a majority shareholder. "That's when we started to develop. The capital was boosted up to USD 175,000," Chira explains.
The French partners brought vision, a capitalist spirit and a new market, as well as modern equipment, money for a new space and more employees. Later, Gevalco also got its first bank loan from BCR – "The role of a bank is essential as it ensures the growth of a business," the entrepreneur believes.
Steady growth
Gevalco, which manufactures over 600 different products, has made investments of over EUR 15 million in its production lines throughout the years and it has obtained the highest 
certifications in the aviation field. This year's turnover is estimated at EUR 9 million, compared to EUR 8.2 million in 2017 and EUR 7.6 million in 2016. "This represents only added value, as the raw materials are acquired by the parent company, because there are certain restrictions in place in the aviation industry when it comes to materials we use," Chira explains.
Half of the 200 current employees were recruited from nearby areas and were fully trained within the company. "Many of our employees have been with us for less than two years. The company is dealing with the lack of qualified workforce and the consequences of mass migration," Chira says.
Gevalco is now in a continuous expansion of its production and looking to hire and train new employees. Also, according to its founder, since 2017, Gevalco got new high end clients from the aviation industry.
Read other stories in our #Makeithappen series:      
From a two-man team to 200, via Silicon Valley, San Francisco and Sydney, to discovering 'the recipe for innovation'
The Romanian entrepreneur making millions from high-tech massage chairs
The programmer that built an online business for kids' products from the heart of Transylvania
The Romanian entrepreneur who created the first airsoft arena in the world replicating a map from Counter-Strike
From scratch to market leader in six years. The story of the EUR 2 million online organic food store Vegis.ro
Success has a lavender scent! Bicicleta cu Lavanda, the business that puts the natural in cosmetics
She spent 14 years as a employee before she found the courage to open her own furniture business! The story of Disofa, the Brasov brand that wants to take over Europe
Meet the young Romanians using blockchain to disrupt the USD 25 bln global scientific market
From a simple idea to a successful business: CareToPets, the Romanian pet sitting platform about to go global
Exploring nature for a living. The business created out of love for traveling
Romania-based Gateway VR Studio, among the first 10 Virtual Reality companies in the world
Creating a community you want to be a part of – aSpace, the new co-working hub in Bucharest
Meet the third-generation barrel-maker supplying the best Scottish whisky brands
The story of Kixomania, the professional footwear cleaning service started by a 23-year-old Romanian woman as her third business