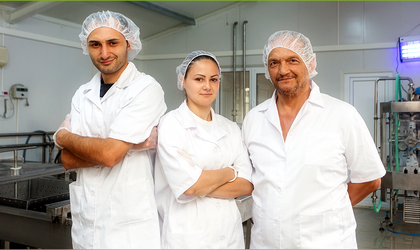 Business Review has launched a new campaign called #makeithappen. Every day, for a month, we will present 30 inspirational entrepreneurial stories of Romanians who turned passion, hobbies and knowledge into successful businesses. We will present the stories of entrepreneurial initiatives of all sizes in all economic fields, underlining the diversity and creativity of the local business environment. Through this campaign, Business Review is strengthening its commitment to be the go-to source for inspiring stories of Romanian entrepreneurship.
A family business, Caprina employs 10 and has at its core a father and son team. After working with the state-owned telecommunication company for a large part of his career, after the fall of communism, Bucharest-born Iulian Micu (65) took advantage of the changing context and set out to become an entrepreneur. After owning, alone or in a partnership, businesses in the fields of transport and commerce, tailoring, printing and carpentry, in 2008 he joined his son Stefan, who was 25 at the time and set up a goats' farm. Having studied computer science student, Stefan had  jobs in different fields such as services, transport, and the experience gained he now uses in the sale and distribution of products.
Located in Buzau County, near Ramnicu Sarat, the farm has today 700 goats and last year posted a RON 755,000 turnover. But the road from an ambitious idea to a successful business was not at all straightforward for the serial entrepreneur, who candidly admits he "did not know anything about goats."
For their adaptability, ability to learn and faith in a business idea that stepped into uncharted territory, the two entrepreneurs behind Caprina inspired us to tell their story.
Betting on an exotic idea
At first, Iulian Micu, his son Stefan recalls, had an even more exotic business idea: he thought about starting an ostrich farm. But visiting the largest ostrich farm in Romania convinced him that the niche was too narrow, demand was far from high and products were not in demand on foreign markets.
The next opportunity came when a good friend, who had bought an old communist-era production facility (IAS) and invited Iulian to populate one of its stables he did not use anyway. Together with another friend, he bought sheep and goats he installed in the old IAS, 60 kilometres from the capital. "At that time, he says, "I could not even imagine what the challenges and problems hidden along the way."
Buying goats with no teeth
A budding farmer, he bought the first goats from the locals. "I did not know anything about goats, which is why I bought dozens of old or sick animals," Iulian recalls. So oblivious was he about rearing goat farming, that he learned the first lessons the hard way. The first one, even now makes him smile. "I got upset with a salesman that he have me goats that had no teeth," he says, remembering the early days when he did not know even basic things about the animals, such as the fact that goats have no upper front teeth.
In time, he learned how to buy the young goats. But, only six months later, his associate withdrew from the business, and Iulian was forced to sell the sheep and was left with 300 goats, and that, he thought, was too much to handle. The next challenge came down the road when the tried to sell goat's milk.
The goat business becomes a business
In 2008, what started off as an adventure, became a full-fledged business. Together with Stefan, Iulian committed to the idea of becoming a farmer and bought the necessary equipment for processing the milk in house and making cheese and also set up a website. They traveled to Bucharest, gave out leaflets to get themselves known to potential clients and put ads in newspapers' classifieds sections. In the first year, the business, already named Caprina, had a database of 100 potential clients, and in the next year that boomed to almost 1000.
They started off with EUR 40,000 in capital, which, Stefan says, "in the animal husbandry sector, the amount is not big. "We had the first automated goat milking parlor in Romania and, even today, we do not want to stay behind with the technology. There is always something to buy, or to repair," he says.
Opening a new business line- deliveries 
Between 2015 and 2017, Caprina moved from Giurgiu to Buzau County, near Ramnicu Sarat, into a new farm with state-of-the art facilities. "The goal was to provide our clients with other natural farm products," Stefan explains. "The food was delivered to the customers' home without setting a minimum value per order. Moreover, orders worth more than RON 20 benefited from free transport in refrigerated containers. The area covered by the deliveries extended to Bucharest, Bragadiru, Magurele, Popesti-Leordeni, Otopeni, Chiajna, Ploiesti, Buzau, Ramnicu Sarat. In 2018, they renamed their delivery line "Honest Products," which, they believe, represents the spirit of their business.
Currently, their farm has 700 goats, pertaining to the Saanen breed bought from Austria, which, the farmers say, give one of the best yields.
Catering for a niche – milk products for babies
"Considering that we have been delivering milk for over 10 years, our greatest satisfaction is to see babies and children growing big and healthy with our milk", Stefan says. "I even received calls and thank you messages, and when we go from time to time to deliver an order and meet with such old customers, it is a great joy," he explains.
The portfolio of products sold under the Caprina brand includes: raw milk, fresh cheese, matured cheese, sweet homemade cheese, sweet cheese (urda), cream, butter, spreads, whey protein. Alongside, they sell products from other farms. "The products of other farmers we work with are very diverse, so we try to cover a weekly basket for a family who wants to eat healthily. We have fruit from the orchard, apples, apricots, cherries, cherries, plums, fruits, cranberries, raspberries, blackberries, bakery products, traditional meat from the renowned Plescoi, poultry, farmed eggs 'zacusca' and jams.
According to the farmers, they choose the farms they partner with according to a comprehensive set of criteria. "The criterion for a partnership with us is that the farmer or the entrepreneur whose products convince us – after analyzing the ingredients, the texture, the smell and the taste of the finished product – be honest. And of course, to have all sanitary and tax authorizations in good order.
A taste for natural products
"Not all our products are organic," Stefan says, adding that "most of the products are farm products, clean products containing only the ingredients that are necessary. That is, the cheese contains milk, the meat contains meat, the orchard trees are sprinkled against harmful diseases and insects, but the fruits are not treated with preservatives. Not everyone can afford to buy organic products, he says.
Overcoming challenges
"The biggest challenge I've encountered along that way, Stefan explains, "has been that to be active for so many years in a market where a fair and lawful business is very disadvantaged." According to the entrepreneur,  the problems that a farmer and a dairy producer are confronted with include the fake products that inundate the market, lack of taxation in some trading areas, and poor quality of similar products. Adding to that, "the state is not very helpful in changing legislation so often that you cannot make a long-term financial plan," he argues.
Seeing the customer as the biggest growth factor 
According to the two entrepreneurs, listening to their cutovers gave them the biggest input. "We have learned that there is no compromise and any mistake is sanctioned by the customer," Stefan explains. "Everything has to be perfect, from milking to dairy production, to delivery and human interaction. We made mistakes when we did not scale up the business properly, so we had more demand than we could produce, then we produced more than we could sell," Stefan says. "There have been cases when we had so many customers that we finished delivering after a reasonable hour, so we had to reorganize the entire distribution to deliver the same number of customers, but in a shorter time," he recalls.
Their clients are mainly urbanites aged 27 – 70, and include a large number of families with at least one newborn, with an interest in having a healthy and active life, higher education, and medium to high income.
Read more stories in our series:
From a two-man team to 200, via Silicon Valley, San Francisco and Sydney, to discovering 'the recipe for innovation'
Turning flowers into profit. The Romanian chain Magnolia delivering bouquets across the world in less than 24 hours
The Romanian entrepreneur who created the first airsoft arena in the world replicating a map from Counter-Strike
From scratch to market leader in six years. The story of the EUR 2 million online organic food store Vegis.ro
Success has a lavender scent! Bicicleta cu Lavanda, the business that puts the natural in cosmetics
She spent 14 years as a employee before she found the courage to open her own furniture business! The story of Disofa, the Brasov brand that wants to take over Europe
Meet the young Romanians using blockchain to disrupt the USD 25 bln global scientific market
From a simple idea to a successful business: CareToPets, the Romanian pet sitting platform about to go global
Exploring nature for a living. The business created out of love for traveling
Romania-based Gateway VR Studio, among the first 10 Virtual Reality companies in the world
Creating a community you want to be a part of – aSpace, the new co-working hub in Bucharest
Meet the third-generation barrel-maker supplying the best Scottish whisky brands
The story of Kixomania, the professional footwear cleaning service started by a 23-year-old Romanian woman as her third business