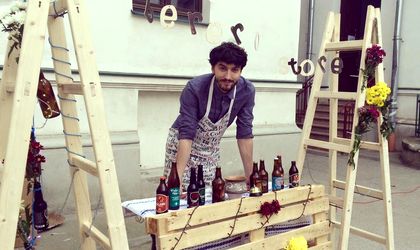 Business Review has launched a new campaign called #makeithappen. Every day, for a month, we will present 30 inspirational entrepreneurial stories of Romanians who turned passion, hobbies and knowledge into successful businesses. We will present the stories of entrepreneurial initiatives of all sizes in all economic fields, underlining the diversity and creativity of the local business environment. Through this campaign, Business Review is strengthening its commitment to be the go-to source for inspiring stories of Romanian entrepreneurship.
Today's story is about Ioan Mitroi, a young software developer who decided to open an online store – Berero – to bring together all the craft beer brands in Romania, after he and his friends discovered that these types of beers were very hard to come by.
Why craft beer? Ioan says the quality is much better, it tastes better and it's even healthier than regular, industrial beer.
"Craft beer is naturally fermented, the process takes at least 14 days, it doesn't contain any fermentation accelerators, enhancers or flavour extracts and it is manufactured in small batches, so the producer has much more control over the final product."  

 
The journey of Berero started three years ago. "At the time there were only three or four craft beer manufacturers in Romania and we wanted to try out their beers, but we had no idea where to buy them," he says. "We tried to order from producers themselves, but that involved high transport costs and quantity limitations because we were individuals, not companies," Ioan recounts.
Ioan started and managed the business while keeping his day job in IT, together with two others who worked in the same field. "One of the partners gave up pretty quickly, while the other exited the business after the first few months, but stuck around to give me both moral and physical support," he says.
Read another #Makeithappen story here: AROBS, the IT company building blockbuster products after three "almost disastrous" initiatives
As for finances, Ioan says he just directed parts of his salary to the business all throughout the first year. "I'd always get just enough money to buy the next batch of beer and paid it on the spot; I opened the website with minimal costs of under RON 1,500."
Berero has its own warehouse where they hold all the beer. "A delivery in Bucharest takes between 30 minutes and four hours, and we usually deliver on the same day," Ioan says.
"We're constantly connected to what's happening in the market and we quickly learn about new products or new factories. News travels fast, and we're the first to hear it. All new producers can be featured on our website if they want to, and we then choose what stays on," Ioan explains.
"Most of our promotion is done through social media. We had an organic growth, based on word of mouth, and we're still relying on a client base that we can honestly call a community," says Ioan. "We know many of them personally and some of them are really friends. Our communication is honest and coherent, based on appealing visuals and product descriptions that present the producers' stories as well as possible. Catalina Marcu, our social media manager, was the one who came up with all the creative text and our whole current style."
Berero had a turnover of almost EUR 80,000 in 2017, and they're aiming for over EUR 100,000 for this year. Their future plans also include a bigger team and more warehousing space, setting up more collection points in Bucharest and, most importantly, expanding outside the country by opening a standalone warehouse in another big European cities. "We're also thinking of a concept store, but that's another type of business and we would need an investor."
Unlike other Romanian entrepreneurs who have raised points about bureaucracy or tax-related issues their businesses face, Ioan says his simple business model hasn't had too many problems of this nature. "Our relationship with the state is a normal one – our accountant tells us about the latest legislation, calculates our taxes and we comply. For us things are relatively simple, but I know it is more difficult for manufacturers. They would benefit from less paperwork, faster processing of their product approvals, no longer being seen as industrial producers or get some fiscal incentives, things that we hope will also be implemented within the Craft Beer Producers' Association," Ioan says.
"The Romanian craft beer market is now much bigger than when we started out three years ago. The future will bring more beer factories, collaborations between Romanian brewers and with large foreign producers, as well as more events dedicated to craft beer. We also have the Craft Beer Producers' Association, so we're expecting a lot of positive things."

 
"Things happen at another level abroad because manufacturers collaborate with each other much more, they come up with new types of beers, derived from the classics, which end up being produced in Romania as well (e.g. New England IPA)," Ioan explains.
Ioan says he would advise other young people who are thinking of opening a business in Romania to make sure they find an unexplored niche, to establish their target, build a brand and a full visual identity, be serious and confident.
As for his favourite craft beer, he says: "The type of beer that I like isn't currently being made in Romania – I'm talking about Belgian-style sour beers like Lambic or Gueuze."
Read other stories in our #Makeithappen series:
Painting your success path in business. The artist who turned pure talent into an entrepreneurship initiative
Cut the sugar! The cake shop in Iasi that makes healthier versions of all our favourite sweets