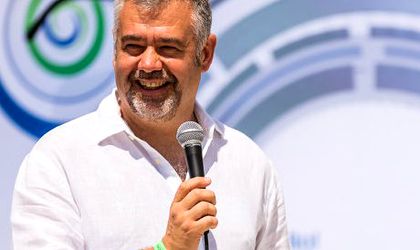 Business Review has launched a new campaign called #makeithappen. Every day, for a month, we will present 30 inspirational entrepreneurial stories of Romanians who turned passion, hobbies and knowledge into successful businesses. We will present the stories of entrepreneurial initiatives of all sizes in all economic fields, underlining the diversity and creativity of the local business environment. By starting this campaign, Business Review is strengthening its commitment to be the go-to source for inspiring stories of Romanian entrepreneurship.
Today's story is about AROBS, the IT company founded 20 years ago in Cluj-Napoca by Voicu Oprean. The company started with a team of 10 people and plans to reach 1,000 employees by 2020. Moreover, the Romanian firm is working with customers from across the globe and has started to acquire other companies abroad.
The courage of AROBS' founder and his vision to make the company go global made us include the story in our campaign.
Voicu Oprean (47) started AROBS Transilvania Software in 1998, in an apartment, with a team of around 10 people.
"20 years ago, I was 27 years old and had little money. But I had my own PC, bought with the money I earned in the US, as I had just returned in the country. Aside from this unique PC, I had a lot of enthusiasm," says Voicu.
With a university degree in Computer Science from the Technical University of Cluj Napoca, he knew early on that he wanted to be his own boss. Before creating AROBS, Voicu was a karate instructor at this own dojo.
Read another #Makeithappen story here: From a two-man team to 200, via Silicon Valley, San Francisco and Sydney, to discovering 'the recipe for innovation'
In 1994, he opened a gym and built a small network of two locations in Cluj-Napoca and one in Bucharest. Looking back, Voicu says that he worked a lot on this project "with great pleasure."
Then, he went to work in the US and returned to start a company that has been expanding constantly for the past two decades. And the first challenges appeared fast. The entrepreneur realized early on that "we had to launch our own product to really succeed."
"Thus, 15 years ago, after three almost disastrous initiatives, we launched our first product – OptimallSFA, a solution for sales optimizations. Few years later we launched TrackGPS, now the main solution in the telematics field in Romania and a huge success abroad," explained Voicu.
Two decades later, AROBS provides software development and innovative IT solutions for customers in 14 countries in Western Europe, North America and Asia. Sectors such as automotive, life sciences, travel, telematics represent strategic areas for the Romanian firm.
"Each new market, each new branch represented a new challenge for us. Thus, my advice for anyone starting a business is to go with full speed ahead once he or she finds something that works, when things happen right. To abandon any defensive attitude and focus on winning," says Voicu.
From the 10 people crowded in an apartment in the early days, AROBS now has reached 700 employees in Romania and in the international offices in Germany, Hungary, Moldova, Indonesia, Belgium and the Netherlands.
For this year, the founder of AROBS expects a turnover of around EUR 30 million, up from approximately EUR 25 million in the previous year.
In terms of staff, Voicu says the plan is to reach 1,000 employees by 2020 and in terms of of earnings the target is an EBITDA of EUR 11.6 million by 2020. This growth would also be supported by AROBS' acquisition of other international players.
This year, AROBS ventured even more abroad, in the Benelux area, by taking over CoSo by Arobs B.V. and CoSo by Arobs BVBA in a deal worth EUR 1.3 million. The two companies have 10 employees. Voicu says that CoSo's portfolio of products and services completes those of AROBS' in the field of fleet management, process automation, and also provide a competitive edge in the area of educational software.
Read another #Makeithappen story here: The programmer who built an online business for kids' products from the heart of Transylvania
"Together with the two firms in the Benelux, we took over the challenges and opportunities of being present on a dynamic market that is also very pretentious," said the business owner.
Asked if he wants to list AROBS on the stock exchange, Voicu says this will always remain an option "but right now we are focusing on growing through our own resources."
Right now, 60 percent of the company's sales are made outside Romania and the most valuable customers are in Germany, Finland, US, UK and France, just to name a few. The company owner says these are also the markets that will generate most of the future demand.
Read other stories in our #Makeithappen series:
Painting your success path in business. The artist who turned pure talent into an entrepreneurship initiative
The Romanian entrepreneur making millions from high-tech massage chairs
Cut the sugar! The cake shop in Iasi that makes healthier versions of all our favourite sweets