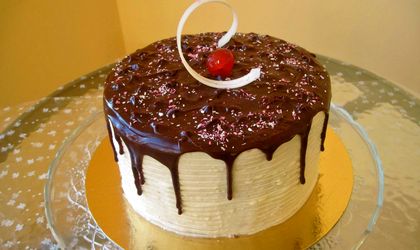 Business Review has launched a new campaign called #makeithappen. Every day, for a month, we will present 30 inspirational entrepreneurial stories of Romanians who turned passion, hobbies and knowledge into successful businesses. We will present the stories of entrepreneurial initiatives of all sizes in all economic fields, underlining the diversity and creativity of the local business environment. By starting this campaign, Business Review is strengthening its commitment to be the go-to source for inspiring stories of Romanian entrepreneurship.
Today's story is about Mihai and Rosana Iacomi (both 42), a married couple from Iasi who decided to open a cake and sweets shop specialized in sugar-free products a few years ago, motivated by 
the fact that Rosana's father, who suffered from type 2 diabetes, was unable to eat anything more than a piece of fruit on special occasions because everything else on the market had too much sugar.
But "Cofetaria Altfel" isn't just for people with metabolic health issues: anyone who has a sweet tooth but doesn't want to eat large amounts of sugar can rely on their products. They also use wholegrain flour, low-fat cocoa, and fresh, locally-sourced fruit, dairy and eggs, in order to make their sweet treats as healthy as possible.
In her attempts to find a good alternative for sugar, Rosana researched several sweetener options, tested them in recipes, and discovered that xylitol, extracted from birchwood, had the best results. "Xylitol has a low glycemic index of 7, compared to sugar's 70, meaning it enters the bloodstream slowly and is easily processed by those with metabolic conditions," Mihai explains.
"Rosana baked a few cakes, took some pictures and put them on Facebook. People soon started asking questions about them – an image is worth a thousand words. After two years of tests, we decided to open the first cake shop in Iasi that exclusively sold sugar-free products," Mihai recounts.

 
Mihai and Rosana Iacomi both have law degrees, but their careers followed different paths. Before the cake shop, Mihai was an area manager for a distribution company in Bucharest, and later built the Iasi branch of the same company from scratch: he set up the space, hired new staff and managed the branch, until it became one of the three largest branches of the company. "After the economic crisis hit in 2009, I went into the hotel industry and became the marketing director at the 4-star Grand Hotel Traian in Iasi. Since 2013, I've been using my marketing skills to promote the cake shop."
Read another #Makeithappen story here: Turning flowers into profit. The Romanian chain Magnolia delivering bouquets across the world in less than 24 hours
Rosana worked in the press early on, then managed a family business distributing cleaning products from 2000 until 2012, when she discovered her passion for making sugar-free sweets. She took a specialized course when they opened the shop, and learned new techniques that she could pass on to new employees.
"We have old recipes from our grandparents on yellowed pieces of paper, showing how sweets and cakes were made dozens of years ago. There's a lot of work involved, everything is handmade. Some recipes are from the internet and we've adapted some of them because the sweetener doesn't have all the properties of sugar. For example, you can't make meringue cakes with sweeteners," Mihai explains.
Their sugar-free products are so good that, ironically, other local cake shops have copied some of their recipes, replacing the sweetener back with sugar.
The two spouses promote their delicious products in several ways: "We've taken part in local fairs and offered free samples, we've advertised through radio and on Facebook, as well as on our website," Mihai says.
Future plans may include setting up a franchise system, Mihai says, which would make their products available in cities with more than 200,000 inhabitants in Romania, because it's very difficult to deliver products to these places from Iasi due to the poor transport infrastructure.
"Those who want to start a business should arm themselves with patience and be prepared to sacrifice all their free time for the business in the first two years. But the results will be worth it if their product is good. What could be better than customers who thank you for the fact that you exist?"

 
The shop now has six employees. "We started out with EUR 20,000 and a single oven, then we reinvested the turnover of the following three years and purchased refrigeration equipment," says Mihai. The turnover for 2017 did not exceed EUR 200,000, but they think this level will be reached in 2018.
As for the challenges and difficulties they've encountered since they've opened their business, Mihai says: "They are the typical problems of the Romanian entrepreneur: lack of qualified personnel, old mentalities, bureaucracy. There are small local producers who can make mini-cakes at dumping prices and not pay taxes on them. We need to educate the market, too," Mihai says. "Many parents come into our shop and ask for sugar paste to decorate their kids' cakes. We try to explain to them that there are much healthier sugar-free options, since sugar paste is 99 percent sugar and 1 percent gelatin – is that really what they want for their children?"
Would they do anything different if they had the chance to start over? Mihai says there's not much he would change: "I'd probably do more aggressive promotion to make ourselves better known."
Read other stories in our #Makeithappen series:
Painting your success path in business. The artist who turned pure talent into an entrepreneurship initiative
The Romanian entrepreneur making millions from high-tech massage chairs
Good things do happen to those who wait! Gevalco, the company that paid its dues and now manufactures components for Airbus
From a two-man team to 200, via Silicon Valley, San Francisco and Sydney, to discovering 'the recipe for innovation'
The programmer who built an online business for kids' products from the heart of Transylvania
The Romanian entrepreneur who created the first airsoft arena in the world replicating a map from Counter-Strike
From scratch to market leader in six years. The story of the EUR 2 million online organic food store Vegis.ro
Success has a lavender scent! Bicicleta cu Lavanda, the business that puts the natural in cosmetics
She spent 14 years as a employee before she found the courage to open her own furniture business! The story of Disofa, the Brasov brand that wants to take over Europe
Meet the young Romanians using blockchain to disrupt the USD 25 bln global scientific market
From a simple idea to a successful business: CareToPets, the Romanian pet sitting platform about to go global
Exploring nature for a living. The business created out of love for traveling
Romania-based Gateway VR Studio, among the first 10 Virtual Reality companies in the world
Creating a community you want to be a part of – aSpace, the new co-working hub in Bucharest
Meet the third-generation barrel-maker supplying the best Scottish whisky brands
The story of Kixomania, the professional footwear cleaning service started by a 23-year-old Romanian woman as her third business