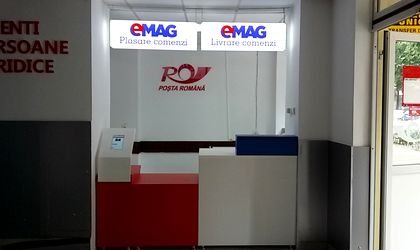 The National Romanian Post announced the start of its collaboration with eMAG in a bid to expand operations to the e-commerce area.
The partnership implies the delivery of eMAG orders via postal units, where products can be picked up. The project is in its pilot phase, with two postal units offering this service at the moment, Buzau 7 and Targoviste 4 offices.
The strategy is to expand this service (Postcollect) in all 800 units that have VPN access, which will have dedicated counters and expanded programs during evenings and in the weekend.
Shipments are monitored by eMAG with the Track&Trace system, from taking over to delivery. Recipients will be announced by eMAG via SMS when parcels are handed over the Romanian Post. After arriving at the delivery point the Romanian Post will announce when the package is ready to collect, likewise via SMS.
Under the agreement, at this stage of the project, the postal company can keep packages in the two postal offices for ten days from the date of their taking over from eMAG. The time in which the package will reach the point of delivery is two days and can be extended by another day if the time limit for submission of items by eMAG is exceeded.
The Romanian Post, a state owned company, has the largest nationwide distribution network, making up over 80 percent of total postal subunits currently operating in Romania. Over 19 million clients and over 7.5 million addresses are covered by its postal network. The company ended 2014 with a net profit of RON 22.8 million (EUR 5 million), after five years of registering loss.
eMAG is an e-commerce platform operating in Romania for 14 years. In 2013 its sales totalled about EUR 200 million and the turnover reached EUR 187 million.
Natalia Martian