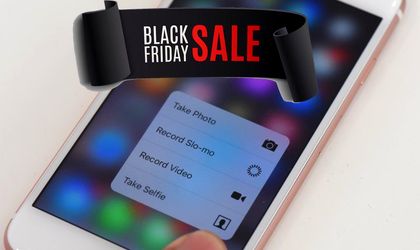 Within the first hours after the launch of sales on Black Friday,  online retailer eMag reported 2.5 million online visits and orders totaling RON 135 million (EUR 30.4 million), according to company representatives.
Compared to other years, when desktop users were in the lead, more than half of the visits received by the retailer today were from a mobile device, a premiere for the company. The day's promotions are in high demand, with up to 200,000 accessing the website simultaneously.
The average time spent by visitors has also increased compared to previous years, reaching 14 minutes, while the median shopping cart contains two products.
In terms of volume, the most bought items were mobile phones, of which the retailer reported selling 24,000, followed by perfumes (15,000) and toys (12,000). Smartwatches reached 700 until mid-day.
With 300,000 products ordered, Iulian Stancu, eMag CEO, said the retailer would add to the promotion offers along the day.
This year for Black Friday eMag has a special offer for gold bullions from Piraeus Bank, which benefit from a 10 percent discount. According to reports, 4.4 kilograms of gold have been sold until mid-day.
Natalia Martian