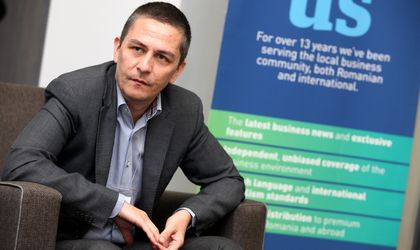 The first Apple Shop in Romania opened on Friday morning in the showroom of online retailer eMag, which is located in Crangasi. The shop sells the Apple product range as well as complementary products with Apple gadgets, from Apple's certified partners. 
eMag's investment into the store reached around USD 1 million, which included the costs of the furbishing, training and the merchandise stock, according to Iulian Stanciu (pictured), CEO of oMag, quoted by Mediafax newswire.
The shop will also host the launches of Apple products. "Today, the Apple Mini iPad was launched exclusively in Romania, and the launch of iPhone 6S is next," Stanciu added.
The decision to open an Apple Shop was made one year ago. "A year ago, we came to an understanding with Apple, and the negotiations, the analysis and the approval took six months to obtain. They approved the entire concept, the entire design and the location," said Stanciu, quoted by Mediafax newswire.
At the moment, the Apple Shop has 1,500 products on stock. "All the Apple products are available in Romania," said Stanciu.
The team working in the shop counts 90 people.
"We wish to grow in the relationship with Apple. This year we estimate we will grow the Apple business by 30 percent in sales, and we wish to accelerate this growth over the next years as well, as Romanian consumers also have higher revenues," said Stanciu.
Stanciu said he is considering opening other Apple Shops in Romania, but not over the next year.
eMag is the largest online retailer in Romania. The majority share package in eMag (74.2 percent) is owned by Naspers Group, while Stanciu holds the remaining 25.8 percent.
Otilia Haraga