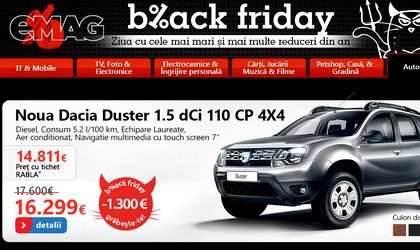 Online retailer eMAG has put out for sale 63 cars under the brands Dacia, Ford, Mitsubishi, Hyundai and Mercedes-Benz, which are worth EUR 1 million in total.
The Dacia Logan 1.2 16V Laureate model is available for EUR 7,999, the Ford Focus 1.0 EcoBoost Trend comes at EUR 10,999 and Mercedes–Benz Class E 220 CDI Avantgarde is sold for EUR 39,999.
During the press conference announcing eMAG's strategy for Black Friday,  Iulian Stanciu, general manager of eMAG, said the retailer has a surprise in store, which would be revealed right on Black Friday.
"Several years ago we said we would be selling even cars on eMAG.ro. At that time, it seemed maybe too bold a statement, but that day has now come. It is a historic day for the entire e-commerce market, since the first cars to be sold online in Romania are listed on eMAG," said Stanciu.
The sale process is the same as in the case of any product acquired from eMAG. After adding the car to the shopping cart and making the purchase, clients must pay RON 1,000 and they will be contacted by an eMAG assistant to finalise the shopping process.
"We want to prove that online it is really simple, no matter what category of products we are talking about. The cars will stay on the website until November 24, because, if the decision to buy a laptop or refrigerator on Black Friday can be made in several minutes, we expect some clients need some time to think when it comes to cars. We will offer them the opportunity to buy a car during the weekend as well," said Stanciu.
eMAG's Black Friday offer included over 250,000 products from IT, mobile phones, cameras, personal care products, cosmetics, toys, pet shop products, home and garden products.
Business Review has talked to several retailers to find out how they prepared for Black Friday.
Otilia Haraga