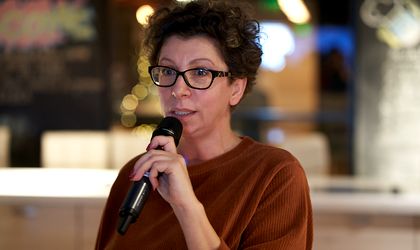 Romanian PR's top accolade, the Romanian PR Award, celebrated its 20th anniversary this year as a daring and stubborn project that has managed to bring together under the same rooftop communicators, valuable competitors, enthusiasts, and hundreds of PR professionals. Business Review started a series of interviews with top PR personalities that have been working in the industry for more than 20 years and that made a big impact on it. How it was and what is expected from the next chapters, you are about to find out.
After becoming a journalist in the central print media, in 1998, Silvia Teodorescu joined the teams working on the most relevant projects for the mass media: she participated in the creation of the Journalist's Code of Ethics for Romania and negotiated the first collective labor contract for the mass media branch – the media in which the conscience clause was introduced (the journalist's right to refuse to sign an article that is abused).
From 2000, she began to consolidate her career as a communication specialist where, after building over ten specialized publications in Education, Energy, Auto-Moto and Agriculture, she carried out increasingly complex communication projects. In 2005, she opened her own communication agency (Zaga Brand) where, together with a team of professionals, she develops campaigns and projects for clients from banking, automotive, communications, public institutions, energy, FMCG, construction products.
She continues the series of interviews started last year with Raluca Zamfir, Alex Paius, Sorana Savu, Oana Bulexa, etc.
By Romanita Oprea
How would you characterize the evolution of the Romanian PR industry?
PR agencies have traditionally focused on press releases and press conferences, but are now trying to adapt to new technologies and methods, such as digital PR and storytelling. However, they may face challenges in balancing the need for measurable digital marketing metrics with the goal of building long-term brand reputation. Through facts and participation, not only words and declarations. Walk the brand talk. Built a reliable image through strong reputation. Despite this, there is optimism that the industry will continue to evolve and produce spectacular results as professionals from various backgrounds come together to make brand communication more meaningful and human-centered.
How was it when you started?
In the beginning, almost 20 years ago, adorable and heartfelt. The team consisted mostly of amateur enthusiasts with some professionals from the media industry. The challenging aspect was communicating the roles and responsibilities to the team and then explaining to the client how to quantify the impact of PR in a way that the finance department could understand.
What determined you to choose PR as a career?
At the time, I didn't know how to do anything better and had already gathered PR experience, the market potential and our enthusiasm to become an industry benchmark for meaningful projects, gave me confidence when starting my own business.
How has been helping you your experience in journalism?
I understood the importance of perspective. I had this first. If you want to effectively communicate information or a message, you must have a grasp of the audience, their interests and limitations, the workings of the media hierarchy, and what constitutes newsworthy content. It's also essential to respect the intelligence of journalists and avoid emotional manipulation or continually asking for favors. Instead, present valuable and relevant content, while keeping the public interest in mind. However, nothing is more crucial than honesty and integrity.
What were its most interesting years, in your opinion and why?
For me, this is not a question of interesting or less interesting. I find that every year holds its own level of interest and sometimes this can be overwhelming. Many see new forms as interesting, but for me, the focus should be on the content and its meaning. I believe that clients and brands should have the opportunity to focus on creating sustainable communication and meaningful content, each its own communication promise and territory. This approach will lead to less crisis communication, more engagement with brands, and more importantly, working towards common goals that benefit both the brand and the public. At the end of every communication campaign or action, the question should be asked: what tangible impact was made?
What were the main changes in the last few years?
And this is where hope comes in strongly. The communication industry, both clients and agencies, are actively making a difference by raising funds for social causes, building homes, bringing attention to worthy individuals and niche communities, and directly addressing environmental issues. It is important to take a stand for something meaningful. I hope that the strategic approach will become a priority in linking brands message with relevant participative platforms, I hope that budgets and KPIs will be more balanced for impactfulness, and that creativity and a strong purpose will be key factors in selecting the most effective communication partner and approach for a brand to connect with its audience.
What would you change in the industry and why?
I propose investing more resources and time in developing effective campaigns, equally beneficial for people, communities and the entire communication industry. This could greatly influence both brands, agency teams, media and KOLs included under one condition: to work in a strategic, open and collaborative manner for the best impact. It may seem idealistic, but I have yet to meet someone in the industry who disagrees with this idea, so I am putting it out there as a shared goal.
What were and still are your main goals for your agency?
As long as I am a part of Zaga, we will strive for excellence, heading to the Moon and take our clients along for the ride in terms of achieving outstanding results, having a pleasant experience, and fostering satisfaction. Our focus will be on valuing people, embracing creativity, meeting deadlines, and going beyond what is expected of a PR company- real life community engagement with relevant amplification and proper communication.
What changed through the years for you and your perspective on PR? Why?Public relations have evolved into a more professional and accountable field, akin to how advertising was two decades ago. The scope of PR has expanded to encompass a wide range of areas such as creativity, digital content, influencer relations, below-the-line marketing and communication, conventional and non-conventional media, social media, and creating quality content for brands or other platforms. This evolution is a reflection of changes in society, brands, technology and expectations; it has undergone evolution and involution in various forms. Moreover, we must always keep in mind a truth: there is no online life and communication without offline real-life engagement and the story to tell. Quality must touch both sides of people experience. PR takes care in a holistic manner form any brand ID and reputation, in all its expressions.
What are the main challenges right now in your opinion, in the industry?
Many, I would like to address only one- the need for mass media … positivity J As in focus on what works well in our lives and society and build together from that point to inspire people. Make them feel hopeful and keep them engaged. PR & mass media have this power.
How are you surpassing them at Zaga Brand?
Through… positivity and holistic approach, the will to dialogue and build together for better. We are all doers. Through brands social involvement in touching people's hearts and lives. Relevantly. Through being the catalysts for like-minded stakeholders- brand people, influencers, media key voices, podcasters, all talents, in building impactful local projects that count and lasts.
What still inspires you and gives you drive and joy in PR and why?
The power to give a voice and amplify these kinds of projects that are building local pride, great memories and hope.
Her best year in PR so far and why
I have two milestone years (2014& 2018) in which I began communication projects with Zaga for clients that support a greater cause. These projects include 'Colors of Romania for Policolor Romania, which aims to preserve authenticity in rural architecture and combat urban grayness, along with local and national public administrations and all faculties of architecture and urban planning form the country, and 'Digital History tellers' (Cronicari Digitali) in partnership with the National Institute of Heritage, which aims to connect young generations with Romanian Heritage through their own language and platforms, for their future, project that brought together powerful brands with a clear vision of their mission. Both have been awarded with GOLD and SILVER awards at IAB MIXX Awards and PR Award for creative efficiency approaches, amplified by more than 80 KOLs and media platforms and touching over 10.000.000 people.
Best year for the Romanian PR industry (in your opinion) and why
2022 and 2023 and the upcoming years, as the communication industry will continue to evolve with a focus on finding solutions that connect brands with communities to create and amplify meaningful actions that address local needs and causes. Brands will invest more in building a trustworthy image by providing authentic experiences that can be amplified organically through their communities and supported by trusted media & KOLs.