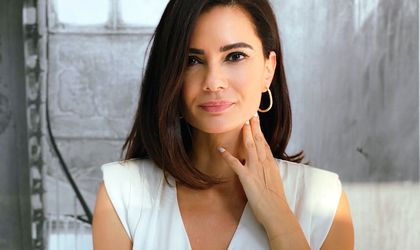 Romanian PR's top accolade, the Romanian PR Award, celebrated its 20th anniversary this year as a daring and stubborn project that has managed to bring together under the same rooftop communicators, valuable competitors, enthusiasts, and hundreds of PR professionals. Business Review started a series of interviews with top PR personalities that have been working in the industry for more than 20 years and that made a big impact on it. How it was and what is expected from the next chapters, you are about to find out.
With more than 27 years of experience in the communication industry, Corina Bârlădeanu is the Owner of 2Active PR since 2000, her specialties being: reputation management, corporate and brand communication, issue & crisis management, CSR programs, community relations, social media and digital communications, events.
She continues the series of interviews started last year with Raluca Zamfir, Alex Paius, Sorana Savu, Oana Bulexa, etc.
By Romanita Oprea
How would you characterize the evolution of the Romanian PR industry?
In these intense and challenging times, our industry has contributed to the "coming of age" so to speak of Romanian business environment, but it has yet to demonstrate that it deserves a better leadership position in the big board rooms. While the quality of Romanian PR professionals is exceptional, I believe we can fill bigger shoes in the business life.
How was it when you started?
Fresh and exciting, and it was not that difficult to prove PR works especially in the life style industry.
What determined you to choose PR as a career?
Copywriting, strategy, event planning, out of the box thinking all rolled into one? This combination of both intellectual and creative performance was extremely seductive to me, actually to my generation who did not dream of being more than teacher, doctor, engineer.
What were its most interesting years, in your opinion and why?
The most interesting years are always happening now. We are being forced to reinvent ourselves with an even stronger emphasis on responsibility, integrity and forward thinking than ever.
What were the main changes in the last few years?
The fall of media and the rise of social media has been obviously the most impactful changes, alongside fake news.
How would you characterize the industry right now (creativity, budgets, strategy, etc)?
I think there is a continuous struggle for bigger and better. We need more visionaries, risk takers and forward looking people in the management of the institutions and companies we represent. We also need to become more convincing in selling our strategies.
What were and still are your main goals for your agency?
2activePR believes that true communication is meant to strengthen a real economy, based on ethical and ecological considerations, where product and services are the result of the cooperation between the company producing them and the needs community. 2activePR brings its share of talent and expertise to this goal.
What changed through the years for you and your perspective on PR? Why?
I have always believed there is a need for communicators in today's society. Looking at the most recent crises that have affected all of us lately, the communication process cannot exist devoid of integrity. Assuming a leadership position in affirming such values is of paramount importance for the survival of the industry.
How are you surpassing them at 2Active PR?
We are in a constant process of reinvention and we have managed that in relationship with our clients we have a bigger say than most are given credit for.
What still inspires you and gives you drive and joy in PR and why?
Bringing ideas to life and getting to have such a wide impact keeps you going. Also, the fact that I truly feel communication is my vocation and there is nothing else that I would do more willingly.