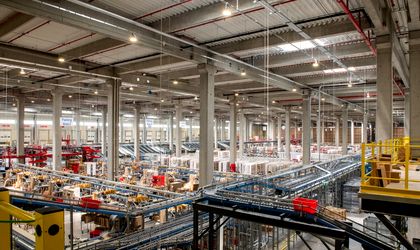 In 2022, eMAG pursued its ambitious investment plan to support the development of the regional ecosystem and respond to the growth potential of e-commerce in the three countries where it operates. Last year, eMAG invested 1.123 billion lei, bringing the total investments in the past two years to over 2 billion lei, in order to meet the needs of its 9 million customers in Romania, Hungary, and Bulgaria.
In 2022, Dante International, the company that includes eMAG Romania, a portion of eMAG sales in Hungary and Bulgaria, and Fashion Days, achieved a turnover of 7.1 billion lei and a profit of 123.7 million lei.
"The consistent investments made in recent years in e-commerce infrastructure and technology have paved the way for growth in the region, addressing any customer needs a wide range of products delivered quickly and affordably through the easy box and Genius, promotions and competitive prices, and financial services that allow customers to purchase their desired products. Already, in the first year after the pandemic, customers have recognized the value created and placed 10% more orders in the businesses within the regional ecosystem consisting of eMAG, Tazz, Fashion Days, and Freshful. Building on this strong foundation, we confidently embark on the path where e-commerce will reach its potential and resume its growth pace," said Tudor Manea, CEO of the eMAG Group.
In the past year, eMAG has provided sellers on the marketplace with the technology, platform, and tools to help them grow in the region and bring together more products to meet the increasingly diverse customer demands. The total investments in these endeavors amounted to 51 million lei. Today, the number of entrepreneurs doing business on eMAG has reached 54,000 throughout the region. With the acceleration of the cross-border program in 2022, over 5,000 sellers from Romania sell in Hungary, and 2,500 in Bulgaria.
Over half a million eMAG customers benefit from free delivery and exclusive offers through Genius, while over 1.3 million have access to installment payment solutions through their eMAG MyWallet account.
Investments in technology for the development of value-added services for customers amounted to 164 million lei last year. Thus, eMAG continued to develop and improve its delivery service, promotional offers, and the Genius service, available on four shopping platforms: eMAG, Tazz, Fashion Days, and Freshful. Throughout this period, Genius introduced new features to meet customer needs, such as the ability to share the subscription with another family member or access real-time information about savings made on the four ecommerce applications. Thanks to these investments, the number of customers using the service has exceeded half a million, a 50% increase compared to last year.
Financial services that allow customers to better plan their expenses and take advantage of good offers in eMAG campaigns have also gained more and more followers. Thus, over 1.3 million customers can pay for their purchases in installments through their eMAG MyWallet account, either in 30 days, in four installments, or in 12 installments. Sales made through installment payment services now account for over 7% of total sales on eMAG, doubling compared to last year.
After developing the logistics infrastructure in Romania together with Sameday in previous years, to offer customers fast delivery services through logistics centers covering a total area of 350,000 square meters, in 2022, one of the key areas where eMAG focused its investments is international development, specifically in Hungary and Bulgaria. In both countries, eMAG invested 450 million lei, six times more than the previous year, thus once again confirming confidence in the growth potential of the region. These investments were directed towards logistics, as well as improving services and diversifying the offering with the help of sellers on the Marketplace.