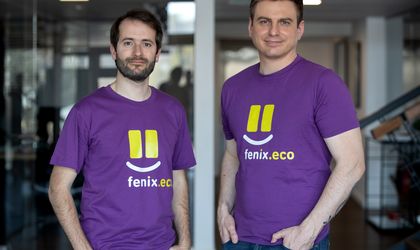 Having invested in 12 startups in Romania and launched 5 companies of his own so far, serial entrepreneur and business angel Gregoire Vigroux decided to launch a new startup on the local market right in the middle of the coronavirus storm. He partnered with Adrien Arnoux, a former Amazon executive with a lot of experience in online retail, and they set out to conquer 10 percent of the Romanian smartphone market, or 500,000 units sold annually, in the years to come. But along with national development, Vigroux and Arnoux also intend to make an entry on other Eastern European markets, with Bulgaria being the first stop next year. Business Review sat down with Vigroux, who told us the story of "probably one of the most exciting business adventures" he has ever been involved in, called fenix.eco.
By Anda Sebesi
In April, Gregoire Vigroux (39) decided to invest EUR 200,000 to co-found the fenix.eco online store together with former Amazon executive Adrien Arnoux (32). Fenix.eco is a Romanian startup specialising in selling refurbished phones, currently boasting over 20 refurbished high-end smartphone models. They started this business with a clear market positioning in mind for their enterprise: fenix.eco is an online store for smart buyers, whether corporate or retail consumers who are able to save up to 50 percent spent per phone compared to new smartphones, without compromising on quality.
When launched, the average price of a smartphone was EUR 330, but the two founders decided to lower it based on a significant expansion of their model range. "We added cheaper phones to match the demand, so the average price in our online store is now RON 1,200 (about EUR 250). Prices vary between RON 629 (EUR 130) for Sony XZ to RON 2,649 (EUR 550) for iPhone XS," says Vigroux.
All fenix.eco phones are sold with a 12-month warranty. Buyers across Romania receive their package within 24 to 48 hours of placing their order on fenix.eco. Besides the refurbished phone itself, the box also contains accessories, including a new cable and new headsets. The company works with Romanian providers to refurbish its smartphones which are tested, repaired, and packed in Romania. The phones come from all across Europe, primarily Germany and Scandinavia, where the average phone renewal rate tends to be high. "Fenix.eco phones bring a new value proposition to the Romanian market, giving consumers many of the advantages of a new smartphone, including the customer experience, quality and guarantee, but at the price of a second-hand model. We believe this concept is robust enough to thrive during the COVID-19 storm," says the business angel. The online shop sells 12- to 36-month-old Apple, Sony, Samsung and Huawei smartphones, which are professionally cleaned and fully refurbished by an ISO certified partner. Since its launch on April 6th, over fifty Romanian media publications have been talking about fenix.eco so far, totaling over 1 million readers, which is a significant achievement, given that it is a young startup. "Our website is generating thousands of visits every day and sales are growing," adds Vigroux.
A green approach
The two entrepreneurs position their business as a green one, because as Vigroux says, on top of being an economical choice for buyers, fenix.eco is also an appealing option to those who care about the environment. He notes that manufacturing a new smartphone has a significant negative impact on the planet: it requires 13 tons of water, produces 55 kg of CO2, and uses up to 35 kg of raw materials. "Just like an increasing number of entrepreneurs, I believe in Tech for Good – the confidence that technology is one of the main solutions to improve social, societal, and environmental outcomes. We have incorporated the principles of the circular economy in our business model, which makes our solution even more compelling in these challenging times," he says.
The serial entrepreneur says that the COVID-19 crisis clearly did not play in their favour in the short term, but he truly believes that it is another story in the long run. "I think that COVID-19 will turn consumers to eco-friendly consumer behaviours. One of the most important lessons of the coronavirus is the need to care for our planet. With factories shutting down and people staying at home, pollution has plummeted everywhere. Since the lockdown, all monitored pollutants in Bucharest have been significantly below the permitted levels," he says.
Going forward, Vigroux notes that deaths caused by COVID-19 have dramatically reminded us how fragile human life is. "In a recent open letter, Bill Gates wrote: . I believe environmental awareness is about to rise worldwide, like never before. We are on the brink of a green revolution, in which responsible entrepreneurs are going to step up and help make the world a greener place. This is exactly the mission my business partners and I have with fenix.eco."
Launching a startup in a middle of the pandemic
Many would argue that launching a new business amid the difficult times generated by the SARS-CoV-2 pandemic would be quite risky, considering that consumer behaviours are about to change and that purchasing power could be on a downward trend. The online refurbished smartphone store was launched in the middle of the crisis, at a time when retailers were shutting down their shops, when most companies were instructing their employees to work from home and when the financial markets were down by almost 50 percent in a month. Moreover, the latest data available on the market show that smartphone sales in Romania plunged by 50 percent in April. The fall came in the context of hundreds of thousands of employees in Romania losing their jobs and nearly one million seeing their revenues trimmed down while they were furloughed.
"'It's not the right time to launch!', our friends warned us. With literally life and death topics all over the news and social media, it is true that the crisis left very little room for an eco-friendly startup to emerge publicly. But it's a calculated risk we're taking. Anyway, isn't true entrepreneurship about risk-taking, after all?" Vigroux argues. He has been living in Romania since 2006, has invested in 12 local startups so far and has launched 5 companies of his own. But he admits that fenix.eco is probably one of the most exciting business adventures he has ever been involved in. Among other businesses, he is the founder of TELUS International Europe (formerly CallPoint). The outsourcing company currently employs 5,000 team members in Bulgaria and Romania.
"At fenix.eco, we have decided to look on the bright side. We are optimistic people. If we weren't, we wouldn't be entrepreneurs in the first place, right? So let's be positive and stake our hopes on our value proposition rather than on the economy's gloomy general indicators," he says.
However, he admits that the timing for the launch of their business was not the best, as people tend to avoid unnecessary spending during a crisis. Furthermore, by staying home, people are less likely to break or lose their phones. But they bank on the fact that Romanians are smart buyers when it comes to technological products, as they pay a great attention to quality, look at online reviews, scrutinise features, and compare prices.
In addition, Vigroux says that the professional experience of his business partner, Adrien Arnoux, is very important for the business that the two of them just launched. Established in Romania with his family since the beginning of 2019, after 10 years spent in Paris, Arnoux graduated from prestigious engineering schools, including Ecole Polytechnique, and spent most of his career in supply chain, working for Carrefour, L'Oréal and, more recently, Amazon. "At Amazon, he was responsible for logistics for online sales. This experience is priceless for fenix.eco, given that Amazon is one of the largest online retailers in the world," says Vigroux.
How did the idea come?
Along with their entrepreneurial enthusiasm, the two entrepreneurs launched their business based on the development of the used smartphone market both in Romania and worldwide. "Every single morning, I start my day spending 30 minutes sharp reading business news. I sometimes discover amazing ideas from successful foreign startups and I always ask myself – would such a business work in Romania? Nine months ago, I read an interesting article about the refurbished smartphones market in the French press. I then did some additional research and figured out that the global market for second-hand smartphones is expected to surge from USD 27 billion in 2019 to USD 67 billion in 2023, according to IDC," Vigroux recalls.
Although relatively new in Eastern Europe, refurbished smartphones are a popular choice in Western Europe. In France and Germany for example, they made up more than 10 percent of the market in 2019. "I quickly did my maths – nearly 5 million smartphones are sold in Romania every year. Therefore, if I were to launch a refurbished smartphone business in Romania and the market would eventually become proportionally as big as it is in Western Europe in the long run, I might also conquer 10 percent of the local market, which equates to selling 500,000 phones every year," he says.
Later, Vigroux asked the French Chamber of Commerce in Romania (CCIFER) to conduct a market study to assess the potential of an online store selling refurbished smartphones in Romania. And the results of the survey were extremely encouraging – the market potential was confirmed. "I decided to find a business partner, because I never launch new businesses alone. Starting a new company is like having a baby – it is better done with a partner. And like with a pregnancy, I usually need nine months between the time I first think of a new business and the moment I launch it, and fenix.eco was no exception. And like with a baby, it is never the perfect time to have one; people think it's cute, but it keeps you up at night, and its future is a constant concern," the businessman explains.
Speaking about their long-term ambition of getting a 10 percent market share in Romania, Vigroux admits that this would take a few years, but it is their end goal. "For now, we have built a three-year plan, which will bring our startup to selling over 100,000 phones yearly by the end of 2023. As this year is the launch year, we plan to sell 4,000 smartphones in Romania and we are on track to reach this target."
Bulgaria is the next step
The two entrepreneurs are currently in talks with investors to expand fenix.eco to other three Eastern European countries next year, the first being Bulgaria, most likely in the first quarter of 2021. "We have strong and influential business partners in Bulgaria who love and believe in fenix.eco and are already willing to support its launch there. However, we do not want to rush: 2020 is the year in which we focus on the Romanian market. We are a Romanian startup, and therefore we first need to be very strong at home before we expand."
An eye on the B2B segment
Although Vigroux and Arnoux built fenix.eco as a business which has retail customers at its core, they are thinking of extending their offer to corporate clients too, based on the fact that this segment has great potential. According to HMD Global, 91 percent of European businesses see price as an important factor when acquiring smartphones for their employees. "I believe that the B2B (Business to Business) segment has a lot of potential. I am currently in talks with SMEs as well as some of the largest companies in Romania," says Vigroux. He is also banking on the fact that corporate buyers understand the benefits of fenix.eco phones very well, as the company offers many of the advantages of new smartphones, including the quality, accessories, and 12-month guarantee, but at the competitive price of used models. "At a post-crisis time when companies will be trying to make savings, our value proposition is strong," he says.
Who is
Gregoire Vigroux?
Grégoire started his career as an entrepreneur in 2007. Since then, he has been launching and investing in fast-growing startups in Eastern Europe. His largest venture is TELUS International Europe. The company currently employs more than 5,000 team members in Bulgaria and Romania. The 39-year-old Frenchman is currently the Vice-President of Business Development for Europe at TELUS International. Grég is also a member of the TELUS International Romanian Board of Directors and a founding Vice-Chair of the TELUS International Romania Community Board. Apart from his role at TELUS International, he is a hyperactive serial entrepreneur and business angel:
2010: co-founded Carmedia, a guerilla marketing startup that he sold to an Italian group of investors 2 years later. In 2012, he launched Emova, which he sold to Up (formerly named Chèque-Déjeuner) in 2014.
2017: invested in media (Le Petit Journal, Romania Insider and City Compass), cryptocurrency exchanges (Bitcoin Romania and BTR Exchange), and a co-working hub (Puzl).
2018: invested in the Romanian edition of Gault & Millau, a sustainable development company (Nasekomo), and a green real estate project (Amber Forest).
2020: invested in a co-working company named Nod Makerspace and launched fenix.eco, a smartphone refurbishment online store. He also invested in an online store (Respire.ro) and launched another startup (Teamway.eco).
The French Investor also invests in office, residential, and commercial real estate, through his own investment firm Norville Barns and via another company named Boutix.
Grégoire is a supporter of several NGOs in Romania, primarily HOSPICE Casa Sperantei, which takes care of patients with life-limiting conditions and rare illnesses. He earned a Master D2A from Sorbonne University, an MBA from the ESG Group and his INSEEC from Lyon Business School.
He belongs to the French Tech global community, having co-founded La French Tech in Romania, and he is the President of this association. Grég thinks growth must come with progress, and profits with purpose. He believes in Tech for Good – better tech for a better world.