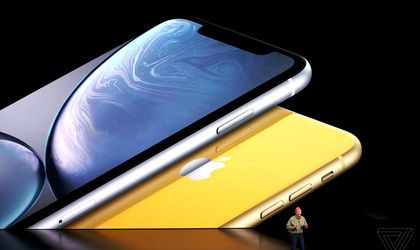 Apple announced its next generation of iPhones, a lineup of three new devices, dubbed XS, XS Max and XR. The latter is the cheaper version, of USD 749, while XS will start at USD 999 and XS Max at USD 1,099. Expensive smartphones even if Apple cover the range of prices with the old versions of iPhone.
The iPhone XS has the same 5.8-inch screen size as the iPhone X, but is actually smaller than the 5.5-inch iPhone 8 Plus due to the bezel-less screen. The XS Max is definitively larger than the other iPhones that came before it, but keep in mind that its extra screen size will come more from height than from additional width. The phone has 6.5 inch screen, bigger than the Samsung Note 9 which is 6.4 inch.
Apple also says that the XS and XS Max feature an all-new camera system, though the specs seem largely the same on a high level. The wide angle and telephoto rear cameras both still have 12-megapixel sensors with optical image stabilization; but the wide angle camera now uses a new sensor with larger pixels, and the telephoto includes a wider aperture, so both cameras should do better in low light. The selfie camera on the front is supposed to be faster as well, but aperture and megapixel count haven't changed.
There's another new feature that many people won't notice, but could be make-or-break for buyers in some countries: dual SIM support. Both phones will support the use of two phone numbers and data plans, using a single physical SIM card and Apple's integrated e-SIM. That means carriers will need to add support for the e-SIM in order for this to work (and many have been reluctant to); but it's still a big addition, since Apple has never offered this before.
This feature won't be available at launch, however. Apple says it'll be enabled in a software update "later this fall." And in China, where the e-SIM isn't allowed for some reason, Apple will instead ship a special version of the XS Max that includes two physical SIM trays.
The phones will both come in three capacities: 64GB, 256GB, and 512GB. Those first two tiers are the same as last year, but 512GB is a new one for Apple. It's not the first company to hit that incredible storage point in a smartphone, but it's still relatively quick to get there. The 64GB configuration of the XS will sell for $999, the same as the iPhone X, and the 64GB XS Max will sell for $1,099. Pre-orders start Friday, with the phones shipping out September 21st.
The iPhone XR is a new model that features a notched 6.1-inch LCD display and Apple's Face ID system, similar to last year's iPhone X, but cheaper. Apple is calling the 6.1-inch screen a "Liquid Retina" display, which offers a 1792 x 828 resolution at 326 PPI, featuring Apple's True Tone technology.
While the XR may look like a larger iPhone XS, there are a few compromises — the frame is aluminum, not stainless steel. There's IP67 water and dust protection, instead of the improved IP68 rating on the iPhone XS, and the screen is LCD, not OLED. There's also no 3D Touch — instead Apple is offering a new Haptic touch system, that offers similar feedback to the buttonless MacBook Pro trackpad.
Preorders will start soon and shipping will be at the end of the month.