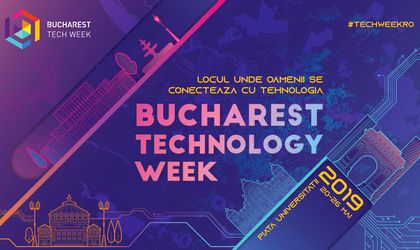 At its fourth edition, Bucharest Tech Week, where Business Review is the Main Media Partner, showcases to business professionals nationwide the newest trends and insights in technology, shared by over 30 international experts in different business areas. One of the main special guests of this edition is Furhat, an A.I. social robot that can display complex expressions without the mechanical limitations of other technologies and communicate with us humans as we do with each other – by speaking, listening, showing emotions and maintaining eye contact.
Designed by Furhat Robotics, this Bucharest Tech Week special guest is able to assume a wide array of social roles such as: social simulation – the robot can simulate a character in a social interaction in order to teach humans how to get better at a certain task, through various scenarios, assisting recruitment processes by undertaking unbiased interviews based only on candidates' objective skills, acting as a concierge for tourists by offering directions and useful information in airports, train stations or hotels.
On 21st and 22nd of May, at Bucharest Tech Week, Furhat will engage with the attendees at the first two out of five business conferences at Radisson Blu Hotel. 
At the Innovation Summit, on May 21, the future of social robots in redefining people's approach to technology will be the topic showcased by the representatives of Furhat Robotics;
At the HR Masters Summit, on May 22, the main topic is how unbiased recruitment is applied by a robot especially created by Furhat Robotics to remain impartial in interviews where candidates come from a different culture than the employer.
"Furhat Robotics is delighted to join you at Bucharest Tech Week 2019! A so diverse tech festival is the perfect forum for Furhat. Our platform proves that social robots aren't just the future – they are here and now. Social robots are already having an impact across diverse sectors, several of which are also represented in the Business Summits. We're looking forward to discussing our vision of making technology more human with the thousands of other innovators at the festival. See you there!", shared Varun Atrey, Head of Marketing Furhat Robotics in Stockholm.
In the video below you can meet the social robot invited to Bucharest Tech Week 2019:
Between 21st and 24th of May, at Radisson Blu Hotel, international and local experts are expected to share their know-how on various business areas, such as: Innovation, HR, FinTech, Java and .NET.
Over 30 international experts will be presenting on the stage of the five Business Summits organised within Bucharest Tech Week , such as:
Frank M. Salzgeber – ESA, Cliff Redeker – Google, Lea Sandell – LEGO Group, Dmitri Pivovarov – Bolt, Rakhi Rajani – McKinsey&Co (Innovation Summit) ;
Amina Zamani – LinkedIn, Burak Bakkaloglu – Ericsson, Johan Sellgren – Spotify, Andrew Mellen – Productivity Expert, Dr. Nick van Dam – IE University (HR Masters Summit);
Anna Maj – PwC, Dharmesh Mistry – Temenos, Eddy Travia – Consilium, Andy Bryant – bitFlyer, Dan Morgan – Ripple, Che Sidanius – Refinitiv, Martin Koderisch – Edgar, Dunn&Co (Fintech Summit);
Reza Rahman – Microsoft, Dr. Heinz M. Kabutz – JavaSpecialists.EU, Jens Schauder – Pivotal, Roberto Cortez – Java Champion, Mert Çalışkan – Opsgenie Champion (Java Summit);
Dmitry Soshnikov – Microsoft, Gunnar Peipman – Microsoft MVP, Roberto Freato – Microsoft MVP, Matthias Koch – JetBrains, Christian Nagel – Author, Software Architect and Microsoft MVP (.NET Summit);   
"I am thrilled to be part of Bucharest Tech Week 2019. I appreciate the cross-sectoral and cross-vertical aspects of the event, with a strong representation of key industry stakeholders and thought leaders. A combination of the Business Summits (e.g. FinTech, Innovation, HR), as well as the Tech Expo, makes the Tech Week truly multidimensional, rich in content and fully packed with various events.
I am looking forward to exchanging views with other tech industries representatives that will be united by different technologies in Bucharest this May. Apart from the FinTech perspective, I am particularly happy to find the HR stream as a relevant part of the agenda taking into account the challenge of attracting and retaining talent in tech-driven sectors nowadays.", said Anna Maj, FinTech & Payments Leader at PwC and Speaker at FinTech Summit.
At the Business Summits that will take place during Bucharest Tech Week, business professionals interested in technology innovations will find out global trends on subjects such as: how spatial technology can be applied in business processes innovation, the importance of building a learning culture and the key building blocks of the Learning Organization in the Digital Age, the expansion of Open Banking (APIs), Java EE on Azure or Artificial Intelligence and Machine Learning on .NET Platform.
For further information, follow the official communication platforms:
www.techweek.ro 
Facebook.com/TechWeekRO
Facebook Event – Bucharest Technology Week 2019
The main business summit partners at Bucharest Tech Week 2019 are:
IQOS – INNOVATION SUMMIT PARTNER
METRO SYSTEMS – JAVA SUMMIT PARTNER
UiPath – .NET SUMMIT PARTNER
Sponsors of Bucharest Tech Week 2019 are:
Microsoft, Engie, Carrefour, AirMotion, Moldova IT Park, E.ON Energie România, Michelin, Electromagnetica, Luxoft, mirro, pAIdAnalytix, Auka, Endava, eSolutions, ApPello, 2checkout, bitMahavi, Fitbit, Wolf Theiss, Gemini Solutions, Trencadis
L'OR – Networking & Coffee Partner
Bright Agency – Digital Partner
VIVA Telecom – Internet Partner
Business Review – Main Media Partner
KISS FM – Main Media Partner
About Universum Events
For over 10 years in the event organising industry, UNIVERSUM Events has as a core strategic purpose the corporate events architecture. Under the UNIVERSUM brand, a series of own-concept tech events have been developed, as well as a custom events division: MICE (Meetings, Incentives, Conferences & Exhibitions), focused on large scale events for clients.
Own concepts:
The Bucharest Tech Week festival, at its fourth edition, mobilises the tech community in the capital city of Romania.
Internet & Mobile World – the most prestigious brand of the company and at the same time the most comprehensive B2B expo-conference dedicated to IT and Digital solutions in the region.
MyConnector, an event dedicated online platform, which operates the access to events, from online registration to check-in on the event premises.
The company is the exclusive representative in Romania of the biggest global teambuilding license: Catalyst Teambuilding Global, with a portfolio of over 150 concepts that can be customised on the clients' requirements.