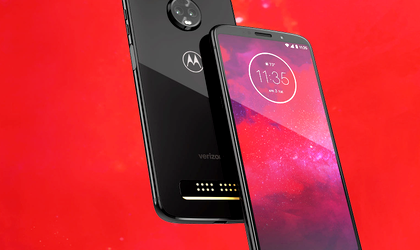 Motorola launched moto z3, the first smartphone that is compatible with the upcoming 5G wireless standard. With up to 10 times the speed of today's wireless technology, lower latency and higher bandwidth, access to 5G networks will strengthen mobile connectivity and radically improve the smartphone experience.
The new moto z3 works with a 5G moto mod. Motorola, company owned by Lenovo, since 2014, partnered with Qualcomm to achieve this industry milestone utilizing the flagship Snapdragon X50 modem and millimeter wave components.
"During the World Cup, a total of 486 million attempts were made to stream the games, but 93 million of them were unsuccessful, due to streaming errors and slow start times. On a 5G network, watch live games without any delay and avoid the crowds and bad nosebleed seats at the stadium. In the future, 5G will enable immersive VR so you can get a court side view right from home," company officials said.
The new moto z3 features a 6″ Max Vision Full HD+ OLED display with an expansive 18:9 aspect ratio, an all-day 3000 mAh battery8, dual depth-sensing smart camera system with Google Lens9 built in.
The smartphone will be available for the moment only in the U.S. exclusively through Verizon starting August 16 at  USD 20 a month for 24 months on Verizon device payment (USD 480 retail).