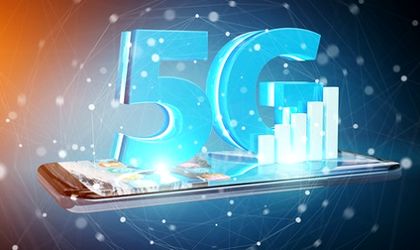 Romania's national strategy for 5G will be ready by year-end, minister of communications Bogdan Cojocaru announced today. The implementation of this technology in Romania will bring total investments of approximately USD 9 billion over the next eight years in energy, utilities, public safety and financial and health services, Cojocaru added.
"Romania needs digitization, this is clear to everybody. We are well positioned when it comes to a number of indicators, such as the expansion of the internet infrastructure and the number of users, but we still have work to do. The national 5G strategy, the telecommunications standard that will support the digitalisation degree if governmental services provided to individuals and companies, will be completed by year-end," Cojocaru said.
He mentioned that for Romania, the 5G implementation will bring total investments of about USD 9 billion by 2026, in sectors of activity such as: energy and utilities, public safety, production, financial services, health, public transport, media and entertainment, automotive, retail, agriculture, and more.
The minister of communications also announced the creation of a working group that will implement the national 5G strategy.
According to the minister, and in accordance with the European Union (EU) development strategy, by 2020, in each member state, therefore implicitly in Romania, at least one city will be connected to 5G.
"5G, for everyday life, will represent the digital transformation of the economy and society. According to the European Union's development strategy, by 2020, in each member state, at least one city will be connected to 5G (…) it is very important to understand, however, that we will witness a development of substantial mobile telecommunications. If we were to make a delimitation, we could say that 4G was the 'multimedia era', while 5G will be that of 'Internet of Things'. Practically, we will witness an unprecedented interconnection and will create premises for the efficiency of all branches of human activity," the minister said.
The Regulatory Action Plan for 2018 already includes the development and adoption of the national position on the granting of rights of use for radio frequencies in the 700 MHz, 800 MHz, 1500 MHz, 2600 MHz, 3400-3600 MHz and 26 GHz for broadband mobile communications systems, including for the implementation of future generation systems (5G).