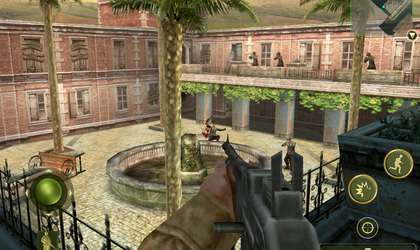 If you were ever among keen computer gamers and not an avid player yourself, their jargon must have seemed a different language. This is because gamers in Romania are a close community and passionate about their hobby. Companies noticed, and were quick to act, opening studios in Romania where many of the latest releases were developed from start to finish. For some, Romania was the first choice.
Otilia Haraga
In Romania, titles with large communities of gamers include World of Warcraft, the Starcraft series, Call of Duty series, Medal of Honor, the Need for Speed series, FIFA and Sims.
"The profile of the Romanian gamer varies greatly with the various platforms and types of games. Games are categorized by the age groups they target, as reflected in the Pan European Game Information rating, which is visible on the game box. Additionally, consoles such as the Wii and Sony PlayStation 3 Move have attracted new categories to the mix: families and occasional players. More specifically, in Romania, the percentage of players on a PC is higher than in the rest of Europe," says Razvan Uruc-Olaru, head of concept management for IT & media at Diverta.
World of Warcraft – Cataclysm is one of the most eagerly awaited titles by Romanian "game-worms," with more than 15,000 of them expected to plunge into the new Warcraft expansion adventures in the first days of its release. The clock is ticking: Cataclysm will hit the Diverta shelves on December 7, at midnight.
Other anxiously awaited titles that will be launched by the end of the year are Call of Duty Black Ops, Assassin's Creed Brotherhood, Fable 3 and Need for Speed Hot Pursuit.
Each successful game had at least one exceptional "ingredient" when it came out, Uruc-Olaru tells BR, features like innovative interaction and control, high class artistic design, an immersing story, faithful rendition of reality or connection to a famous book or film. In general, the top of the sales chart is dominated by titles that are sequels or expansions.
A large pool of highly talented people is what major publishers such as Electronic Arts, Namco Bandai Networks, Ubisoft and Gameloft considered when deciding to open offices in Romania. Some of these companies have not stopped at just one studio and still have vacancies for specialists.
But it takes a little more than just good workers for so many companies to open offices here. So what makes Romania such an El Dorado for game makers?
"The cause, I think, is the young generation of Romanians, who are very passionate about games and very into IT in general," says Erdei Jacint, PR manager of Ubisoft. He adds that the PC is the most popular gaming platform in Romania but there is an increasing trend to buy console games, especially those for PlayStation 3.
Not only is there a community of gamers and tech-savvy users, but some of them enjoy very good employment prospects. "Romania is very attractive for its talented people, especially those with engineering skills," Viorel Alex Marinescu, head of operations at Electronic Arts Romania, tells BR.
Moreover, these brains can be hired at very competitive costs. Remuneration on the local market can be half the figure in more developed countries with a tradition on the market, according to Andrei Lopata, president and COO of Namco Bandai Networks Romania. "The average salary in the gaming industry in Romania is somewhere around EUR 700 but there are differences across various specializations," he says.
This does not mean however that salaries are low – on the contrary, the money is very good for the local market, says Paul Friciu, studio manager of Gameloft Romania. And the remuneration gap between Western Europe and Romania is starting to close. "There are many positions where value is very well rewarded, and we are not talking merely salaries here, but other types of bonuses depending on the success of the project in question," Friciu tells BR. He explains that, as a rule, salaries vary between EUR 250 and EUR 2,500 net, depending on the position and length of service within the company.
Another incentive for a large games maker to open a studio in Romania is the fact that IT specialists are offered fiscal incentives in Romania, say pundits.
The time it takes to develop a game depends on its complexity, but an AAA game (games of very high quality with a big budget, probably the equivalent of a blockbuster in the film industry) can take between one and three years to complete.
Games on mobile handsets, entertainment on the cheap
"Even though the most important markets for the games industry continue to be PCs and consoles, the mobile games segment for mobile phones is very active, having grown the most in the last few years. Also, the differences are starting to be smaller and smaller as most games that appear for the PC also have mobile phone versions," Gabriel Ionita, senior manager of products & services development at Cosmote Romania, tells BR.
Currently the trend is moving towards improving the graphics and special effects with less focus on the storyline, and the consoles and smartphones market is growing – not only in terms of increased mobility, but also the touch screen function and resolution.
Innovations like wireless and voice control devices are another aspect the producers have to integrate smartly into the games they launch and it is more common for the user to have greater control over the script elements and the development of the game, including those for mobile phones, he explains.
"Romania has proved to be a profitable market for the industry of gaming on mobile handsets, even in a time of crisis, and this is simply because it is a rather cheap form of entertainment," says Friciu.
How cheap are we talking? For instance, the price of a game on a mobile phone in the Vodafone network varies between EUR 0.99 and EUR 4, and users can also subscribe to download two games a month for less than half this price. The most downloaded games by Vodafone customers are well established titles such as FIFA, Assassin's Creed, WORMS, Need for Speed and Ferrari World Championship. Vodafone collaborates with producers such as Gameloft, Glu, EA, Connect2Media etc.
"Games for the mobile phone are adapted to much shorter sessions than those on the PC," say Vodafone officials. Generally, users who access a game on their mobile phone take advantage of certain moments such as when they are on public transport, waiting in a queue or simply need to unwind for a few minutes.
Approximately 10 percent of visitors to the Orange portal download games. Orange is currently collaborating with publishers such as Electronic Arts, Gameloft, Glu, I-Play, HandyGames, AMS and Digital Chocolate. More than half of the downloads are games from the categories of sport, racing, action/shoot and adventure/RPG.
Cosmote customers can pay between EUR 1 and 3, without VAT. The most popular games are EA Sports FIFA 11, Mobile GP2, Devils and Demons, Twilight New Moon Game, NitroStreet Racing 2 and the SIMS 3 World Adventures. The company collaborates with producers such as Gameloft, Electronic Arts, Digital Chocolate, Glu, Cocoasoft, Handy Games and others.
"Those who buy games are not only the very young, but also adults between 21 and 35 years," says Ionita. He adds that there are several types of players: the occasional gamer who, out of curiosity, tries a game in their free time, the passionate gamer who tries all the new games that appear on the market from a certain category (arcade, puzzle, books, action, sport) but plays in single player mode and the ideal gamer for us and the producers, who plays certain games in multiplayer together with other gamers.
GAMELOFT ROMANIA
Gameloft opened a studio in Bucharest in 1999, when it was founded, originally under the name of Ludiwap. The HQ was at that time on Expozitiei Boulevard. but recently the creation team moved to a new headquarters, just opposite the big one, in order to allow the expansion of the Bucharest studio. Since 2008, the studios in Bucharest have focused on creating advanced mobile platforms such as iPhone, iPad, Nintendo DS. A second studio was opened in Cluj in August, hosted by the City Business Center, on Cuza Voda St.
Team
300 people in the Bucharest studio, and counting. Also, 35 employees are working in the Cluj studio, and more could join them.
Vacancies
Gameloft has jobs in the creation department: specialist game programmers (senior videogames programmer, client/server developer), designers (game designer, menu and UI designer), 3D graphic specialists (3D modeler/environment artist) and concept artists. It has four open positions, senior level, in its Business Intelligence department, PHP programmers and database administrators.
Employment criteria
Programmers need to have experience in C++. Graphicians need to have 3D Studio Max knowledge. Game testers only need solid English knowledge and to be an aficionado of video games.
Future plans
Developing existing studios
Projects developed in Romania
N.O.V.A. – Near Orbit Vanguard Alliance, Assassin's Creed, Brothers in Arms I and II, Asphalt 5, Terminator: Salvation, Splinter Cell: Conviction, Shrek and Kart.
Games for mobile phones: Mission Impossible 3, Prince of Persia Warrior Within and Block Breaker.
What they are working on
The Gameloft team is working on six new projects, two of which will be out on the market by Christmas time.
UBISOFT ROMANIA
Ubisoft opened a studio in Bucharest in 1992 for game development and testing. This was the first studio that the company had opened abroad. A newer and smaller studio was opened in Craiova two years ago, following a collaboration between Ubisoft Romania and the Faculty of Computers and Electronics at Craiova University, which develops applications for the iPhone and iPad, based on Ubisoft franchises.
Team
There are more than 800 employees working in the Bucharest studio and around 20 in the Craiova studio.
Future plans
There are plans to open other studios in the country.
Vacancies
New recruitment is project dependent.
Employment criteria
Game testers need to have good knowledge of English and Microsoft Office. Designers need to be passionate about games, know game culture, have analytical thinking capabilities, be creative, a good team player, and experienced in the best-known level editors.
Projects developed in Romania
Tom Clancy's H.A.W.X. (which sold over 1.3 million copies worldwide), Blazing Angels, the Silent Hunter series, Peter Jackson's King Kong, the Chessmaster series.
What they are working on
H.A.W.X 2 for PC, H.A.W.X 2 for Wii, Assassin's Creed Brotherhood, and Michael Jackson The Experience (a special project as an homage to the King of Pop), all to be released in winter.
NAMCO BANDAI NETWORKS ROMANIA
Namco Bandai Networks opened its office in Romania in 2008. The headquarters are located in SEMA Parc. Namco is developing games strictly for mobile phones and smartphones (Windows Mobile 7, Apple iOS, Android, Nokia).
Future plans
No expansion in other cities is planned.Team
The local team of Namco Bandai Networks numbers 170 people.
Vacancies
The publisher is permanently hiring testers, artists, game designers and programmers.
Projects developed in Romania
Final Fantasy 1, Tekken,  PACMAN CE, Ridge Racer, PACMAN Kart, Wolfman, Flight Control, Brain Exercise series, Learn2Fly (for mobile phones and smartphones).
What they are working on
Crystal Defenders, Puzzle Quest 2, Bukaneer Blitz, PACMAN Party (to be released by Christmas).
ELECTRONIC ARTS ROMANIA

The EA office in Romania was opened on July 4, 2005, initially as the office of Jamdat Mobile, the biggest maker of mobile games at that time, which was acquired by EA in 2006. The office is currently located in Sema Park, close to the Politehnica University. On the development side, EA focuses on mobile phones/smartphone games. On the quality assurance side, EA tests for PC, PS3, XBOX360, PSP, Nintendo DS as well as for all mobile phone and Smartphones (iPhone,
iPad, Android, BlackBerry and others).
Future plans
EA Romania doesn't plan to open other locations in Romania for the moment.
Team
Around 500 people in this moment.
Vacancies
Looking for talented people in all areas of game development (programming, art, design, production, project management). Now EA is specifically looking for producers and development
cirectors with gaming and agile project management experience.
Projects developed in Romania
FIFA 11 iPhone, C&C Red Alert iPhone/iPad, C&C 4 Mobile, Medal of Honor Mobile, Heroes Lore iPhone and many more.