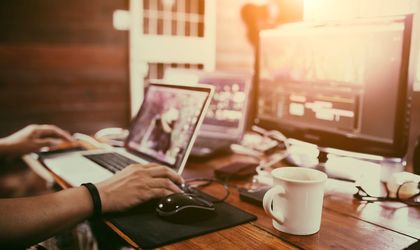 A video creator or editor can make all the difference between superior and inferior quality videos. A video editor is to a videographer what YouTube is to the internet. Just like it is unimaginable to think of the internet without thinking about YouTube, a videographer can never imagine life with a high-quality video editor. 
Since editing is so crucial, this brings us to the question – which video editor is the best? And, is a free video creator online as powerful and potent as a paid one? Delve deep into this article to get fascinating insights into the best free video editors online so that you can choose the best one for your needs. But, before heading further south, it is wise to know that most of these editors also offer paid versions with enhanced functionalities and professional features.   
The 11 Best Free Online Video Editors For 2022
Biteable
Biteable is one of the best video editing platforms to create YouTube, Facebook, Twitter, and Instagram ads and stories. Videographers like this website for its simple interface and power-packed features. You can use the website to edit and produce intros, outros, promo videos, video presentations, explainers, infographics, photo videos, educational content, and whatnot. 
Biteable offers three plans for amateur and professional videographers. The free plan offers unlimited video exports, and access to 4 million pictures, video clips, and animations. It also provides free access to millions of high-quality, premium video clips from Shutterstock.       
If you want to achieve more from Biteable, you may have to shell out anything between US$588 and 2,500 per year. 
Besides free video tips, case studies, inspiration posts, and news articles, Biteable also boasts a strong community of like-minded people. You can use all of these resources for free to ramp up your video production efforts.  
Renderforest
Renderforest is an online video, logo, website maker. Its intuitive branding tools help users create high-quality videos, graphics, logos, websites, and mockups seamlessly. You can access hundreds of video templates, such as intros, music visualizer, explainer animations, and more. The customizable scene lets you produce awesome videos within minutes. This way you can create amazing video content for your youtube channel and get more views.
Renderforest is available in five pricing plans – free, lite, amateur, pro, and agency. With a free plan, you can get up to 300MB cloud storage, unlimited 360p video exports, create up to 1-minute videos, and access 200K+ stock videos. The free plan also gives you unlimited low-quality logos in PNG and free websites on the Renderforest subdomain. 
Invideo
Invideo is undoubtedly one of the best on the list of popular video editors online. The no-frills video editing platform offers many benefits. 
You can access over 5000 video templates, over 3 million standard media, automated text to speech, 15 minutes video duration per video, and 60 video exports per month for free. However, if you want to scale up your video editing efforts, you may have to pay between US$15 and US30 per month. The paid plans let you get up to 120 iStock media per month, over 1 million premium media, and unlimited video exports. 
While the free plan offers the best resolution of up to 720p, the paid plans offer a resolution of up to 1080p. 
Using Invideo, you can create YouTube videos and ads, Facebook Ads, or make intros, outros, and promo videos. The resource section is loaded with top-class educational blogs and instructional materials to help you edit your videos like a professional for free. Moreover, you don't need to download any software since the entire process is online.
Clipchamp
Clipchamp can be your go-to destination to create YouTube, TikTok, and Pinterest videos. You can also create Facebook and Instagram video ads, promo videos, meme videos, and presentations. From video editor, templates, and stock library to text to speech, screen recorder, and video recorder, Clipchamp offers you a powerhouse of resources you need to excel in the task of video creation. 
Clipchamp is available in four plans – basic, creator, business, and business platinum. The basic (free) plan offers features like unlimited video production, access to all basic editing tools, webcam recording, and screen recording. 
Powtoon
Powtoon is one of the best websites to create animated explainer videos and presentations. Powtoon's extensive visual library contains hundreds of pre-designed video templates, animated characters, millions of royalty-free images and soundtracks.  
Powtoon offers four pricing plans for customers – free, pro, pro+, and agency. The free plan allows you to create HD videos of up to 3-minutes duration and offers 100-GB cloud storage. You can also get access to the 5 Looks Style Chooser, publish as PPT & PDF, and export to Facebook, YouTube, Wistia, and Vimeo. 
Loopster
Many amateur videographers consider Loopster as the best free video creator online. Loopster lets you splice video footage, change & adjust angles, and include music and over 600 sound effects. The platform can be accessed online or on Android and IoS devices. 
Besides the free plan, Loopster also provides four paid plans costing between US$47.88 to $516 per year. 
Kizoa
The name of this video editing platform is enough to arouse curiosity. You can access a wide range of templates, such as video editor, video maker, movie maker, slideshow maker, story maker, montage maker, and so on. The platform also lets you use various editing tools and resources. You can also edit videos in 4K. 
Kizoa's pricing plans are divided into five segments – basic, starter, creator, professional, and business, and costs between EUR 29.9 to 299.9 for lifetime access. The basic plan provides the option to create up to 1-minute full HD 1080p movies. You can also get up to 1GB storage and access over 3 million photos and 1 million videos. 
Wideo
Wideo is a no-frills platform to create professional videos for communication, marketing, social media promotion, and more. All you need to do is choose a template, specify project details by dragging and dropping graphics or choosing stock footage from an extensive media library, and export your video to Facebook or YouTube or download it in MP4 format. There are some amazing ways to get millions of views.
The free plan offers a video length of up to 1 minute and 10 video templates. You will also get 50MB storage, free videos, images, and music tracks, and 1 branded YouTube or Facebook upload. If you want to move to a higher plan, you have to choose from among basic, pro, and pro+ plans. 
Magisto
Magisto enables you to create magnificent videos within minutes. You can add your photos and videos to access Majisto's exclusive editing styles. You can also get free access to iStock media and customization tools for editing text & colors. 
Besides the free account, Magisto offers premium, professional, and business accounts. The cost of a paid plan ranges between US$4.99 and $34.99 per month. 
FlexClip
FlexClip is an intuitive video-editing platform that allows you to create up to a 5-minutes video every time you log in. Thousands of templates, over 3 million animated text and elements, and over 4 million stock assets make an editor's journey super smooth and exciting. You can also produce 480p SD videos at ease. 
FlexClip is available in four pricing plans. The free plan does not cost anything. However, to purchase the basic, plus, or business plans, you may have to shell out something between US$71.88 and $239.88 per annum.  
WeVideo
WeVideo is an easy, fast, and flexible video editor with modern features. You can browse over 1 million stock images and videos and pick anything you like. The platform can be easily accessed through Chromebook, Windows, Mac, or mobile. It's fully compatible with Android and iOS devices. 
The free plan provides you with 5min/per month publish time and 1GB cloud storage, and you may create videos of up to 480p.
Conclusion
Now that you know which are the best free online video creators, it's time to open the best platform and start editing. All the best!