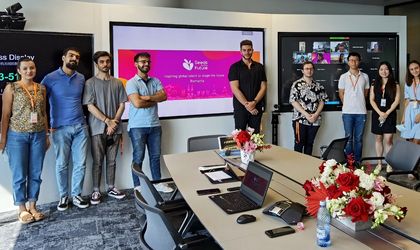 The eighth edition of Huawei's Seeds for the Future program for university students was launched today. This year, students will embark on a 8-day program with online access  to numerous workshops and presentations on the local ICT industry, entrepreneurship courses and the TECH4Good group project, as well as lectures with Romanian professors and business leaders on cultural studies and entrepreneurial business spirit, designed to complement their knowledge and give them an extra chance to a successful career in the field.
The "Seeds for the Future" program, which since this year is an emblematic educational project developed within the Memorandum of Understanding between Huawei Romania and the Polytechnic University of Bucharest, started in 2008 and is currently carried out in 126 countries on all continents, including in Romania. The program addresses students and young graduates in the ICT field and its purpose is to identify young talent in the field of technology and to contribute to their training and professional development.
"Being a promoter of digital transformation, Huawei`s contribution in accelerating digitalization never stopped, from urgent deployment of signal towers to maintenance of networks, our engineers are always at the front line. Therefore, we have increased our investment in training ICT talent over the years. The Seeds for the Future program, being a part of the ICTalent initiative, has resulted to the training of over 200 students in Romania in the past 7 years, over 60 of them have completed their training in Huawei headquarter in China. This year, under the pandemic context, the programs are redesigned to provide more insights of local ICT industry to the student, along with TECH4Good group project and Chinese cultural lessons. In terms of nurturing, we also focus on inclusiveness to encourage more female students to take part", declared George Zhang, CEO Huawei Romania, at the opening ceremony.
"Digitalization, in fact, needs to be developed much more in comparison with the actual level. We have seen a lot of inconvenience of this degree of digitalization of our society. And if we want to improve it, we want to make upgrades and this can be done only by the help of the future engineers. That is the reason, I think, for this concept of "Seeds for the Future". The Polytechnic University of Bucharest is trying to implement a lot of motivation in its students and I think all of the students that have applied for your offer, a very generous offer from Huawei`s part, will be very well prepared for the next period and they will have very strong instruments to participate to the new construction of the society. This event you have launched is a very good one and must be multiplied. I am waiting for the next meeting and I wish a lot of success to the students that are trying to accommodate to the new technology, to the new possibilities to become much more useful for our society, " said Prof. Tudor Prisecaru, President of the UPB Senate.
" I think we all live in a time of luxury. There is luxury of opportunities,  luxury of people, of resources, of technology and so on. I think we live in this abundance, a time like never before… The program is called "Seeds for the Future" and to me that means `solutions` as well. So, solutions for the future. And I think we live in a time where there is an equal need to act and be entrepreneurial and innovative than perhaps in the future. In the same time, what we see is that innovation changes location and something almost magical happens… You might have a student from Shenzhen or Nairobi or Iasi or Bucharest that has a great idea. But in the same time, the future, and I think the program that you are in and many of the conversations that we will have next week, is actually about purpose. So, I feel that innovation actually changes purpose, " said Ciprian Stănescu, Co-Founder of Social Innovation Solutions, one of the special guests of the program.
Since its launch in 2014 in Romania, over 150 university students benefited from the Seeds for the Future program and a total of 66 students completed their training in China.