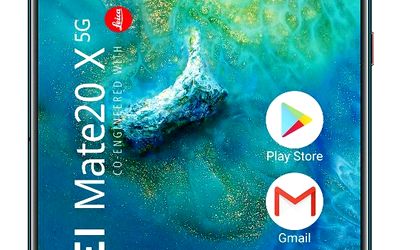 Huawei officially launches its first 5G mobile phone – Huawei Mate 20 X (5G). Equipped with state-of-the-art technologies, such as the 7inm-based Kirin 980 and Balong 5000, the world's most powerful 5G multi-mode chipset, it allows access to 5th-generation (5G) technology. The Huawei Mate 20 X (5G) offers consumers a premium experience that includes, besides high-speed connectivity, extraordinary performance through access to more advanced applications, a large screen and extended battery life.
Huawei Mate 20 X (5G) has a recommended price of 6,499 lei and is available from July, Huawei Authorized Partners, but also in Huawei Experience Shop – Afi Bucharest or Huawei Service Center. It was also available for pre-order at Digi Mobile at the 5G network launch.
The 7.2-inch smartphone brings together a wide range of proprietary technologies that are compatible with all existing network operation modes, including the current 5G (5G NSA – non-standalone) implementation version or 4G technology anchored, as well as the future standalone mode of operation of the 5G (standalone – SA) network. In this way, consumers will be able to experience high-speed connectivity, irrespective of the maturity of telecom operators' infrastructure.
 "Two years ago, we met with our journalists and business partners and talked about the smartphone of the future. Besides the foldable handset that I have already introduced during MWC 2019, many of them mentioned the speed of data transfer as something extremely necessary to facilitate communication. We've seen the needs of our customers and have constantly improved our devices, so we've decided to take a breakthrough in technology and have created the first smartphone compatible with 5G – Huawei Mate 20 X (5G) solutions. In addition, we have established long-term relationships with telecom operators around the world that we have helped to develop the 5G network. We are very pleased to have the chance to be the first to have a smartphone that is fully compatible with 5G solutions", said Yanmin Wang, president of the CBG CEE & Nordic Region.
The dual chipset solution is the basis for 5G connectivity
Over the past decade, Huawei has made significant efforts to develop 5G, gaining a considerable number of patents for chipsets, devices and cloud solutions. To date, Huawei has developed 10 research and development centers in the 5G globally with a team of experts of over 2,000 5G specialists.
Huawei Mate 20 X (5G) is designed for the new 5G era. The dual-chipset technology, the Kirin 980 processor and Balong 5000, is a crowning of Huawei's research and development efforts in mobile networks. Being a multi-mode chipset for future generations, Balong 5000 is compatible with all network technologies, from 2G to 5G. Switching takes place quickly and with low energy consumption, and experience for consumers is greatly improved regardless of usage situations.
Huawei Mate 20 X (5G) is compatible with 5G networks around the world at any stage of development (SA or NSA), which means an extra level of comfort for people with increased mobility needs.
Enjoy what processing technology has to offer
In anticipation of the new entertainment and productivity capabilities that the 5G will bring, the Huawei Mate 20 X (5G) comes with a 7.2 inch FullView display that gives you a great viewing area to "immerse", for an immersive experience.
Available for purchase separately, the Huawei M-Pen (stylus) offers a new way of interacting with the Huawei Mate 20 X (5G). By recording 4,096 push levels it works optimized with a wide range of productivity applications to allow consumers to do more when they are on the road. In addition to the Office Mobile suite, the stylus also enriches the entertainment and leisure experience – for example, users can use it to browse the pages of eBooks by mimicking the paper reading mode for an experience of reading more authentic.
Huawei Mate 20 X (5G) integrates the Matrix Camera system consisting of three Leica lenses mounted in a wide-angle camera with a 40 MP resolution, a 20 MP ultra-wide angle camera and a resolution camera of 8 MP. From ultra-wide photography to macro photography, the Matrix Camera System delivers a remarkable experience. Powerful artificial intelligence works with the camera system to take the shot taken with your smartphone to the top level as definition, contrast and flexibility to capture moments important to you.
Huawei SuperCool, an advanced cooling solution made from a vapor chamber and graphene tubes, ensures that the Huawei Mate 20 X (5G) is kept stable and cold even when playing high definition videos or running applications that use intense graphics.
A battery for the whole day
Quick connectivity allows you to run a much larger volume of data. 5G will allow streaming high-fidelity data for media and games, including new social platform productivity and productivity applications. All this translates into the need for more power, a requirement that the Huawei Mate 20 X (5G) meets with its 4200 mAh battery.
The Huawei Mate 20 X (5G) is compatible with 40W Huawei SuperCharge, a fast loading solution certified by TÜV Rheinland, the international independent and prestigious organization that provides product safety assessment and certification services. To further extend the battery life, the Huawei Mate 20 X (5G) integrates an artificial intelligence solution that intelligently manages and adjusts power consumption.