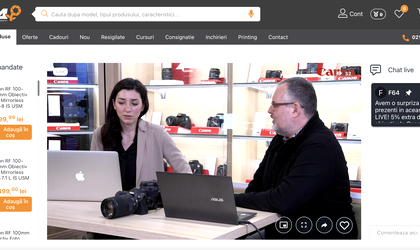 VTEX (NYSE: VTEX), the enterprise digital commerce platform for premier brands and retailers is glad the announce its first Live Shopping event in Romania, which was promoted by F64, the largest retailer of photo-video equipment and one of the company's first customers in the country. The event was aimed at enthusiasts of photo-video equipment and it was the first time F64 held an event of its nature. 
The Live Shopping event took place on February 25th and was watched live on www.f64.ro by hundreds of unique visitors. Photographers Mircea Maieru and Dana Tudoran discussed portrait and street photography, two of the most beloved genres of photography, and also talked about Canon RF lenses that are a subject of interest for professional photographers. Also, the photographers discussed their experiences, offered advice, and answered all the questions addressed directly in the chat available on the Live Shopping event page. 
The event was implemented using the VTEX Live Shopping App, which unlocks interactive experiences, builds a stronger connection with customers, and boosts online sales. Summarily, the VTEX platform used quality content generated in real time to connect with potential customers, helping them make the purchase decision easier. This is a method of communication native to online users, familiar to both the younger generations of shoppers and also to older ones, who are closer to concepts such as teleshopping. 
Since its launch, the VTEX Live Shopping app has experienced rapid adoption among VTEX customers. Brands and retailers using the solution have seen average consumer online session time increase fivefold. Teams can use the Live Shopping app to plan, execute and manage live one-to-one and one-to-many events. With the VTEX Live Shopping app, consumers interact with product experts and influencers and can promote events within their own communities, bringing the interactive experiences of in-person shopping to the digital world.  
"We are glad that brands and retailers from Romania are receptive and open to adapting to the current ecommerce trends. Our first live shopping event locally was a success among the community of photography enthusiasts, which proves, on one hand, the desire of consumers to have online experiences similar to those in physical stores and, on the other hand, F64's trust in VTEX technology", said Cristi Movilă, Eastern Europe General Manager & EMEA Sales VP at VTEX. 
 —
"We are excited to be able to turn a webinar into a live shopping experience for our customers, while providing them with the consulting they need in the purchasing process. We want to use this concept more in the future and we hope it will become a new way for F64 customers to purchase the products they want", said Catalina Coterleț, F64 Digital Marketing Manager. 
In addition to adopting new ecommerce trends, VTEX's client offers a number of valuable resources, such as ebooks, articles, events, or free workshops for photo and video enthusiasts available on the F64 Academy. Follow their projects for 2022 on Academia.F64.ro.