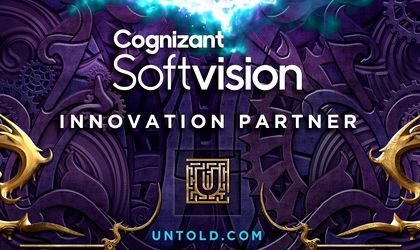 Cognizant Softvision, a digital engineering leader, today announced it is teaming with Untold, one of the most anticipated music festivals in Europe, to introduce a new and unique technology experience to festival-goers. The festival will take place in Cluj-Napoca, Romania on 1-4 August.
As Untold's the official "Innovation Partner", Cognizant Softvision is building a bridge between technology and people. Through a new virtual assistant smart app developed by Cognizant Softvision, festival attendees will have access to a seamless experience in browsing the festival guide, with information on concert times, hidden hangout spots, food trucks availability, public transportation options and more.
Additionally, with the help of Smart InfoBot technology at the festival's Info Points, people will be able to discover and find their way around the magical realm. 
Festival attendees can stop by the Cognizant Softvision booth to find out what challenges the Cognizant Softvision magical characters — The King, The Archer, The Muse and The Tech Knight — have in store. Join their quests and get the chance to win a DJI Mavic Air drone, electric scooters or a temporary marble tattoo.
Cognizant Softvision's presence at Untold represents the company's official brand launch in Romania. Softvision was acquired by Cognizant, one of the world's leading professional services companies, in 2018.
After nearly 20 years of helping to deliver sustainable innovation and business transformation for some of the world's leading brands Softvision became part of Cognizant, creating a top provider of digital product design and engineering services.