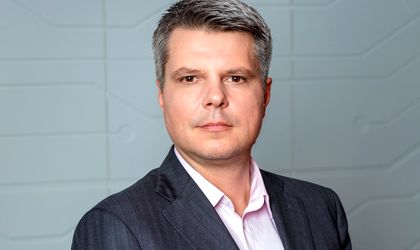 Digitalization is already taking place in our lives and changing the way we do business, but new technologies that are still to come, like 5G connectivity, Internet of Things and Artificial Intelligence, will have a significant impact on our lives. Business Review talked to Mihnea Radulescu, Enterprise Business Unit Director at Vodafone and UPC Romania, to find out more about the impact technology will have in the future.
By Aurel Constantin
The digitalization of the economy is the most important transformation process happening today. Which new technologies will have the most significant impact on businesses and the economy in general?
Digitalization will indeed have a significant impact on our day-to-day lives and on our economy in general. There are several emerging technologies that I believe will be game changers. One that we see claiming strong ground already is RPA – robotic process automation –  which takes over repetitive tasks from humans and transfers them to so-called robots. The second is IoT (Internet of Things), which aims to put together an ecosystem of devices and intelligent platforms to provide insightful information and trigger specific actions. Combined with RPA for example, it will be a powerful tool. Third is AI (Artificial Intelligence). We have seen some extremely interesting demonstrations of its power, however the road ahead is still long, especially if we're talking about generalised AI, which is unlikely to properly develop within the next ten years.
What is the role of the communications industry in this process? How important is connectivity within digitalization?
Our industry was the foundation of the early stages of digitalization. We should keep in mind that there can be no digitalization without devices and processes and programmes communicating with each other, which is basically what we now call the internet. We have developed and changed our view on connectivity and we experience it in terms of availability and speed. Our future role is not just to be a partner for digitalization companies, but to be one of them. In other words, the role of the telecommunications industry will continue to be pivotal in the digitalization of our world.
How can new technologies help businesses grow?
New technologies support growth acceleration for companies by making them more efficient (cost cutting) or exploring new and innovative ways to enrich customer experience (revenue growth). Some of our customers are really playing in the top league in terms of digitalization, monitoring and triggering different actions or processes in their daily operations by using IoT, for example. I can give you some relevant examples: Mega Image, a clear IoT case in retail, and OMV, a highly complex implementation of the latest technologies in an E2E oil and gas company.
What are Vodafone's plans for the future?
Ten years ago companies were talking about connecting people to mobility, to technology. Today we are talking about ways to connect assets, cars, people, "things" to the internet. One of the main pillars of our strategy is to connect a significant number of "things" to the internet: fixed or mobile assets that analyse data in real time, solutions that talk to each other, sending and receiving data as well as requests in real time. IoT now plays a key role in automation, it is a differentiator in customer experience, but more importantly, it has become an advantage in a competitive market.Vodafone Romania provides companies with Drive Net (in-car connectivity), as well as Fleet Management Systems to reduce fuel costs.  Moreover, Vodafone Romania has launched the first NarrowBand IoT network with country-wide coverage in South-Eastern Europe. This launch consolidates our leadership position on the IoT market solutions and will offer our enterprise customers the chance to develop and implement a wide range of solutions and applications to improve their business processes.