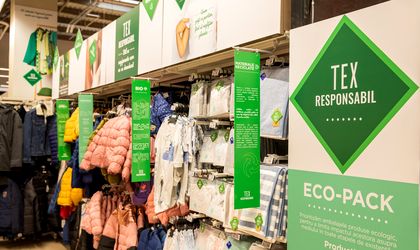 TEX, the exclusive textile Carrefour brand, launches in Romania its commitment for sustainable fashion. TEX Responsible includes a range of clothes and home textiles made with respect for the environment and dedicated to the whole family. Moreover, TEX commits that 100% of the materials used for TEX products will come from controlled sources and be sustainably obtained until 2030.
TEX prefers organic cotton, it fairly remunerates its producers, and it encourages production from recycled materials, using less water. Therefore, it is responsibly implicated in every production phase of today and tomorrow's fashion, committing to the fact that 100% of the materials used for TEX products will come from controlled sources and will be sustainably obtained until the year 2030.
TEX Responsible initiative was born from the challenge to reduce its environmental impact. TEX Responsible products' range, made with respect for nature, offers home textiles and comfortable, warm clothes for kids and adults, perfect for winter. This new range reflects every sustainable action that TEX supports in its accelerated approach to sustainable fashion, through three commitments in Romania:
Bio
TEX Bio is defined by an extended home textiles and baby and toddlers' clothes, made of cotton coming from ecological agriculture and 100 OEKO-TEK certified, proving that no skin-harmful substance was used during their production.
Recycled materials
TEX offers kids and adults' jackets and vests, filled with materials recycled from plastic, before it goes in the oceans, therefore protecting planet's resources. The brand always guarantees the quality of recycled materials products because everybody has the right to trendy fashion made from recycled materials.
Less water
The new TEX range has sustainable denim jeans for the whole family, produced using less water, through the Waterless method, but also less CO2 and electricity, through Dope Dyed technique. This method integrates the paint directly in the production, eliminating its painting phase, in order to protect biodiversity.
Through the above-mentioned commitments, TEX launches the invitation to act together for sustainable fashion.
TEX Responsible range is available online anywhere in the country, on Carrefour.ro and in pop-up shops designed in two Carrefour hypermarkets from Bucharest – one in Carrefour Corbeanca and soon one in Carrefour Park Lake.
TEX, the style with evergreen commitments