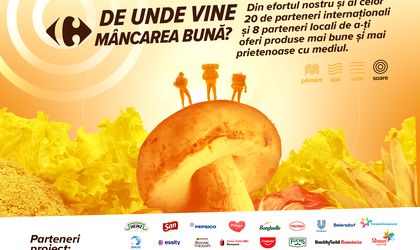 Carrefour Romania, as part of its global Act for Food strategy, is accelerating steps towards the transition to a healthier diet, by inviting 28 local and international partners in The Food Transition Pact for concrete actions to the benefit of customers. The first project, together with eight new local partners, takes place until September 29, under the umbrella of The Food Transition Weeks, a campaign that promotes in-store and online products that are healthier and more environmentally friendly.
The second edition of the campaign is focused on the transparency of the origins and the traceability of the production process for the products available in Carrefour, promoting a healthy diet, based on reliable ingredients at affordable prices. During The Food Transition Weeks, consumers find out Where healthy food comes from – from the organic component to products with #nothingsuspicious in terms of additives, from the private labels under Filiera Calității (Quality Chain), such as Drag de România (Love of România) to the Nutri-Score classification system.
In 2020, Carrefour, together with 11 brands from the food and non-food area, organized the campaign dedicated to the food transition in its stores from the 6 member countries of the pact: Belgium, France, Italy, Poland, Romania and Spain. This year, Carrefour Romania continues its commitment and invites local partners in the transition program to a healthier diet, along with the 20 companies involved internationally. Albalact, Dry Fruits Transilvania, Delaco, FrieslandCampina, Fuchs, Five Continents, Strauss Coffee and Smithfield Romania responded promptly and got involved with their own projects during the Food Transition Weeks.
"We are glad that this year we have a stronger national footprint by having eight local partners join us in the steps we are constantly taking in order to transition to a healthy diet. Thus, we offer customers products from local and international suppliers, members of the Food Transition Pact, along with our own brand ranges: Carrefour, Carrefour Bio, Drag de România, Filiera Calității." says Alina Horgea, Director of Own Brands and Food Transition, Carrefour Romania.
"All these concrete actions support the Act for Food philosophy and prioritize food quality by strengthening collaborations with producers, promoting national and local productions, democratizing organic products, establishing demanding specifications, guaranteeing food safety and traceability (blockchain) and encouraging responsible practices for biodiversity conservation. ", adds Gabriela Rădulescu, Quality Director, Carrefour Romania.
The local partners join the 20 international companies and have been chosen for their objectives and results in 5 priority areas of action: responsible production, transparency, packaging, climate and biodiversity.
Until September 29, consumers will discover products selected by Carrefour and recommended to them as healthier, more sustainable options and with a more environmentally friendly impact, more transparent and at affordable prices in the following ranges: Carrefour Bio, Drag de România, Filiera Calității (vegetables, fruits, beef or fish, but also eggs from Rojiștea Farm with a focus on blockchain technology that shows product traceability), own-brand Carrefour products (from which more than 100 controversial additives have been removed from recipes), EcoPlanet and Les Cosmetiques (ingredients of plant origin and low environmental impact), as well as international and local products, classified according to Nutri-Score. The campaign is available both in the store network and online: on the carrefour.ro website or through the Bringo application.
Carrefour's global strategic goal is to become a world leader in the food transition for everyone, providing millions of daily customers, each day, with quality, healthy and reasonably priced food. Under the Act For Food philosophy, Carrefour initiates concrete actions through which it makes available to Romanian consumers a significant range of healthy products, grown and / or cultivated according to strict quality principles, with respect for the environment.