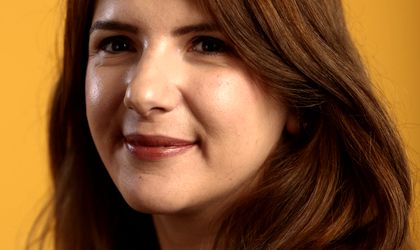 MasterCard Romania has launched the #WelcomeToRomania campaign, designed to encourage foreign tourists visiting Bucharest to make payments using their MasterCard bank card. The campaign, running between November 14 – February 7, was developed in collaboration with local businesses, among which ride-sharing service Uber. Diana Tanase, MasterCard Romania Marketing Manager, told BR the story behind the campaign.
Georgeta Gheorghe
How did the idea for the WelcometoBucharest campaign come about?
In 2016, Mastercard conducted its annual Global Destinations Cities Index study, identifying Bucharest as the eighth in the top 10 European cities in terms of the growth rate of inbound travellers. However, due to their uncertain perception of electronic payments acceptance in Romania, most of these tourists exchange cash in advance, at home. We feel this behaviour could be improved upon, especially as Bucharest is showing openness towards the electronic payment methods and the acceptance network is increasing its visibility. We are delighted to build on this tendency and we are looking forward with excitement towards continuing to drive this market forward.
How many foreign tourists are you planning to reach and where do they come from?
Bucharest recorded more than 1 million international visitors in 2016, with the current annual growth rate in terms of number of overnight visits being on the rise by more than 7%.
Data from the National Institute of Statistics shows that close to half of the million international overnight visitors Bucharest accommodated during 2016 are based in Germany, Italy, Israel, France and the UK.
We are confident that a large part of these tourists would benefit from renewing their perspective on cards usage and shift towards the normal, modern payment behaviour when traveling to Romania.
What is the foreign tourists' current behavior?
Currently, most international visitors are basing on uncertain information regarding the cards acceptance footprint in Romania.
Their most common course of action sees them squandering time at various exchange offices, at home or away, and thus burdening themselves with lengthy and insecure cash-based operations, as well as the associated high costs of exchanging cash.
Part of their misconception is due to the low level of cards usage in Romania – among the lowest in the European Union. However, this situation is distorted by the large rural area in Romania, where financial inclusion, in general, is very low. The main cities, and Bucharest is the frontrunner, not only encompass a very wide acceptance footprint, but are also home to many of the world's early adopters in terms of electronic payments. In Bucharest, you can pay by card much alike in any other modern European city – and this is something we would like inbound tourists to be very aware of.
What is the goal of the campaign?
WelcometoBucharest is targeted to reshape the perception around card payments in Romania, whilst also having the basis line of other recent Mastercard campaigns, meant to encourage card payments. However, we want to "inform" international visitors that our Capital is very much alike other major European destinations, in terms of cards acceptance.
Thus, through our welcometoBucharest campaign, we aim to further drive convenience for cardholders using their Mastercard abroad, even in Romania.
And they all can enjoy peace of mind in knowing that Mastercard is the most accepted card in Romania, encompassing more than 144,500 POS terminals, according to BNR data for Q1, as well as an unmatched public transportation footprint.
How does the Mastercard campaign portray Bucharest?
The campaign is mainly built around the idea that founded most of actions in recent years – normality. We are very confident that Romania is on the fast track in terms of narrowing the gap with more developed countries in terms of adopting card payments as a normal gesture.
As such, the welcometoBucharest campaign was designed based on the idea of normality, with Mastercard paving the consumer experience with relevant merchant offers for each step of the visitors' journey to the Romanian Capital. These offers can be accessed simply by showing the code welcometoBucharest when paying with a Mastercard card, issued anywhere in the world
Through this, we seek to position Mastercard as a driver of convenience when paying, as well as to position Bucharest as a modern destination that provides visitors with unique and memorable experiences.
You are partnering with local businesses and offer tourists discounts as well as with Uber. Why did you choose Uber?
Indeed, we are happy to be working with a tremendous array of partners in Romania, and several have been involved in the welcometoBucharest campaign.
We have selected merchants from various categories so as to be able to accompany the consumer as much as possible throughout his journey in Romania, as well as to showcase the local market's recent evolution in terms of accepting card payments.
Uber was a natural choice for Mastercard when looking at the market for genuine "drivers" of electronic payments. This is our second campaign of the year insofar with Uber and, at Mastercard, we strongly appreciate Uber's vision on electronic payments. Moreover, the start-up has gone to become global by leveraging innovation and disruption in terms of electronic payments, and the consumers' feedback was fantastic, with Uber becoming synonymous all around the world with the most convenient, safe and comfortable way to get around. All of this is cashless, simplifying the user experience through the usage of electronic payments.
In terms of the selected mechanism, we already know that discounts and special rewards are amongst the most sought-after benefits of adopting card payments, having adopted a similar approach across multiple campaigns over the past year, and we thus wanted consumers to associate paying by card with the advantageous payment method that complements their experience and accompanies them throughout their journey.