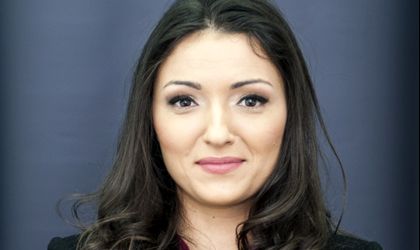 One year after starting operations in Bucharest, technology start-up Uber is looking to ramp up its business locally. The general manager of Uber in Romania, Nicoleta Schroeder, tells BR in an interview that Bucharest registered some of the fastest growth rates in the CEE. At the moment, the company is working with policymakers to update the legal framework for the car-hailing app, according to the GM, who added that Uber is not targeting the taxi industry.
Ovidiu Posirca
What was Uber's performance in the first year of operations in Romania?
The response we have received so far has been fantastic. Over 70,000 people have downloaded the app locally and they have embraced the service that we offer.
I am also really proud to say that Bucharest is one of the faster growing markets in Central and Eastern Europe. One way we think about growth, to put it into perspective, is how long it takes on average for a car to arrive to a user.  So, when we first launched, that number was around 13 minutes, during the summer that number went down to 7 minutes, and today, on average, a car arrives in a bit under 5 minutes.
Now, my goal for the next couple of months is to take down that number as far as possible. We would like the time to be on average 2 to 3 minutes, with the idea that as you grow this service, you offer a very convenient and simple service.
Does Uber plan to expand in other cities across Romania?
Well, definitely. I get this question a lot, a lot of people ask how we choose cities. Why was Budapest launched before Bucharest or why we just launched in Zagreb now and in Bucharest before and I think the answer is very simple. We use technology to determine demand, even in places where we are not currently present. So, through our app we are able to see how many people downloaded it in a certain city and how many people opened the app trying to get a car.
When it comes to the next cities, yes, we would like to launch in Cluj, Timisoara and Iasi. These are the cities we would like to expand to in 2016. I don't have concrete plans on when we are expanding, but of course we will communicate.
Your father, Gelu Diaconu, was the head of the tax administration agency ANAF when Uber launched in Romania. Did this have any relevance in your hiring process?
I understand this is a topic for some, and while I don't want to dismiss it, I think it's much more relevant to talk about what Uber is achieving in the market and what our plans are for the near future. We operate in 400 cities globally, in over 60 countries and in every single country that we operate in, we abide by local laws and legislation. Every single person goes through the same recruiting process, which is standard globally. From my perspective, it's much more important to talk about what we have accomplished and where we want to go.
Uber provides the ride-sharing service, which in Romania is not regulated in any way. What happens with the operations from a legal perspective?
First and foremost, the most important thing is to say that we want to be regulated. We are pro-regulation as a company. That's one of our main goals. Our service doesn't currently exist in any law and that's not just true only here. That clearly was true everywhere we launched. I believe it is very important that legislation considers innovative digital services and finds the way they fit in local legislation and updates the current laws that exist.
And recently, we have seen a lot of traction in the European Union. Lithuania and Estonia both have proposals in Parliament that regulate ride-sharing. Most likely, Estonia will become the first country in the EU to regulate ride-sharing. For us, that's great because it sets a precedent.
So, at this moment are you talking with any MPs to initiate a bill somehow and take this to the next level?
We are talking with a bunch of stakeholders, together with different industry associations. We are talking with people from parliament, the government, the City Hall. There's an entire industry part of this, we are not the only ones. From my perspective, the more the better. The more players there are, the push is going to be more significant.
How does Uber operate in Romania from a tax perspective?
From the perspective of Uber, we are complying in all the countries where we operate. We have 60 countries worldwide and we are not talking about virtual operations in those countries. We are talking about physical offices, with local subsidiaries.
It is important to note that our driver partners are independent contractors. They are solely responsible for the taxes they owe on the income that they get from Uber. We make that very clear, both verbally and in writing. This is part of the agreement that they sign with us before getting on the app.
It's also important to know that, unlike other tech companies, up to 80 percent of every single dollar that is done through our app, stays in the local economy, and goes to our driver partners.
Also, recently we made a decision to start collaborating with the fiscal entities by bringing more transparency and making it easier for driver partners to be able to comply with their local fiscal obligations.
Every single RON spent on our app is traceable. This is something unheard of in this industry, which is mainly cash-based.
How do you perceive the taxi industry in Romania? Do you see them as enemies or competitors?
Not at all. I think that there's a place for everyone, first and foremost. There are 10,000 taxis in Bucharest or a million cars? If you ask me which one I am going after, it's the one million number (registered in Bucharest e.n.), not the 10,000 taxis.
I think that each option makes sense for someone at different points of the day.
So, you can't hail an Uber, there are many times when you need a ride at this moment and if a taxi is in front of you, it probably makes sense to take it.
For me personally, if I need to get to Pipera, I always go by subway. No taxi and no Uber is going to get me there faster.
CV Nicoleta Schroeder
Nicoleta Schroeder, 29, started off in consultancy and finance, working in the US for Accenture and John Hancock Financial Services. Afterwards, she returned to Romania where she managed her own FMCG business for five years, before joining Uber.
Schroeder holds an MBA from Carnegie Mellon University – Tepper School of Business and graduated in Management and Economics from Clark University, in Worcester, Massachusetts.